Features
Loki's Post-Credits Scene Brought Back a Controversial Marvel Storyline with Broxton, Oklahoma
For her first trick of Loki's second season, the Variant Sylvie returns to the scene of one of Marvel's most controversial Thor arcs.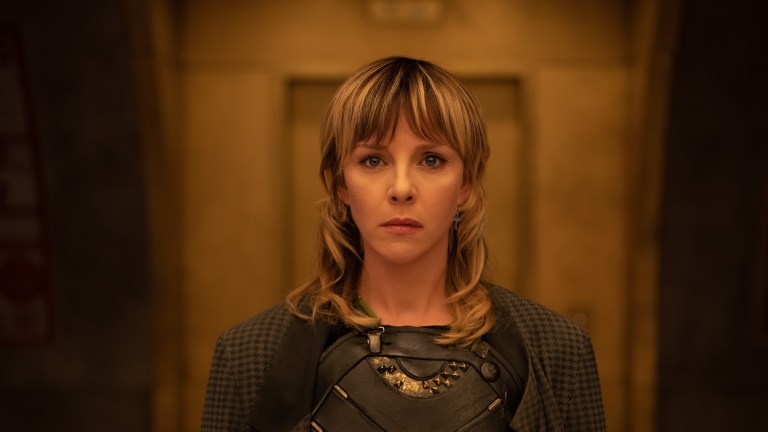 This post contains spoilers for Loki season 2
Considering the massive mess she made at the end of season one, Sylvie is largely absent from the first episode of Loki's second season. Instead, the ep follows Loki and Mobius M. Mobius as they try to clean up that mess, including the the increased threat of He Who Remains aka Kang the Conqueror aka… well, lots of other also knowns as.
Sylvie doesn't completely skip out on the episode. The first episode follows the Mighty Marvel (Cinematic Universe) tradition of including a post-credit scene to mix up the plot. In the scene, we see Sylvie stride through a time door and into a golden field. "1982, Broxton, Oklahoma" reads the chyron below, an explanation rendered almost immediately unnecessary when Sylvie enters a McDonald's (hail corporate synergy!) bathed in browns and yellows.
And what does Sylvie do with her newfound power to visit the past? Well, she orders everything on the menu at McDonald's, which is something most of us have considered doing at one point or another, but it is isn't exactly earth-shattering. So why in the world is the end-credit scene there?
The answer may come in an additional part of the chyron, which indicates that Sylvie is in a 1982 of a branching timeline. Is she once again hiding out in an apocalyptic event, hoping something horrible will happen in this town that will help her avoid TVA pruners? Is she trying to create a different world, one that she can better control?
The best hint at what Sylvie's up to may come from the pages of Marvel Comics, where Broxton briefly shook the Marvel Universe. Written by J. Michael Straczynski and penciled by Olivier Copiel, the third volume of Thor's solo series from 2007 saw the rebirth of Asgard after its destruction in Ragnarok. As hopeless as that sounds, Ragnarok signals not the end but a rebirth, as Asgard and all those who died during the battle — including, in this case, Thor, Loki, Odin, and all the supporting characters — return and begin their journeys anew.
But in Straczynski and Copiel's stories, Asgard manifests not in another realm, but in Broxton. Over the course of several issues, Straczynski and Copiel recreate the dynamic of the first Jack Kirby and Stan Lee Thor comics, in which the mighty God of Thunder learns humility by merging with a human. The storyline was controversial at the time for taking Thor and co. out of their more fantastic setting and placing them in a mundane part of the U.S., but it's been recognized since as an interesting take on the Thor mythos.
If the story sounds familiar to non-comic readers, it's because 2011's Thor gestured at aspects of the plot, although that film took place in New Mexico. The current MCU seems like a better time to fully adapt the story, as Thor and his friends have already experienced Ragnarok in the 2017 movie Thor: Ragnarok. In the current MCU continuity, Asgard is less a magical manifestation and more a modern city-state in Norway, a touristy attraction called New Asgard, as seen in Thor: Love & Thunder.
Is Sylvie coming to Broxton to bring Asgard back to the MCU in a different way? Does she have designs on controlling Thor, Odin, and other denizens of the world of Gods? What is she doing in a branching timeline? And how does this plan relate to Sylvie's own tragic storyline, which saw her become a Variant ripe for pruning?
We won't know until more episodes of Loki air on Disney+, but we can be sure of one thing: whenever Sylvie's involved, nothing is as it seems.