Features
Line of Duty Series 6 Episode 2: Ryan, Davidson & All Our Questions & Theories
If you have questions after the latest Line of Duty instalment, we have answers. And theories. And wild speculation. Episode 2 spoilers ahead.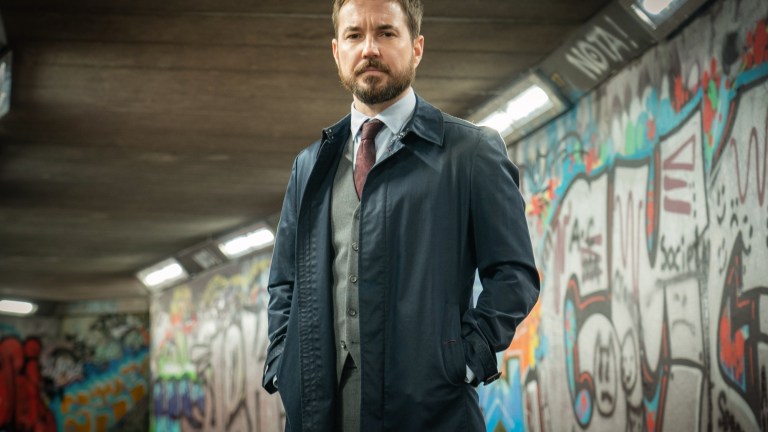 Warning: contains spoilers for Line of Duty series 6 episode 2
If you're left with niggling doubts and unchecked hunches after reading our weekly episode review, we can help. Consider the below a communal evidence wall on which to pin mugshots of potentially bent coppers connected by red string and Post-Its scribbled with question marks. Join us as we delve into this week's Line of Duty theories and questions…
Jargon of the Week: Reg 15
Stands for a Regulation 15 Notice, or Yellow Notice. It advises an officer that they're going to be investigated by professional standards and therefore enter Line of Duty's interrogation room of doom.
Who is Ryan Pilkington?
Recruited by the OCG as a child when paedophile pimp Tommy Hunter was in charge, Ryan is the son of an addict mother on the 'Bog' or Borogrove Estate in Moss Heath. In series one, he ran errands for the gang, picking up drug money and distributing burner phones. He was also an active participant in the torture of Steve Arnott, whose fingers were almost amputated by the gang. In series five, a grown-up Ryan was a gang member alongside Lisa McQueen, participating in armed robbery and sex trafficking. It was Ryan who killed DS John Corbett by slitting his throat with a knife, when undercover officer Corbett was discovered to be leaking information to police. He's now a trainee police officer assigned to the DCI Buckells' murder squad, replacing PS Farida Jatri, who requested a transfer because of her break-up with DCI Jo Davidson. Think of him as the Caddy V2.0.
Who murdered Carl Banks?
The OCG want everyone to think it was the CHIS, who was also found dead, but it's much more likely to have been Ryan (see above). We've seen Ryan kill by throat-slitting before, and it was him who discovered the murder weapon, handily left near the corpse and covered in the CHIS' fingerprints – which would have been easy for the OCG to do before or after they pushed the CHIS off that building and killed him. It's worth noting that Banks' murder is almost certainly confirmation that he, and not Terry Boyle, was Gail Vella's killer, because why would the OCG have bothered to kill him if he weren't? The real question in the Vella murder therefore is not who killed her, but why?
Why was Gail Vella murdered?
To silence her. Vella was a crusading journalist investigating police corruption. She was collating all her un-broadcast journalistic footage and conducting interviews in order to release a podcast similar to the Untold: The Daniel Morgan Murder, which would have exposed links between senior officers in Central Police and organised crime, perhaps extending nationwide and transcending local figures like paedophile politician Dale Roach. 
Whose voice is on Gail Vella's recording?
We don't know yet. A recording was inadvertently partially uploaded to the laptop used to replace the one stolen from her before her murder. It was of Gail saying: "Someone lied to cover them up. Some police officers not only accepted those lies, they propagated them, we're losing our power to challenge lies," and a man's voice replying, "There's some people you can't challenge." All suggestions welcome.
How did Gail's thief know her passwords?
The person who stole Vella's phone and laptop and replaced them with copies made to look like hers would have had to have had Vella's passwords to do so. Speculation alert: could DCI Davidson and Gail Vella have been in a secret relationship, which is how Vella found out the police corruption she was going to expose? Would that corruption have implicated Davison and if so, did Davidson use Vella's passwords to steal the laptop and help to cover up the murder? Or is there more to Vella's producer than meets the eye?
What hold does the OCG have over DCI Davidson?
Officers in the OCG's pocket are usually being bribed or blackmailed – which is it for Davidson? There's definitely something going on with all those locks on her door, and her telling Farida that she doesn't have a family when there's a Samantha Davidson listed as her next of kin on her police bio, and an old photograph of her with a woman who seems to be her mother in her flat. Might the OCG have something on Davidson's mother that she needs to protect her from?
What was a hoody-wearing Farida doing spying on Jo?
Presumably, trying to catch her in the act of some wrongdoing? It was enough for Jo to frame her by planting those burner phones at her house.
Is Kate undercover?
That is the question. In episode two, Kate betrayed Steve's confidence and plotted with Davidson to stop AC-12's investigation in its tracks by going above their heads to ACC Wise. Davidson told Wise she was concerned about the leaking of information in the Vella case, and so Wise agreed to prohibit access to the files until the leak was found. Therefore, when Steve and the others turned up on the Hill demanding access, their authority was no longer valid and they had to go home with their tails between their legs.
Why did Kate do it? One suggestion is to curry favour with Davidson because she's on a secret undercover operation investigating her for corruption, without AC-12's knowledge. In that scenario, Kate would want to gain Davidson's confidence and show as little respect for her former unit as possible, to earn trust. Why would Kate go undercover through an other AC unit? We don't know, but she did it before in series three when investigating the identity of The Caddy. That was to ensure that the unit was run by a woman, which would preclude the masonic connections in the case.
Is DC Chloe Bishop Tony Gates' daughter?
She could well be. Look again at the scene where Chloe asks Steve if he still believes there's a fourth bent copper, and she stands right in front of a photograph of DCI Tony Gates aka… dad?
Why did Steph Corbett come to see the Gaffer?
Because he helped her and her children by giving them £50K of the cash with which the OCG tried to bribe him in series five. Unlike DCI Tony Gates or PC Maneet Bindra's families, John Corbett's family did not receive a pay-out for dying in the line of duty because he was thought to have gone rogue during his undercover operation. It seems that Ted has been helping Steph deal with her finances in the 18 months after John's death.
Almost certainly not, but if you want to look, it's around 27:46 in the episode. We made the letters out to be PNIHOUYkmaBfNAEICRW, which include the words 'chairwoman' 'innumeracy' and 'Manchurian'. Food for thought…
Line of Duty continues on Sunday the 4th of April at 9pm on BBC One.