Reviews
Killing Eve Season 3 Episode 6 Review: End of Game
Eve and Carolyn get back to detective work while Villanelle gets sloppy and Konstantin faces some consequences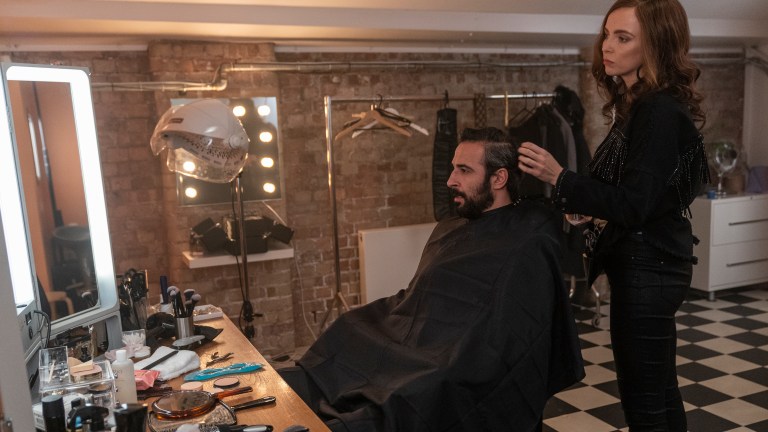 This KILLING EVE review contains spoilers.
Killing Eve Season 3 Episode 6
It's hard to say how incredibly disappointing it is that Niko's still alive. The actor is talented, but it's entirely unclear what his character brings to the table at this point. During season 2, the show decided it was leaving the bounds of normalcy and any semblance of Eve's real life. Why keep the living, breathing vestige of that around? A season later, is the show trying to put the toothpaste back into the tube? While Carolyn is considered cold and unavailable (hello, gendered considerations – it's not like Konstantin is father of the year, as this episode shows) she has maintained a quotidian life throughout the show that Eve aggressively shook off last season. What place does Niko have in the story if he won't be fridged?
Eve and the Bitter Pill gang get back to good old fashioned detecting, a reminder that this show often does best when on the hunt, these women mere footsteps behind one another. They've figured out that Dasha was behind the chalk killing and traced her through her KGB days to (of course!) an encounter with Carolyn in Sorento to her current life in Barcelona.
Eve ambushing Dasha in her excellent bowling jacket was truly a gift for us all. Eve gave off some real Carolyn vibes; I'm here for our girl learning from the master. She's changed since being shot – less timid, less likely to be intimidated. Innocently correcting Dasha that her Olympic medals were bronze, not gold, and matter of factly saying she never bowls after getting a strike. Eve plays Dasha pretty well with flattery and surprise – she's read her correctly, but Dasha understands Eve too, trying to deflate her fantasies of Villanelle. Dasha uses an interesting use of argumentation tactics, mostly contradictory. Villanelle doesn't care about anyone, but she likes Dasha better than Eve.
One of the best qualities of Killing Eve is the show's ability to make a meal out of even the smallest of moments. Fiona Shaw's Carolyn Martens appraising Eve Polastri and asking – right on the line between matter-of-fact and pointed – "But if it's The Twelve Eve, does it really matter who?" should be taught in drama schools along with Sandra Oh dropping all the muscles in her face, readjusting her posture, and saying, "I could say the same about Kenny." The dynamic of their entire relationship is right there in one exchange.
Both Eve and The Twelve have figured out that Bertha Krueger's death is key – Eve thinks Villanelle did it, meaning she couldn't have gone after Niko – after all, she knows he's off-limits. The Twelve has realized that Kreuger's husband didn't steal the money, so whoever killed Bertha was covering their tracks, which sends me back to my "Konstantin sent Villanelle" theory.
Carolyn finally confronted Konstantin by threatening to crash a car with them both in it like an absolute BAMF – can Fiona Shaw be the next Bond? Is she already? We should check just to make sure. I love that she was looking for intel on Kenny and got the intel on Geraldine by accident. What an utter louse, and what a mess they are. We finally have our answer: if Konstantin is Kenny's father, he certainly doesn't know for sure one way or the other. But I'm putting money on it: Carolyn Martens is not a woman who lives a life with such uncertainty. One way or another, she knows.
The revelation about Geraldine gave Carolyn the opportunity to speak her piece on their family dynamic and call out her daughter's duplicity. How much longer until Carolyn finds the bug? What's that debrief going to look like? Awkward.
Carolyn really had a rough go of revelations, also finding out that her former-ish boss that we hate is with The Twelve. He played the old "no you're a spy!" card which only works when everyone's suspicious for no reason, but of course Carolyn's too smart to tell him she has evidence. Instead, this old pro let him think it was a momentary bit of panic. I look forward to watching her use him to her advantage until he eventually dies. What is it with the men in MI6? We're two for two on traitorous male dickheads in power. Only Kenny and Bill are great, and now they're both dead.
Konstantin learned a big lesson in getting involved in organized crime and letting your kid hang out with a psychopath: sometimes it rubs off! This feels very plot-driven – Irina never seemed prone to suggestion or interested in her father's "lifestyle." It's fun to watch Konstantin's comeuppance, especially as he wreaks havoc on someone else's family and Villanelle contemplates (or faux-contemplates) domestic life either with him and Irina or with Eve. All the same, it feels more like a gag to see Irina's goofy smile than something the most stubbornly independent character on the whole show (and that's saying a lot!) would do.
Finally, Villanelle has yet another sloppy kill – and a high profile one, inside the organization and out. Leaving blood and fingerprints behind will no doubt come back to haunt her – will this take things out of Eve's hands, so that other agents or agencies where no one's in love with her may get involved? She wasn't thrilled to realize The Twelve screwed her by giving her the title of Keeper and some cash to pacify her, but no real upgrade in power. Seeing her with Dasha, after Konstantin tells her not to let them know she wants out and she knows Dasha is meant to report back on her, it's hard not to think Villanelle once again has so much larger, more hare-brained scheme up her fringed, sparkled sleeve.
Other notes…
Y'all are killing me with these title cards! Even the Speak'n'Spell gets 'em! Is there no end to the madness?
In Dasha news, she was kicked out of the KGB for killing her own (I need to know the backstory, now!) and apparently took a bite of a whole lemon, rind and all. Somehow it feels like the bit about the lemon is more revealing.
"You can't watch sports without a hot dog." Are we sure Villanelle isn't American?
Villanelle awkwardly thrusting her butt around, cheering on Irina with that airhorn and annoying Konstantin is precious. I'd watch a ridiculous black comedy about the three of them going on adventures where Konstanin and Irina have sort of normal sitcom woes and V keeps accidentally killing people.
Konstantin, with an oddly prescient quote on killing a parent: "Of course she deserved it. Everyone's mother deserved it. But you're not supposed to do it."
Also filed under driving cars like madwomen: Irina, still one of my faves
Some of Villanelle's sartorial standouts: her navy suit with dramatic shoulders and shiny silver loafers to meet Helena, her red wool coat, amazing textured white leather boots with Irina, the black and tan jumpsuit at the hockey rink.
Keep up with all our Killing Eve season 3 news and reviews here.