Julie and the Phantoms Review (Spoiler-Free)
Netflix's Julie and the Phantoms is a fantastical escape that could stand to be a little spookier.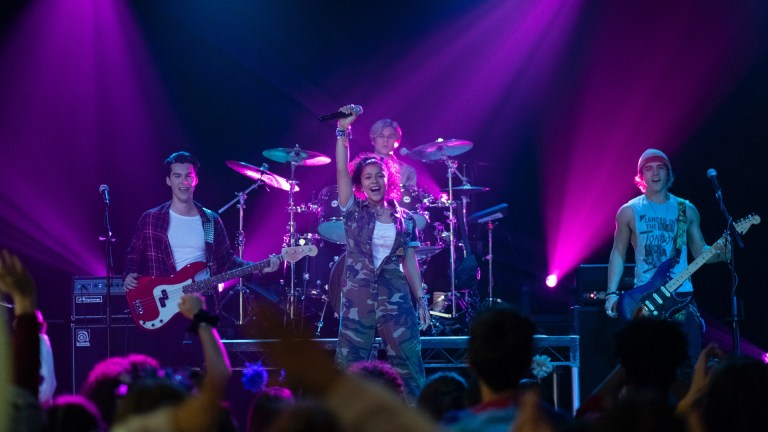 This review of Julie and the Phantoms contains no spoilers.
Probably the only thing you need to know about Julie and the Phantoms before going in is that its executive producer is Kenny Ortega. If that doesn't instantly ring a bell – well, he's the guy who directed the High School Musical movies, the Descendants movies, and, of course, the evergreen Halloween classic Hocus Pocus. This nine-part supernatural teen drama is the first of his projects for Netflix, and it's just as charming, warm, and finger-snappingly musical as you'd expect. 
Julie (newcomer Madison Reyes) is a 15-year-old singer-songwriter who recently lost her mother. Her grief has put a damper on her creativity, and as a result she's close to getting kicked out of her school's prestigious music program. Then she meets cute up-and-coming indie rock band Sunset Curve and rediscovers her voice. Her teachers are impressed, her school friends are obsessed, and the newly renamed 'Julie and the Phantoms' even attract attention from record label execs. The catch? The boys – Luke (Charlie Gillespie), Alex (Owen Joyner) and Reggie (Jeremy Shada) – have all been dead for 25 years.
Though the title and premise of the show were lifted from Nickelodeon Brazil's Julie e os Fantasmas, Ortega was given free rein to retell the story however he saw fit. That might explain why the show seems to take a couple of episodes to find its feet: the first two, at least, seem to skew extremely silly and very childish, as Julie and the boys meet for the first time and try to negotiate the rules of their extremely weird friendship.
Those rules aren't immediately clear to the viewer, either. Who can see Sunset Curve at any given moment? What can they interact with? What ghost props do they have access to, and what have they been doing for the two-and-a-half decades since they died, anyway? There's a lot of very specific ghost lore that the show needs to get straightened out, and watching all that unfold isn't a particularly comfortable or enjoyable process.
But once the ghosts' powers and limitations have been established, things start to click into place, and the show becomes a very gentle, very sweet comedy-drama about the joy and despair of being a teenager. Julie has to navigate the usual high school friendships, crushes, and rivalries, as well as mourning her mum and coping with three extremely disruptive invisible friends. The early silliness doesn't entirely vanish, but the show's tone evens out as the relationships between characters develop. Whatever it lacks in logic, it makes up for in heart. Reggie's friendship with Julie's oblivious dad (Carlos Ponce) is a great example of that juxtaposition of absurdity and warmth, while Alex's budding romance with fellow ghost Willie (Booboo Stewart) is adorable, if maybe a bit too coy. Occasionally, it feels like the show might be in danger of toppling over into mawkishness, but it gets away with it through sheer, unadulterated sincerity.
It is frustrating that the scripts don't always make the most of the show's high concept premise, though. Despite being a story about ghosts, there's an almost total lack of spookiness. Horror fans might get a kick out of the first episode's prologue – set on the fateful night when the Sunset Curve boys met their untimely ends, it gleefully nods to the anticipation and dread of the Final Destination movies – but beyond that, the ghosts might as well be Care Bears. And considering this is a story about a girl from 2020 teaming up with a group of boys from the mid-1990s, there's very little comedy or drama mined from the inevitable culture clash between them.
Then again, at just nine 30-minute episodes long, this is very much a mini-series, and the cliff-hanger ending arrives just as it seems to be hitting its stride. The introduction of Caleb Covington (American Horror Story's Cheyenne Jackson) as the dapper proprietor of a ghost-friendly nightclub, and the growing success of Julie and the Phantoms as a band despite the obvious limitations to their performances, have so much dramatic potential that the creators must surely have one eye on a second season. Assuming it finds enough of an audience to make it worth Netflix's while, then, there should be time to explore those opportunities later on, without worrying about holding the audience's hand through the paranormal stuff.
Inevitably, this isn't going to appeal to everyone. If you like your fantasy dark and apocalyptic, this isn't the show for you; if you'd rather be caught dead than dance to something off the High School Musical soundtrack, it's unlikely you'll add any of Julie And The Phantoms' songs to your playlist any time soon. But Kenny Ortega knows his way around big-hearted teen fare, and there's something almost irresistibly likeable about this show. Comforting, uplifting, and relentlessly optimistic, Julie and the Phantoms might just be the reassuring hug of a show you need right now.