News
DC's Endless Winter Introduces Viking Justice League
The writers behind DC's winter crossover teased a new team: Justice League Viking.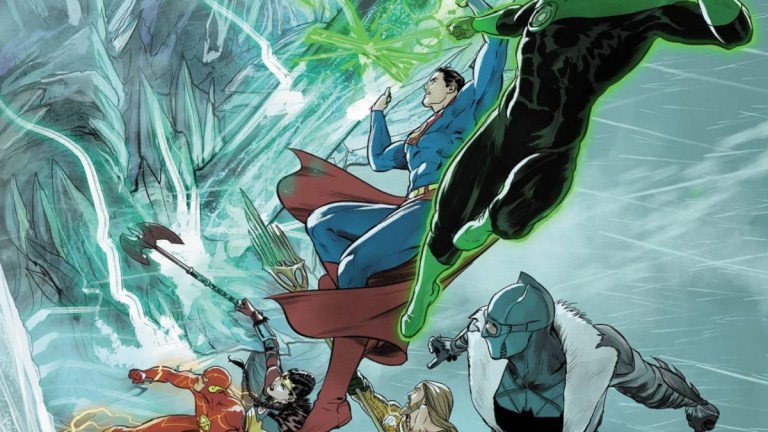 Reaction around the virtual office water cooler mid-pandemic when DC's winter crossover, Endless Winter, was announced was guarded excitement, along with the occasional wry "Oh you mean March?" Turns out, it wasn't that far off, according to co-writer Ron Marz.
"The fact that we're doing this [online] instead of in person at the Javitz Center is part of it," he said at DC's Endless Winter panel at New York Comic Con replacement Metaverse. "We're all feeling a sense of isolation."
Endless Winter is a nine part crossover that runs through two bookend issues, three specials, and the regular issues of Flash, Aquaman, and Justice League in December. Marz (Green Lantern) and Andy Lanning (Legion Lost) are co-writing, with art on each chapter from Marco Santucci (Shazam) along with another artist on each individual book.
Santucci, the panel revealed, will be drawing the flashback sections of each chapter – jumps back in time to what the creative team is calling "Justice League Viking," a team of Hyppolyta, Black Adam, Swamp Thing, and Viking Prince, that teamed up to fight off the Frost King, an ancient evil trying to cause the fimbulwinter, the deep freeze that, in Norse mythology, precedes Ragnarok. They called Frost King the "personification" of that endless winter, and will be jumping back and forth between Justice League Viking and the modern teams in each chapter.
Marz called it a traditional superhero event comic at the panel. Superhero stories are, he said, by their nature cyclical, and they're leaning into that to tell this story.
It kicks off in Justice League: Endless Winter Special #1, with JLA legend Howard Porter joining Santucci on art. That is followed by The Flash #767, with art from Clayton Henry; Superman: Endless Winter Special #1, with art from classic Green Arrow team Phil Hester and Ande Parks; Aquaman #66, with Marco Mendonca on art; Justice League #58 with Xermanico; Teen Titans: Endless Winter Special #1, with Jesus Merino drawing; Justice League Dark #29 with current series artist Amancay Nahuelpan; Black Adam: Endless Winter Special #1 from Brandon Peterson; and wraps up with Justice League: Endless Winter Special #2 with Porter and The Flash's Carmine di Giandomenico. The writers called JLD one of their standout chapters, with some interplay between Hyppolyta and Detective Chimp that they found particularly appealing.
For more on Justice League: Endless Winter, Justice League: Ceaseless March; or (god forbid) Justice League: The Long November, stick with Den of Geek!