News
Invincible Adds Six Walking Dead Alums to Cast
Lauren Cohan, Sonequa Martin-Green and four other Walking Dead cast members will make up Invincible's Guardians of the Globe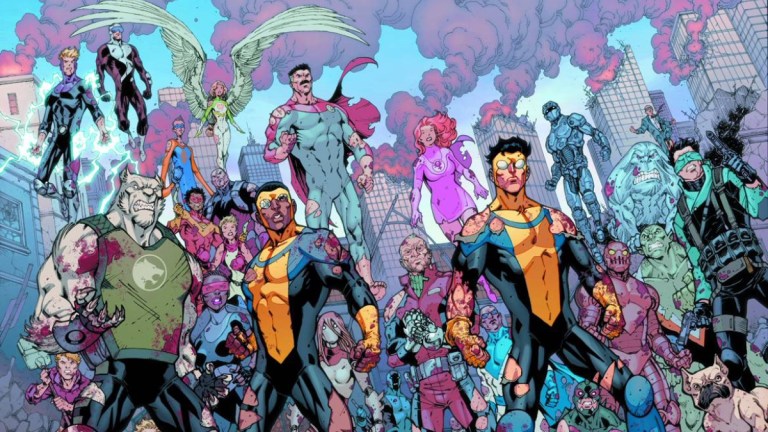 Amazon Prime's animated adaptation of Robert Kirkman's comic Invincible was already shaping up to be a very Walking Dead-friendly place. Both Steven Yeun (Glenn on TWD) and Khary Payton (King Ezekiel) had signed up in prominent roles. But with this latest casting news, Invincible may as well be part of The Walking Dead universe. 
Kirkman announced during his Comic-Con@Home virtual panel today that six…SIX(!!!) current and former Walking Dead actors will be joining the cast of Invincible. Not only that but they'll all get to be on their own little team once again as they will each voice a character in the Guardians of the Globe. The castings are as follows:
Lauren Cohan – War Woman
Chad Coleman – Martian Man
Michael Cudlitz – Red Rush
Lennie James – Darkwing
Ross Marquand – The Immortal & Aquarius
Sonequa Martin-Green – Green Ghost
In the Invincible universe, the Guardians of the Globe are a private superhero organization founded by War Woman and Darkwing. They are considered the premier superhero team in Invincible's world, akin to The Avengers or Justice League. Indeed each member of the Guardians of the Globe has a pretty direct analog in an existing Justice League member. Darkwing and War Woman match up closely with Batman and Wonder Woman for instance.
Having the team made up of the Walking Dead cast of past and present should be a fun little Easter egg for Kirkman fans. Of the six, only Cohan and Marquand remain on the series. Marquand portrays former Alexandria recruiter turned one-handed badass Aaron. Cohan has been a part of the series as Maggie Rhee (née Greene) since season 2. Though she exited the show for seasons 9 and 10 to star on ABC's Whiskey Cavalier, AMC recently revealed that she will be returning for The Walking Dead season 10 finale and beyond. 
James plays Morgan in The Walking Dead universe. He was first introduced in the show's pilot and eventually made the jump to sister series Fear the Walking Dead. His characters' fate is currently in question. Cudlitz portrayed Abraham and continues to direct episodes of the show. Coleman played beloved comic character Tyreese. Martin-Green played Sasha and parlayed her time on The Walking Dead to a starring role in CBS All Access's Star Trek: Discovery.
Previously announced members of the Invincible cast include:
Steven Yeun will voice Mark Grayson
J.K. Simmons will voice Nolan Grayson
Sandra Oh will voice Deborah Grayson
Zazie Beetz will voice Amber Bennett
Khary Paton will voice Black Samson
Zachary Quinto will voice Robot
Chris Diamantopolous will voice Doc Seismic
Walton Goggins will voice Cecil Steadman
Grey Griffin will voice Shrinking Rae & Amanda (Monster Girl as Girl)
Mark Hamill will voice Art
Gillian Jacobs will voice Atom Eve
Melise will voice Dulpi-Kate
Jason Mantzoukas will voice Rex Splode
Andrew Rannells will voice William Clockwell
Kevin Michael Richardson will voice Mauler 1, Mauler 2 & Monster Girl (as Monster)
Seth Rogen will voice Allen the Alien
Kirkman created Invincible alongside artist Cory Walker and illustrator Ryan Ottley. The character first appeared in Tech Jacket #1 before getting his own series in 2003. Though Kirkman has come to be synonymous with pop culture juggernaut The Walking Dead, Invincible was his first ultra-prolific piece of work. The comic book follows a young boy named Mark who discovers that his father is not only an alien but a superhero and one day he will have to follow in his footsteps.
The project does not yet have a release date.