News
Invincible: Zachary Quinto and Khary Payton Join Cast of Amazon Series
The animated adaptation of Robert Kirkman's superhero story Invincible has added two more to its already-announced voice cast.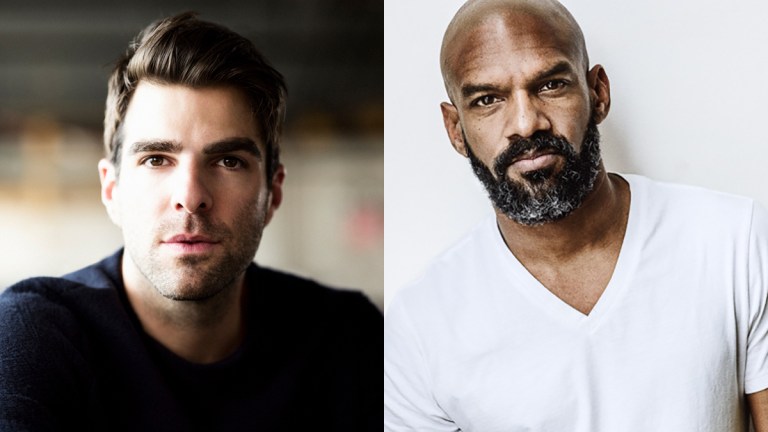 While The Walking Dead fans await the season finale date for the show's 10th season, progress is being made on another Robert Kirkman adaptation. 
During the online convention Skybound Xpo, Kirkman revealed two crucial bits of casting for Amazon Prime's upcoming animated adaptation of his comic series Invincible. Zachary Quinto (NOS4A2) is joining the voice cast as Robot and Khary Payton (The Walking Dead) is joining up as Black Samson. Robot is one of hero Mark Grayson's key allies in the series while Black Samson is a fellow superhero. 
In addition to the Quinto and Payton announcement, Kirkman revealed who each of the previously-announced voice cast members will be playing. The full list is as follows: 
Steven Yeun will voice Mark Grayson
J.K. Simmons will voice Nolan Grayson
Sandra Oh will voice Deborah Grayson
Zazie Beetz will voice Amber Bennett
Khary Paton will voice Black Samson
Zachary Quinto will voice Robot
Chris Diamantopolous will voice Doc Seismic
Walton Goggins will voice Cecil Steadman
Grey Griffin will voice Shrinking Rae & Amanda (Monster Girl as Girl)
Mark Hamill will voice Art
Gillian Jacobs will voice Atom Eve
Melise will voice Dulpi-Kate
Jason Mantzoukas will voice Rex Splode
Andrew Rannells will voice William Clockwell
Kevin Michael Richardson will voice Mauler 1, Mauler 2 & Monster Girl (as Monster)
Seth Rogen will voice Allen the Alien
Kirkman created Invincible alongside artist Cory Walker and illustrator Ryan Ottley. The character first appeared in Tech Jacket #1 before getting his own series in 2003. Though Kirkman has come to be synonymous with pop culture juggernaut The Walking Dead, Invincible was his first ultra-prolific piece of work. The series ultimately ran for 144 issues, putting it only 49 behind The Walking Dead 193-issue run. The comic book played around with superhero tropes and follows a young boy named Mark who discovers that his father is not only an alien but a superhero and one day he will have to follow in his footsteps.
Seth Rogen and Evan Goldberg originally optioned Invincible as a movie. But cooler heads prevailed and realized that the 144-issue story would play better as a series. There is no word yet on a release date for Invincible. It was previously announced to be premiering in 2020. But if the casting process was still underway, then that does not bode well for a release date this year.
Skybound Xpo was an online convention to celebrate the 10th anniversary of Kirkman's entertainment company Skybound Entertainment. In addition to the Invincible casting news, Kirkman also announced at the event that The Walking Dead comic will be getting a full color re-release.