Features
Interview with the Vampire Season 1 Ending Explained
The conclusion to Interview with the Vampire's first season accelerates Anne Rice's timeline in tremendously satisfying fashion.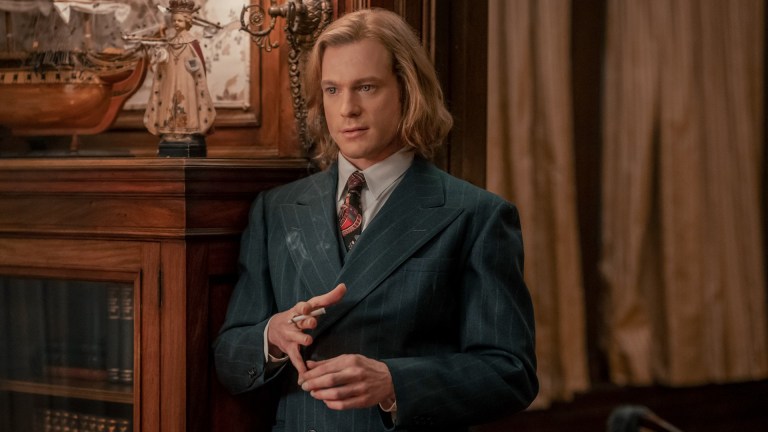 This article contains spoilers for the Interview with the Vampire season 1 finale.
Interview with the Vampire has been one of the most pleasant surprises of the 2022 TV calendar. AMC's supremely atmospheric series uses Anne Rice's classic tome as a jumping off point to modernize the vampiric recollections of Louis de Pointe du Lac (Jacob Anderson) as he recounts his time with Lestat de Lioncourt (Sam Reid) and Claudia (Bailey Bass), all the while maintaining the impeccable gothic vibes of its source.
Each and every one of Interview with the Vampire's seven episodes is absolutely dripping with macabre sensuality but the show outdoes itself with its seventh and final (for now) installment "The Thing Lay Still." In season 1's final hour Louis, Lestat, and Claudia's pristine marble environs are finally stained with gallons upon gallons of blood, both literally and figuratively. The Mardis Gras ball at the vampire mansion is a big hit while Louis and Claudia take concrete steps to get out from under Lestat's oppressive influence. In the present day, Daniel Molloy (Eric Bogosian) makes a discovery about Louis that could fundamentally change the trajection of their interviews.
It's a supremely confident episode of television that both honors and updates Rice's text in fascinating ways. Through all the blood, however, you may have missed a twist or two. Here is what happens in the Interview with the Vampire season 1 finale, explained.
Is Lestat Dead?
Lestat de Lioncourt is not dead. Episode 7 makes that pretty clear but no judging if you missed it. Sometimes you've gotta look down at your phone and that's what we're here for. But even if you did catch that Lestat is not dead, Interview with the Vampire does something pretty interesting with how it approaches that moment, and it goes back to how the show chooses to smartly adapt Rice's book.
At the very beginning of this episode, Molloy asks Louis to clarify how a vampire can really die. Louis provides him with some options: decapitation, fire, drinking the blood of the dead, drinking poisoned blood, etc. Readers of the novel and viewers of its 1994 film adaptation will know that the timing of Molloy's question to Louis isn't random. Per the show's canon, Molloy already interviewed Louis back in the '70s (which is when the book is set). Louis didn't tell Molloy the whole truth back then, which is why he reached out to him to be interviewed again. But Molloy still remembers the rough timeframe of that original story and he knows that Lestat's "death" will be coming up soon. Additionally, he knows that Lestat's death ultimately didn't stick and he returned later on in Louis' tale.
By getting Louis on record about what kills a vampire, Molloy is setting a little trap. He suspects that Louis truly loved Lestat and that his story about killing him was off. And he wants Louis' rundown of the methods for killing vampires to confirm it. Ultimately it does not, but Molloy is able to get some confirmation later.
Claudia indeed "killed" Lestat through the method of poisoned blood. The whole thing was a complicated ruse where she knew Lestat would be spying on her and would learn she was poisoning some hot young twins for him to eat. In addition to the twins then, Claudia also poisoned the corrupt city official that offended Lestat, knowing that he wouldn't be able to help himself from draining him as well ("Always the petty slights with you, uncle Les.")
Lestat succumbs to his blood poisoning and settles into something resembling death. The show, however, never hides the fact that this death won't be a permanent one. Molloy knows it from hearing the first iteration of the story and he wants Louis to confess that he knew Lestat would come back too, himself.
"You didn't kill Lestat. You spared him," Molloy asserts.
Molloy contends that Louis knew exactly what he was doing by placing Lestat in a coffin and throwing him in the trash (like how Frank Reynolds wants to go on It's Always Sunny in Philadelphia). The trash goes to the dump. And at the dump are plenty of fat rats whose blood could sustain an injured vampire as they recover. Louis, king of eating rats, knows this as well as anyone else.
So yes, Lestat survived and will be back on the show at some point. The bigger question, however, is why won't Louis admit he knew Lestat's return was inevitable?
What Happened with Louis and Claudia?
Molloy's pointed questions about what Louis knew about Lestat's supposed death lead into the next pointed line of questioning for him: just what the hell happened between him and Claudia. In both Louis' original version of the story and the one he's telling now, Louis and Claudia happily head off to Europe once freed from Lestat's clutches.
Molloy, and the audience at large, is now starting to suspect that there is some bullshit embedded in that story. For starters, there are missing pages from Claudia's diary and Louis completely clams up every time Molloy asks about it. Additionally, if Louis knew in his undead heart that Lestat wasn't dead and gave him the opportunity to recover then wouldn't that drive a wedge in-between him and Claudia (who truly hated Lestat) once she finds out?
At one point, while Molloy presses Louis, we see a brief glimpse of Louis wailing and weeping over Lestat's bloody body. Additionally, we see Claudia urging Louis to burn Lestat's body as they did with Antoinette's. But Louis refuses. That presents quite a different picture of his story of going along with Claudia's plan, albeit hesitantly. Something definitely happened between Louis and Claudia involving Louis' allegiance to Lestat and he remains ashamed of it nearly a century later.
Who is Armand?
"The Thing Lay Still" saves its biggest surprise for its final moments. Throughout this season, Molloy has sensed that something is off with Louis' helper named Rashid (Assad Zaman). Part of it is that Molloy doesn't understand why an undead monster would maintain his Islamic faith and belief in a higher power. But Molloy was also suspicious because, even though he doesn't remember it, he's met "Rashid" before.
Rashid was there the night Louis encountered Molloy in San Francisco and it was Rashid who tore Louis off of Molloy when he angrily attacked him for expressing desire to become a vampire. Rashid had the strength to save Molloy from a vampire attack because he is a vampire, himself! The Vampire Armand, in fact.
The phrase "The Vampire Armand" should ring a bell for anyone passingly familiar with Anne Rice's Vampire Chronicles (of which Interview with the Vampire is the first entrant). The Vampire Armand is the sixth book of the series and covers the history of the character who Louis just introduced Molloy to. Of course, Molloy knows some of Armand's history already as Louis told it to him as part of their original interview.
Not to spoil too much about coming seasons but Louis recounts meeting Armand and his Théâtre des Vampires in Paris in the back half of Interview with the Vampire. Armand is a part of Louis' story but he eventually exits it before the conclusion of the original book and film. By revealing that Armand still remains a part of his life (and the love of his life, in fact) Louis is acknowledging that he fudged yet more details of his story to Molloy.
Armand is a fascinating character. As he hells Molloy, he is 514 years old and as such very powerful, even being able to withstand some contact with the sun. He has been adapted three times in other media, first played by Antonio Banderas in the 1994 film, then played by Matthew Newton in 2002's The Queen of the Damned, and finally by Drew Sarich in the Broadway musical Lestat.
Assad Zaman's depiction in this series appears to be closest to Rice's conception of the character. The Armand of Rice's novels was a short, beautiful, cherubic creature with curly hair who was turned into a vampire as an adolescent boy. Though Zaman is an adult (reportedly born in 1984), he does have a far more youthful appearance than the other actors who depicted Armand.
Ultimately Armand plays a big role not only in the rest of Interview with the Vampire but in many of the Vampire Chronicles to come. The introduction of him here, relatively early into the story, indicates that this series considers him to be a properly major character as well.
What's Next for Season 2?
Interview with the Vampire's first season ends with a truly thrilling image. Before the credits roll, the "Interview with the Vampire" title card appears and below it, in bloody red lettering, arrives the text "Part 1." We already knew more was coming when AMC renewed the series ahead of its premiere but it's still nice to have visual confirmation of that fact.
Additionally, the "Part 1" title card may provide some clarity on how AMC intends to approach the rest of this story. Back in 2020, AMC acquired the rights to all of Rice's works, the two most notable of which were her The Vampire Chronicles series and The Mayfair Witches series. AMC first announced that it was adapting The Vampire Chronicles but ultimately chose to give it the more recognizable name of the first book in the series, Interview with the Vampire (kind of how George R.R. Martin's "A Song of Ice and Fire" became the name of its first book Game of Thrones).
It seems increasingly clear now that Interview with the Vampire will continue to be The Vampire Chronicles series with no further rebranding necessary. The end of Part 1 of the show arrives at roughly the halfway point of the first book. This means that season 2 (or part 2) will likely depict the back half of the first book in which Louis and Claudia explore Europe, and then future seasons after that will adapt further books in the series.
Or at least we think that's the case. Louis' memory isn't the most reliable narrative guidepost after all.