Features
Inside the Shocking The Flash Season 9 Premiere Ending
Yes, you definitely saw what you think you saw at the end of The Flash season 9 premiere. We have all the details from the showrunner!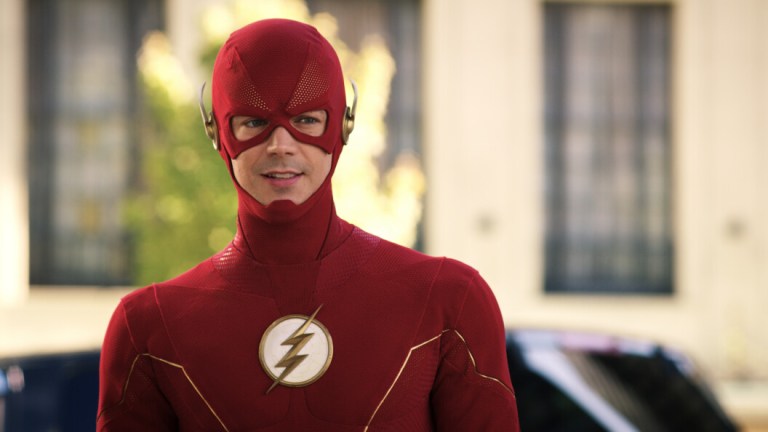 The following contains The Flash spoilers.
The Flash Season 9 Episode 1
While The Flash Season 9 premiere was a light-hearted romp of the sort that we haven't seen on this show in some time, the kick-off to the series' final run of episodes included more than a few tantalizing hints of what's to come in the weeks ahead, from new villains to a strange new being—who definitely isn't Frost—that seems to suddenly be inhabiting the body Caitlin Snow's body as a result of her trip into her homemade cryochamber. 
Although "Wednesday Ever After" introduces former The 100 star Richard Harmon as a new, post-Crisis on Infinite Earths version of Owen Mercer (a.k.a. Captain Boomerang), the episode's final moments reveal that he's not working alone and that his literal partner in crime is someone who looks much more familiar—but is likely a whole lot more dangerous.
Red Death
Rumors that one of Barry Allen's final villains would be the infamous Red Death had been circulating online for weeks, and fans are rightly curious to see how the show would adapt the character for the small screen. Because the comic book version of Red Death is a corrupted speedster version of Batman from an alternate universe, and the CW superhero universe has very deliberately avoided using any version of the Caped Crusader across its myriad properties. (Save, of course, for an appearance by the late Kevin Conroy as an older Bruce Wayne from Earth-99 during the Crisis crossover event.)
"One really simple edict came down from DC—and they were very polite about it, but they said, hey, you can do the Red Death, but it can't be Bruce Wayne or Thomas Wayne," The Flash showrunner Eric Wallace says. "Immediately [that meant] we couldn't really dip into the Dark Nights: Metal storyline."
Enter former Batwoman star Javicia Leslie, who will be playing Red Death as what appears to be a dark version of Ryan Wilder. 
"We had to come up with a completely new origin for our version of the Red Death, and a reason why the Red Death is so obsessed with hating and wanting to kill Barry Allen," he continues.
Although Wallace is vague about what that reason might be, he does point out that the best villains "don't think they're a villain" in the first place.
"Tune in to find out!" he laughs. "But, and this isn't a spoiler really, but as we get to know this villain and this character, we'll see—Red Death has a really good reason to not like Barry Allen.
Sometimes, again, the villain doesn't think they're a bad guy, which means they don't think the hero is a hero either."
Caitlin, Frost, or Someone Else?
Of course, The Flash's final season still has a lot of questions to answer that have nothing to do with how Barry will defeat the Big Bads of its final two "graphic novels" (Wallace's preferred term for the format in which he likes to divide a season). And the biggest one is probably what happened to Caitlin Snow. But while the season 9 premiere shows us the person who ultimately exited the device Caitlin built to try and resurrect or at least replicate her dead sister, it doesn't appear to be anyone we've seen before.
"As Danielle's character says at the end of the premiere—and she's telling the truth—'I am not Caitlin. I am not Frost. I am someone new," Wallace says.
Although this mysterious being's hair—which is now Caitlin's normal brown streaked with bright blue—appears to visually hint that this is some sort of merging of Frost and Caitlin's consciousnesses, Wallace vehemently denies that possibility. ("Nope. Not at all!" he says when asked directly.) But it appears that at least some answers about this persona will arrive sooner rather than later.
"Next week's episode is all about who is Danielle Panabaker playing for the rest of this season," Wallace says. "And we don't mess around. It's the opening scene of the second episode. You'll learn her name. You'll learn a little bit about how she came to be. It's her origin episode. But remember—it's the beginning of this new character's journey. And she's going to be a hero in her own right that plays a hugely, incredibly integral role in the series finale. But the real question that hangs over the character's next few appearances is why now? Why now? And in the middle of Season 9, you're going to get the 'Why now.' And when the audience realizes the answer, it is mind-blowing."
And although this new unidentified being now marks at least the third persona that has inhabited Caitlin's body over the past few seasons, Wallace insists that the original character will get her due before the series concludes.
"Yes, you will get an ending to the Caitlin storyline through this new character. Unequivocally yes," he says. "It just might not be the way you think it will happen, and you might not see it coming in the way that it's going to happen, because it's going to take all season. It will not culminate until we finally confront our final Big Bad of the season."
Who that final big bad is something Wallace also won't share details about, though he does laugh rather manically when asked about whether it has something to do with the strange, glowing blue crystal from 2049 we saw in the Season 8 finale. Instead, he simply says fans are in for an exciting ride as the series comes to a close.
"The CW and Warner Brothers and Berlanti and everybody…they've been so incredibly supportive," Wallace says. "The only soft guide suggestion I ever got from anybody was 'Just do your best and let's try to make this the best finale we can, and we will support you however we can to help you achieve that', which is a pretty awesome thing for a showrunner to hear. I'm very grateful because I have some really wild things that happen in the last five episodes of the season."
And despite the fact that The Flash is one of the last handful of Arrowverse shows still standing, Wallace says he never felt as though he needed to come up with a finale to serve as a farewell for the network's entire interconnected slate of superhero shows or solve any of the cliffhangers left dangling out there by other series. (Cough, cough, Legends of Tomorrow cough.)
"I just look at this as the ending of The Flash. That's all I've always thought about," he says. "And there was no pressure [to use The Flash]  to end the Arrowverse or anything like that. Because as far as I'm concerned, the Arrowverse is not ending. It's alive in my heart and my mind and however it lives on, it lives on. I'm still gonna watch Superman & Lois!"