News
Hulu New Releases: February 2023
We have a list of the new Hulu movies and shows arriving in February 2023 including another season of Animaniacs.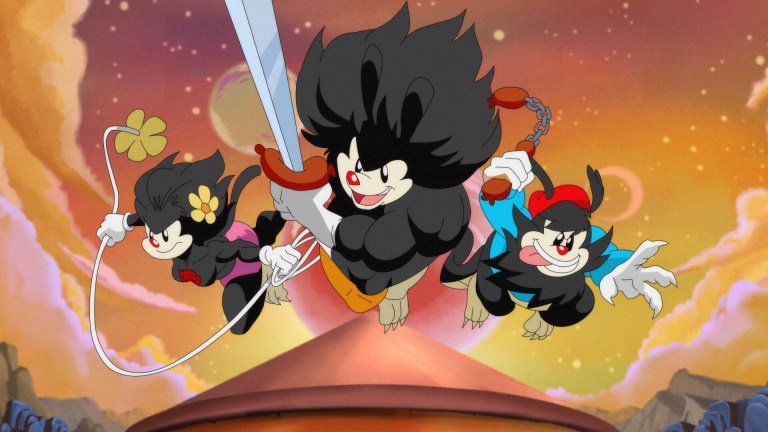 It feels just like last month we were complimenting Hulu on its true crime offerings. Well, with its list of new releases for February 2023, Hulu is staying in the true crime lane. Suppose that'll happen when you push back the release date of a series or two.
February sees the arrival of three notable true crime series on Hulu. Taiwan Crime Stories premieres on Feb. 1 and presents four true tales from Taiwan's criminal "dark underbelly." That will be followed by ABC News Studios' Killing County on Feb. 3. That three-episode series ponders the question "what happens when police kill?" The most interesting true crime offering premieres on Feb. 9. That's when Stolen Youth: Inside the Cult at Sarah Lawrence College shares its four-episode saga of Larry Ray and the young college students he victimized.
As far as non true crime offerings go, the third and final season of Hulu's Animaniacs reboot arrives on Feb. 17. Join Yakko, Wakko, and Dot as they test the limits of corporate copyright law. And now this would be the time that we shout out some of Hulu's intriguing library titles this month. Truth be told though, there's not much to write home about, save for The Green Mile and Scarface.
Here is everything else coming to Hulu this month.
Hulu New Releases – February 2023
February 1
Taiwan Crime Stories: Complete Season 1
Impractical Jokers: Complete Seasons 1-3
Naruto Shippuden: Season 7, Episodes 378-389 (DUBBED)
Sherman's Showcase: Season 2B
2012 (2009)
50/50 (2011)
Aileen Wuornos: American Boogeywoman (2021)
All The King's Men (2006)
Amour (2012)
Are We There Yet? (2005)
Arthur Christmas (2011)
Bad Reputation (2018)
Brown Sugar (2002)
The Cable Guy (1996)
Chocolate (Sub) (2008)
Cow on the Run (2021)
Darkness Falls (2003)
Date Movie (2006)
First Daughter (2004)
Gnomeo & Juliet (2011)
The Green Mile (1999)
Happy Gilmore (1996)
The Help (2011)
How Do You Know (2010)
How To Train Your Dragon 2 (2014)
I, Robot (2004)
If Beale Street Could Talk (2018)
It's Complicated (2009)
Just My Luck (2006)
Kissing Jessica Stein (2002)
Lee Daniels' The Butler (2013)
Life or Something Like It (2002)
Madeline (1998)
Man on Fire (1987)
Pride (2007)
Ruby Sparks (2011)
Safe House (2012)
Scarface (1983)
The Secret Scripture (2016)
Shock and Awe (2017)
Something's Gotta Give (2003)
Superbad (2007)
Surrogates (2009)
Thank You for Smoking (2006)
The Watch (2011)
Water for Elephants (2011)
The Waterboy (1998)
Welcome To The Rileys (2010)
February 2
National Geographic Investigates: Colombian Hippo Invasion: Special Premiere
I'm Totally Fine (2022)
February 3
Killing County: Complete Docuseries
Burn (2019)
Gigi & Nate (2022)
Haunt (2019)
Jeepers Creepers: Reborn (2022)
Jungle (2017)
February 4
Project Legion (2022)
February 7
Black Travel Across America: Series Premiere
February 8
Santo Maldito: Complete Season 1
Are We Done Yet? (2007)
February 9
Stolen Youth: Inside the Cult at Sarah Lawrence: Complete Docuseries
A Million Little Things: Final Season Premiere
National Geographic Investigates: Battle for Alaska's Oil: Special Premiere
National Geographic Investigates: Great Lakes Wreckage: Special Premiere
Not Dead Yet: Series Premiere
Piggy (2022)
February 10
Brimstone (2016)
Jesus Henry Christ (2011)
The Perfect Weapon (2016)
Pound of Flesh (2015)
Something in the Dirt (2021)
The Storied Life of AJ Fikry (2022)
February 13
Next Level Chef: Season 2 Premiere
February 15
Wu-Tang: An American Saga: Final Season Premiere
Horario Estelar: Complete Season 1
Love Trip: Paris: Series Premiere
Craig of the Creek: Season 4C
A Long Way Down (2014)
Blade Of The Immortal (2017)
Cocaine Cowboys (2006)
Cocaine Cowboys 2 (2008)
Cocaine Cowboys Reloaded (2014)
The Seat Filler (2004)
February 16
The Masked Singer: Season 9 Premiere
National Geographic Investigates: Legal Marijuana in America: Special Premiere
February 17
Animaniacs: Complete Third and Final Season
Animal Control: Series Premiere
Accident Man: Hitman's Holiday (2022)
All Roads Lead to Rome (2015)
Black November (2012)
Forsaken (2015)
Game of Love (2022)
La Boda De Valentina (2018)
Rogue Agent (2022)
Shut In (2015)
February 18
Hold Your Fire (2021)
February 19
Slayers (2022)
February 20
American Idol: Season 21 Premiere
The Company You Keep: Series Premiere
February 23
National Geographic Investigates: Peru's Grave Mystery: Special Premiere
Snowfall: Final Season Premiere
February 24
Bruiser (2023)
211 (2018)
A Million Little Pieces (2018)
Prisoners of the Sun (2013)
The Reef: Stalked (2022)
Spin Me Round (2022)
February 26
Iron Mask (2019)
February 28
The Book Thief (2013)
Leaving Hulu – February 2023
February 11
Batman Begins (2005)
The Dark Knight (2008)
The Dark Knight Rises (2012)
Inception (2010)
Insomnia (2002)
Let the Right One In (2018)
February 13
Fruitvale Station (2013)
February 14
The Brass Teapot (2012)
Enron: The Smartest Guys In The Room (2005)
The Hate U Give (2018)
One Last Thing (2005)
February 24
The Last Witness (2018)
February 28
28 Weeks Later (2007)
A League Of Their Own (1992)
Brothers (2009)
Buried (2010)
Chronicle (2012)
The Da Vinci Code (2006)
Dave Chappelle'S Block Party (2006)
Epic Movie (2007)
Ever After: A Cinderella Story (1998)
The Happening (2008)
Joe (2014)
Lemon (2017)
The Last Song (2010)
Liar, Liar (1997)
The Life Aquatic With Steve Zissou (2004)
Miss You Already (2015)
Never Back Down (2008)
Oculus (2013)
Office Space (1999)
Open Season 3 (2011)
Pathfinder (2005)
Picture Perfect (1997)
Results (2015)
Rio (2011)
The Scout (1994)
Secret Window (2004)
Snatch (2000)
Still Alice (2015)
Turbo: A Power Rangers Movie (1997)
Wall Street (1987)
We Bought a Zoo (2010)
White God (2014)