Features
Hulu and Blumhouse Take You Into the Dark
We spoke with the director and writer of the horror anthology series' premiere episode 'The Body.'
Into the Dark is a brand new anthology series from the Blumhouse production company, which is making a number of forays into television after cornering the market on the theatrical horror genre for the last several years. In an era when the anthology show seems to be back in a big way, Into the Dark has its own twist on the format: the show — which is coming out through Hulu — will turn out a new episode once a month throughout the entire year, and each of the 12 stories will be tied to a holiday within that month.
The first episode — which, at 80 minutes, plays out nearly like a feature film — is themed to Halloween of course and is called "The Body." Expanded by director/co-writer Paul Davis and writer/producer Paul Fischer from a short film they made in 2012, "The Body" follows the trail of professional killer Wilkes (Tom Bateman), who is sent on a job on Halloween night and encounters all sorts of challenges as he simply tries to transport the remains of his victim.
Like any classic anthology segment, "The Body" is a wholly self-contained story and, at its extended length, does often feel like a feature film in many ways. It's also got a black sense of humor that blends nicely with its more macabre and grisly aspects (let's just say that Wilkes is very good and often very creative at his job).
Paul Davis previously directed the documentary Beware the Moon: Remembering An American Werewolf in London, while Paul Fischer has produced a number of short films in addition to the original version of "The Body." Den of Geek spoke with both on the phone shortly before the premiere of Into the Dark, discussing the story's evolution, getting involved with Blumhouse and whether they would like to do another Into the Dark segment (future directors include The Last Exorcism's Daniel Stamm and Drive Angry's Patrick Lussier).
Den of Geek: Did this all start with your short film? Give me the history of how this show sprang into being and how you got involved.
Paul Fischer: We made the short film six years ago, and we wrote a couple drafts of a feature version with a much bigger budget that kind of circulated around town. And then just under a year ago, we got a phone call telling us that Blumhouse were interested in doing the feature script for Hulu, and we weren't immediately aware that it was part of a kind of anthology series. I think we got lucky, because they were looking at this anthology series and needed something to kick it off for Halloween, and they had a good script available that fit exactly what they needed to do and could help them hit the ground running. So that's what happened.
Did you always have a bigger story in mind, and used the short as a sort of proof-of-concept?
Paul Davis: No, speaking for myself, I always felt we were lucky to get away with just 20 minutes of it, because it's one joke. For me, it was never a case of a proof of concept. In fact, Paul and I wrestled with the idea of doing it for the best part of a year before we even started figuring out the dynamics of how we would expand it into a feature, because off the back of the short, I was introduced to Hollywood. I went to meeting after meeting and people asked me, would you do this? Would you adapt it to a feature? And I kept saying no, because I honestly couldn't see a way that we could faithfully expand it. It was like every meeting I went to I said the same thing. My manager called me and was like, "Next time someone asks you if you're going to adapt 'The Body,' you say, 'Yes.'"
I think it was around holiday season in 2014 that we seriously started to consider it, and I thought of something like Scorsese's After Hours. This really kinda crazy, batshit night that goes wrong would be a good starting point, and it took us about a year. We finished our first draft about December 2015.
Then I sent it to my manager, and it had this huge budget. And my manager was kinda like, "It's good, but this is your fourth movie until people start giving you this level of money." So we didn't do anything with it. It just kinda sat there for nothing, and then we got the call out of nowhere last December, saying, "Blumhouse are calling, they want your script."
Paul Davis, you seem to have been very steeped in the horror genre since you were a kid. Paul Fischer, are you the same way or a little bit different in that regard?
Fischer: I'm a bit different in the sense that I don't have the same level of commitment or knowledge or familiarity with it. I kind of feel like I'm down for anything that's good but there's lots of stuff, you know, like "The Body" is packed with easter eggs that I don't understand or haven't spotted yet.
Davis: I'm the horror nerd. There's stuff in the film that I didn't even realize was there, when I watched it in hindsight, there was just stuff that I'd made up on the day. like when Wilkes looks into at mirrors at the beginning when he's talking to Alex Winter on the phone, I was like, "We should do the mirrors from Enter the Dragon." You know, shit like that…there are about 70 easter eggs to different movies and TV shows in "The Body."
Read and download the Den of Geek NYCC 2018 Special Edition Magazine right here!
You, Paul Davis, also did the Beware the Moon documentary about the making of An American Werewolf in London, so it's nice to see John Landis show up in this for a sec.
Davis: Right, yeah. Also, he put me in his 2010 movie with Simon Pegg and Andy Serkis, Burke and Hare, where I got my leg cut off by Tim Curry in the first five minutes, so I kind of felt like I needed to repay the favor and throw him in the men's room with Tom Bateman.
That's terrific. Now, are you guys involved in the series as a whole, or are you just doing this one episode?
Fischer: Yeah, we're talking about something else…I think one of the things Blumhouse and Hulu wanted to do which is really cool was to have 12 episodes that would be very identifiable, 12 great filmmakers with their own stamp. But the experience of this was really great, I think they were happy, we had a really good time, so we've said we've got an idea for something that works for another holiday. But it hasn't been anything kind of defined, and I think the selling point of the thing for them, is you know, every month, they're gonna get something very different and it's not going to feel like a TV show where you've got a showrunner and it all kinda feels the same. You're gonna get a slate of very different feature films. So we were in it for just the one, originally.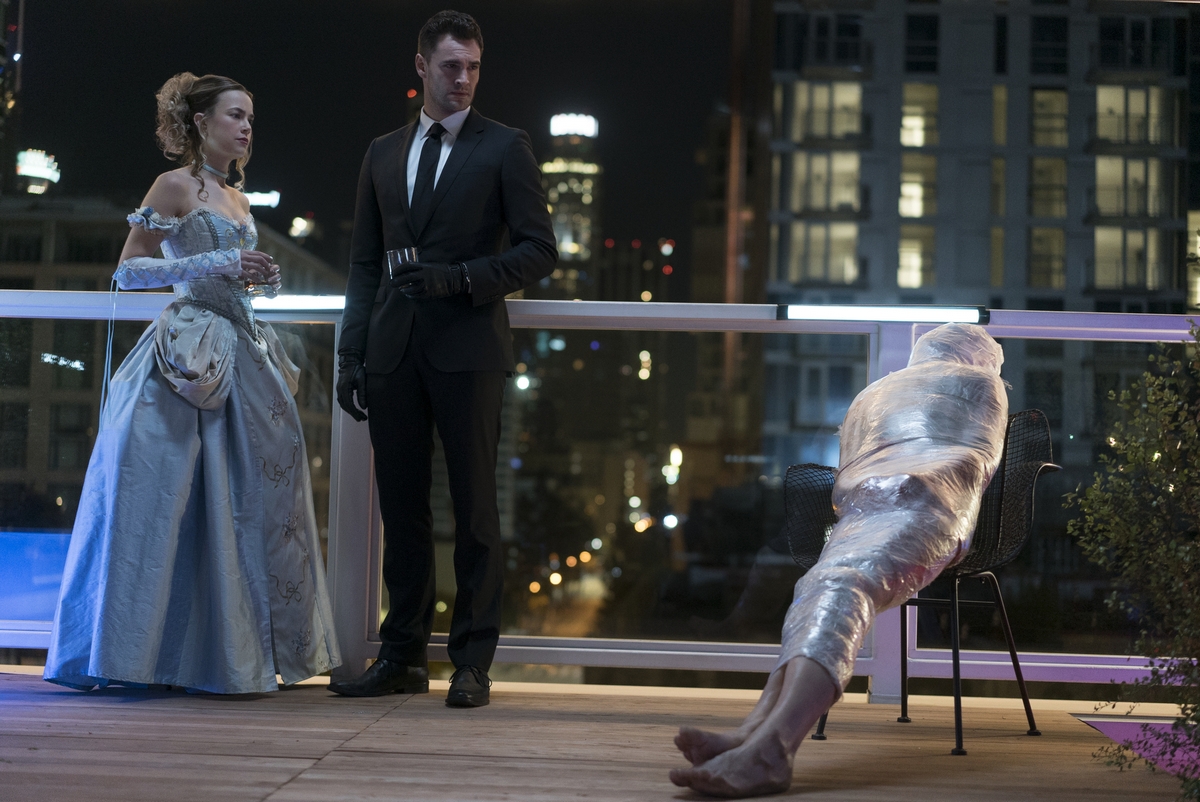 So the tone of your episode, which certainly has a healthy amount of dark comedy in it, is not necessarily going to be the tone of the series. They're going to switch it up.
Davis: Oh absolutely they are. I think one of the things here that's really helped with us being the first one is that it does kind of have a bit of everything. When you get to the third act, it's a horror film, when Wilkes is kind of hunting the kids. And then you've got the comedy side of it, and there's a little bit of drama and melodrama in there, and I think that that just kind of foreshadows what you're gonna get with these different individual stories going forward. Some of them will be straight-up horror, some of them will be plain fucking weird, so it's kinda like, so this is the base, take the ball and run with it. The thing is you've got 12 individual, unique voices on these things so they're gonna feel very different and very personal to whoever it is that's doing them.
Were you given any sort of parameters in how far you could push it in terms of violence or gore?
Davis: I think the biggest concern that anybody ever had going forward in this was the amount of smoking in it, which really kind of shows the sign of the times. But in terms of the gore and language, we were told off the bat, treat it like a TV MA. And in fact, I think it was around four days before we shot the ending, we had a sit-down meeting around the location and the execs were essentially saying, "Can we go gorier? Can we do more?" So we were encouraged to really push the envelope and take it to those places.
What did Blumhouse bring to the table?
Fischer: I think one of the things that was really interesting about it was, they knew exactly what they wanted to make, and exactly what they know that people enjoy watching when they see a Blumhouse name on something…I think the interesting thing of the process for us is when we started all this, this is one of the early shows for Blumhouse TV, you know, it's basically The Purge, Sharp Objects, and then Into the Dark. Everything was kind of getting set up. So there were moments when it felt like, okay we're all finding our TV legs together, whether it's the execs or us. And then there was lots of moments where they know exactly what they think will work, and exactly what they want out of something, which is really helpful.
And because everybody there kinda loves horror films and loves the genre, there was a sense of everybody kind of being on the same page as to loving the genre and wanting to fulfill something for people who love the genre. That really worked.
Davis: I just knew going into it, because we only had an 18 day schedule, everything had to be super prepared, everything had to be done upfront. There was no kind of umming and aahing on set, it was a case of going in, getting what I need, and when we got that in good time, get what I want.
Are you working on other projects together, or do you have separate ones as well?
Davis: Paul, you've actually got more in the pipeline than I do at this point.
Fischer: Yes, they're sort of different. I write books, which pays my bills. I've got a non-fiction book I'm writing now for Simon & Schuster, which is kind of true life Victorian mystery type thing. And then kind of a bunch of balls floating around. You know, producers have 15 things that might happen tomorrow or may never happen. That kind of fills the time and then we always, from my point of view at least, send stuff to each other that we think could be fun to do together.
Davis: Yeah, I think whatever happens in that respect we're always gonna work with each other. It's kind of like The Beatles, you know. We do our solo projects but we'll always come back into the studio until Yoko turns up.
I'm in talks for a bunch of stuff. I'm in this weird limbo at the moment where the town knows I've just made this film but they'll wait to see it till they hire me. So I'm in this weird little bubble at the moment. But I'm in talks for various things, one in particular that I'm very excited about and hope happens but we'll see…
Into the Dark begins streaming today (October 5) on Hulu.
Don Kaye is a Los Angeles-based entertainment journalist and associate editor of Den of Geek. Other current and past outlets include Syfy, United Stations Radio Networks, Fandango, MSN, RollingStone.com and many more. Read more of his work here. Follow him on Twitter @donkaye