Features
How The Creators of Kipo Were Able To Make Benson Gay
The road to creating queer characters for animation is rarely easy but Benson in Kipo and the Age of the Wonderbeasts had support from the start.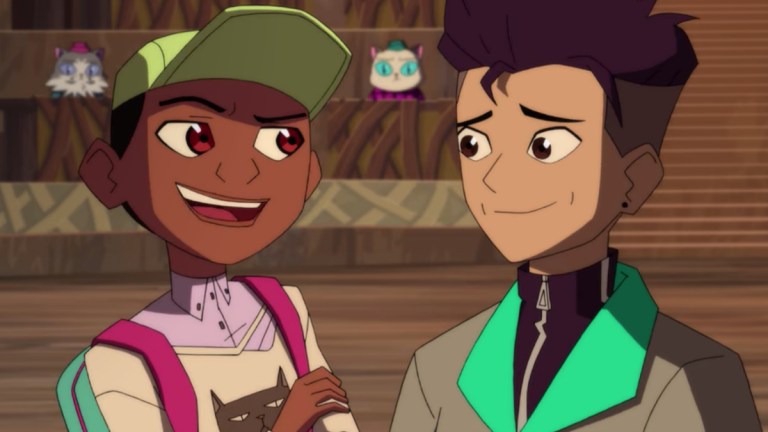 When Benson, one of the main characters of the series Kipo and the Age of the Wonderbeasts, said the words, "I'm gay" it was a revolutionary moment in kids animation. Even after the recent strides in queer representation in animation, the simple fact that this music loving teen boy said "I'm gay" was huge (and we wrote about it extensively here.) He even got to share some adorable scenes with another queer boy!
Getting a queer character, let alone one who says "I'm gay," is not usually an easy task but co-showrunner of Kipo Bill Wolkoff revealed that it was DreamWorks (the company behind Kipo) insistence that Benson not only be gay but say it.
"When we sold the show, we had a gay character," recalls Wolkoff. "We talked with Peter Gal (chief creative officer at DreamWorks Animation Televsion) and he's like, 'Oh you can totally have a gay character, but they have to say the words, I'm gay. We don't want to be ambiguous with it. We just need to be very clear.' It was awesome to have the studio behind us to allow to do that."
This is a titanic shift from what fans are accustomed to hearing about the attempts to include queer characters. In the past creators had to drastically compromise portrayals of queer characters, relegating them to subtext or only allowing them in small doses and rarely openly acknowledging their sexuality. Wolkoff attributes their success in making Benson gay to the fact Kipo and the Age of the Wonderbeasts isn't on a network that's driven by commercials. Where those networks might fear their commercials being pulled because of homophobia, Netflix doesn't have that issue.
This allowed the team behind Kipo to explore Benson's story in as thoughtful a way as they could and reflect the world as it is. Many members of the Kipo crew, including creator Rad Sechrist, the writers, board artists, and others inspired the character. All of them, as Sechrist describes, "weighed in on the way to tell his story in a way that was both the vision that we started with, but also was true to his character. We're very grateful to our crew for that."
We hope Benson is just the start of animation studios supporting queer characters in their shows. They're vitally important in helping underrepresented groups feel seen, encouraging acceptance amongst the wider audience, and allowing a broader range of stories to be told.
Future creators should all be met with the same reaction the creators of Kipo did when explaining Benson was gay. They shouldn't be rejected or made to compromise on their vision. They should be supported and even encouraged to push it further.