Features
How Much of Christmas Favourite Nativity! Was Improvised?
Director Debbie Isitt is known for championing improv – so how much dialogue in her most popular British Christmas film was ad-libbed by the cast?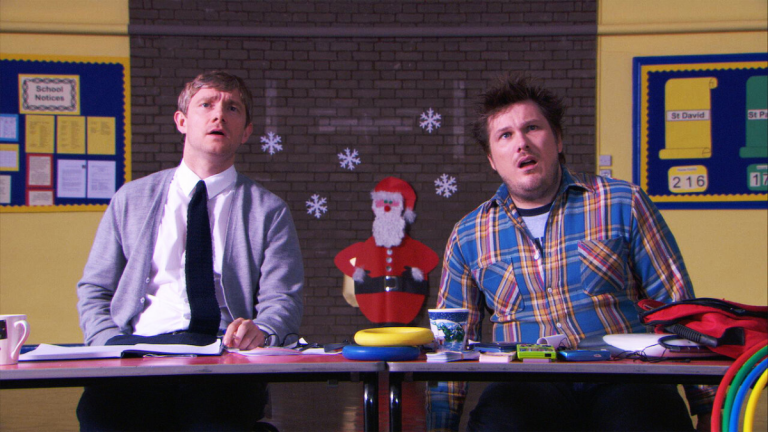 'Never work with children or animals', the old showbiz phrase goes, but when filming Nativity! in 2009 not only did Martin Freeman and Marc Wootton have both children and animals to contend with, they were doing it all without a script. Like Debbie Isitt's 2006 mockumentary romcom Confetti also starring Freeman and Wootton, Nativity! was largely improvised, but how did that work on set?
Nativity! is the story of a primary school teacher (Freeman) who tries to put on a Hollywood-worthy nativity play with help from his young-at-heart teaching assistant (Wootton). Confetti, which stars a host of British comedy talent including Julia Davis, Jessica Stevenson, Olivia Colman and Robert Webb (those last two's nude scenes proved controversial, as Webb describes from 03:25 in this Graham Norton interview), is a wedding competition in which Freeman played one of three grooms competing with their bride to win a house.
When speaking to The York Press about both projects, Freeman explained that Nativity! had more guidance for each scene than Confetti, but was still completely improvised:
'In Confetti, in the course of a scene, if the characters decided to take it north or east, that's where the scene and story went. For Nativity!, Debbie's general modus operandi would be, "We need to get from this point to this point by the end of the scene, away you go"! How you get there is down to you, but you have to hit certain landmarks along the way.'
In the below Film Club interview, Freeman also confirmed there was no scripted dialogue, and Isitt explains 'you get a character, you know who you are and what you're trying to do in the scene, but nobody's telling you what to say':
Isitt later described the process for the Nativity Films during the release of Nativity 2: Danger in the Manger (starring David Tennant), confirming she does write a script, but it's for her eyes only, and the actors don't even know how the film ends:
'I create the story and I write it down, but I never show it to the actors. So the actors improvise their way through the film, making it up as they go along. I know exactly what's going to happen, but I don't tell them.'
She also revealed this means that – unlike many films – they have to shoot everything in sequence: 'So they're constantly in the dark about what's going to happen next, we have to film everything in order and they don't know how it's going to end until it ends, so it's very exciting.'
The process clearly works – Nativity! was the most successful British independent film of 2009, and Nativity 2 made twice as much at the box office as the original when it was released in 2012. Isitt is back on the festive beat this year, incidentally, with Netflix British film Christmas on Mistletoe Farm starring Bridgerton's Katheryn Drysdale.
Marc Wootton is a big fan of Isitt's process, and believes it adds to a core part of the Nativity films' message, about finding your inner child and enjoying being in the moment, something he saw in abundance working with so many children during filming.
'Kids are all about playing and engaging in the moment they're in and I think that is tremendous,' he says, adding: 'Debbie keeps her cards close to her chest… you never know what's going to happen next, so as grownups you have to be in the moment too, and it's joyous.'
Wootton also credits improvisation for one of Nativity 2's funniest moments involving his co-star David Tennant: 'We went down some river rapids and he fell in, and it's a prime example of why Debbie Isitt's so brilliant – he wasn't supposed to fall in, and I pulled him out of the river, and that stayed in the film. That's one of those happy accidents that happens when you're improvising.'
Nativity! is available to stream on Netflix