Reviews
His Dark Materials Season 2 Episode 1 Review (Spoiler-Free)
Lyra crosses to a new world while Mrs Coulter terrifies in the old one. His Dark Materials season 2 is back bigger, darker, with a new pairing at its heart...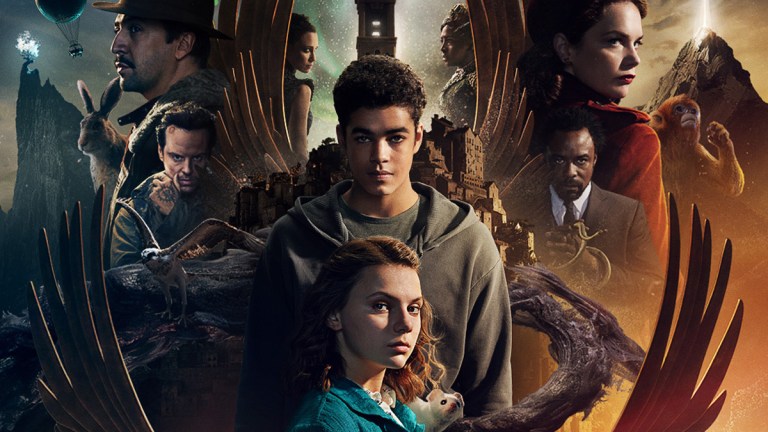 Next to the monumental pile of cultural loss caused by the current pandemic is a short stack of lucky escapes – the projects that just squeaked inside the line, or were able to retool in such a way that kept them mercifully on schedule. His Dark Materials is just such a one.
Filming on the second run had largely concluded by the end of 2019 (when it comes to child actors, you can't afford to hang around for them to grow six inches and sprout a beard between seasons). And despite the extraordinarily heavy VFX burden on a show about talking creatures, flying witches and magical lands, production company Bad Wolf managed to pull it off. Season two has arrived right on time, and largely intact. Only one episode of eight – a planned Lord Asriel special inserting new material not in the books – had to be scrapped because of Covid-19 restrictions.
How season three (yet to be officially announced) might be affected is another question. For now, let's just assume that the grown-ups are working it out, and cross that bridge when we come to it.
On the subject of bridge-crossing, last we saw Lyra and Pan they were trotting through a technicolour tunnel from one world to another. Asriel had just murdered Lyra's best friend Roger in order to travel between parallel realms, and Lyra followed in her father's wake to try to stop whatever he'd do next.
It's no secret that what Asriel does next isn't much covered by The Subtle Knife, the second book of Philip Pullman's His Dark Materials trilogy, which forms the basis for season two (hence the thwarted plan for an additional Asriel-ep, just to keep James McAvoy's hand in). Episode one finds Lyra on her own, though not for long.
Thanks to Philip Pullman's canny daemon conceit, Lyra is never really alone. What a boon to screenwriter Jack Thorne that in her world, a character's internal dialogue can be made external without any need for the awkward under-the-breath muttering or mirror-facing pep talks resorted to by other shows. The form-flitting animation of daemon Pan remains beautifully done and there's a warm simplicity to his and Lyra's solo scenes that disguises an awful lot of complicated VFX work.
Less of a boon to these scripts is the existence of the all-knowing alethiometer, a mystery-killing device not unlike Game of Thrones' Three Eyed Raven, which could hand Lyra answers to any of the questions she asks this episode, namely: what's going on in this unfamiliar world, and can she trust her strange new companion? Keeping Lyra from flipping that golden compass open at every opportunity, or making its answers conveniently abstruse when she does, is key to keeping this story on the tracks. Writer Jack Thorne finds an emotional way to keep a grieving Lyra from taking that shortcut here, at least to begin with.
The episode is tonally split two ways, between warmth and light, and cold and darkness. The former come from Lyra's scenes in a new, Italianate land, and the latter from Mrs Coulter and the Magisterium, which is reeling from Lord Asriel's dogma-shattering tear in reality. Asriel has very publicly undermined the church's teachings, and its scramble to hold onto power results in an intriguing new dynamic.
What makes it intriguing is, of course, Ruth Wilson as Mrs Coulter, who continues to fascinate and appal in equal measure. It's fair to say that she hasn't been thawed by the passionate kiss with Asriel and revelation of her love for Lyra in last year's finale. The woman is just as cleverly manipulative and as reprehensible as ever. In this season opener, she goes full Gestapo, and it is shudder-inducing.
There's a burst of exhilarating action too – even if the VFX make it seem a little weightless. We meet a new player, and learn more about the powers of the witches. There's a new existential threat as well, one that's stepped right out of a horror film and expertly rendered on screen.
Balancing out the darkness are Lyra's scenes with her new ally as they cautiously get to know one another and work out how much they can share while still keeping their secrets. Dafne Keen's likeable, forceful characterisation is the driving force, while her companion's energy is gentler and more nurturing, but with a steely core that knows right from wrong. Together, they make an appealing pair who'll be easy to root for on the long and perilous journey ahead.
His Dark Materials season 2 starts on BBC One on Sunday the 8th of November and on HBO on Sunday the 15th of November.