Features
The Righteous Gemstones Find GODD In Season 2
Danny McBride and the cast of The Righteous Gemstones season 2 discuss making television for heathens.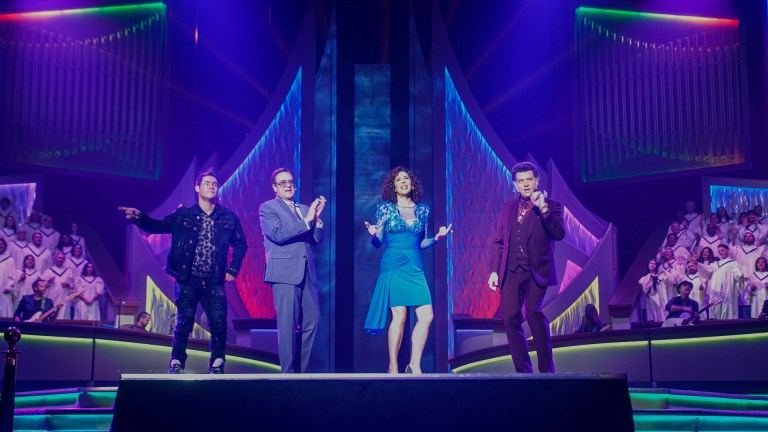 Midway through the first episode of The Righteous Gemstones season 2, the Gemstone family preaches to a packed congregation at their megachurch, as they often do. The tone, however, feels a little different this time around.
"The Book of Matthew tells of nation rising against nation – a time of famines, pestilence, and earthquakes. Sound familiar?" patriarch Eli Gemstone (John Goodman) asks the crowd with a wink.
"Are you saying people need Jesus's love now more than ever?" prodigal son Kelvin (Adam DeVine) responds, emerging from the crowd in trademarked ripped jeans.
"Oh, we always need Jesus's love, but especially now," eldest son Jesse (Danny McBride) replies.
For a moment, The Righteous Gemstones feels primed to do something unheard of for a comedy created by Danny McBride (who, along with frequent collaborators Jody Hill and David Gordon Green, also created the HBO series Eastbound and Down and Vice Principals). It seems as though the show is going to have its characters acknowledge current events, learn from them, and perhaps even grow from them, even if it's in a cynical way to gain more tithe money. 
But instead of mentioning the COVID-19 pandemic, climate change, or political instability, the Gemstones power through with what they really want to sell: GODD…or the streaming service known as "Gemstones on Digital Demand."
"It is time to stop the filth coming out of Hollywood. If they are gonna fill the airwaves 24/7 with that garbage, we gon' do the same thing," Jesse yells to the cheering crowd.
The Righteous Gemstones season 2 is more of the same blend of insular idiosyncratic comedy and occasional poignant family drama that season 1 was…and thank God (or GODD) it is. Aside from one hilarious reference to COVID late in the season, no famines, pestilences, or earthquakes play a role in this second go-around for the Gemstone family. The Righteous Gemstones' world is The Righteous Gemstones' world, and the show is once again happy to invite you into it.
"To (the writers') credit, we could have gone another way and really dove in deep on COVID," DeVine tells Den of Geek. "But I think people are so sick of thinking about it. There's still a death toll when you watch the news."
According to executive producer and director David Gordon Green, ignoring the larger issues of the day is perfectly in line with the Gemstone family's opulent lifestyle.
"These characters would have to somewhat acknowledge the world around them but there's an entitlement and a self-absorbed quality that works organically to who we're talking about," he says. "The broad strokes of what's going on on the Earth are not on their minds so much as opportunities of wealth."
Opportunities of wealth abound for the Gemstones in season 2. Jesse and his wife Amber (Cassidy Freeman) have their family whole again, now that their own prodigal son Gideon (Skyler Gisondo) has returned home. Instead of quality family time, however, they're right onto the next money-making scheme, which comes in the form of Lyle and Lindy Lisson (played by Eric Andre and Jessica Lowe), operators of a Gemstones-style megachurch in Texas.
For Jesse and Amber, the Lissons represent the chance to get in on the ground floor of the massive Christian-themed vacation timeshare Zion's Landing…but also the opportunity to hang out with a fellow power couple. For McBride and the rest of the Gemstones team, introducing the Lissons also means getting to cast comedy legend Eric Andre of The Eric Andre Show, who very rarely acts in projects in which he doesn't have a hand in behind the camera.
"It's my first time scripted-acting in something I gave a shit about," Andre says. "I'd rather be on both sides of the camera or just behind it. But these guys are so smart and talented and have such a nuanced perspective and point of view that I'll do anything they do. They're one of the few companies I trust. I think they make state of the art comedy."
"I've been a fan of Eric Andre's for a while," McBride adds. "He's such a lunatic and he's so fucking funny. When we were trying to cast this role and think about who would bring this to life, the idea came about Eric. I think he brought such a cool energy to this. Jessica (Lowe) is so funny as well. Every time she was onscreen she had a special hot sauce she could throw on things to just elevate it."
Eric Andre isn't the only fresh face on the Gemstones set for season 2, in fact he's not even the only new Eric. Season 2 delves deeper into the backstory of the all-powerful Eli Gemstone. A big part of that backstory is Junior, an unwelcome blast from Eli's past played by Eric Roberts. The Mississippi-born Roberts has as expansive an IMDb credits page as anyone, but had somehow not yet acted opposite of the equally omniscient John Goodman.
"He's such a kind, generous actor. I can't go on about him because it will sound fake if I do – it's so overly effusive," Roberts says. "He is the kindest, most prepared, funny, sweet, patient guy I've ever been on a set with. I'm just in love with him!"
Roberts was so eager to get in on the Gemstones world that he submitted "10 or 12" takes of the provided audition scene to producers to nab the role. As an actor with deep ties to the South, he felt quite attached to both the Memphis hustler Junior, and the outsized version of the region that the show has created.
"What they've done is they've taken the South extremities and made them mainstream in the story. They're so much fun to wallow in because they're true. They make people laugh because they identify with it," he says.
Those South extremities include exploring Eli's previous life as a successful professional wrestler in late 1960s Memphis. And yes, that does mean that The Righteous Gemstones season 2 comes along with another fifth episode flashback "interlude".
"It's a great way to build a bigger depth to where these people come from," McBride says. "Having flashbacks and interludes helps us get a sense of how (matriarch) Aimee-Leigh (Jennifer Nettles) was the heart of the Gemstones before her passing and everything went crazy. You see the seeds of a young Jesse, and Kelvin, and Judy. Both of the times we've done it, there is an emotional quality that I really respond to."
There's a lot going on in The Righteous Gemstones season 2. There's barely even time to touch upon the introduction of Jason Schwartzmann as a nosy journalist, Kelvin's "God Squad" of "muscular boys", another murder mystery, and a heaping dose of Uncle Baby Billy Freeman (Walton Goggins) among the season's nine episodes. Through it all, however, Gemstones remains its charming, bizarre self. And that's because, despite the absurdity around the edges, it understands the core principle of the family's success: all that singing and dancing.
The Righteous Gemstones first season was highlighted by "Misbehavin'", an absolute banger of a gospel tune from Aimee-Lee and Baby Billy Freeman from the aforementioned interlude episode. 
According to the cast, season 2 has a handful of musical earworm candidates of its own.
"I feel like once a month I thought 'well that's going to be stuck in my head forever,'" BJ actor Tim Baltz says. "Misbehavin' wasn't a one off thing. There are like five or six this year. Everyone wrote their asses off. There's going to be a hell of an EP to put out at some point."
Production on The Righteous Gemstones gets only two weeks of shooting availability at North Charleston Coliseum & Performing Arts Center that doubles as the Gemstones' concert hall-sized church. All the religious and musical fervor that viewers see onscreen is packed into a fortnight of kinetic energy for the actors, hammering home why the fictional Gemstones would be so successful in the first place.
"John (Goodman) preaching is John preaching. I'm believing every word he's saying," Amber actress Cassidy Freeman says. "If this were real, of course you'd be pulled into it. I think church at its core, before any of it gets political or weird, is about community. And if that community is a rock show every Sunday? Badass."
The Righteous Gemstones season 2's first two episodes premiere Sunday, Jan. 9 at 10 p.m. ET on HBO.