Features
How Helstrom Became One of Marvel Television's Last Shows Standing
Marvel and Hulu have teamed up to bring Daimon Helstrom, the Son of Satan, into the streaming world.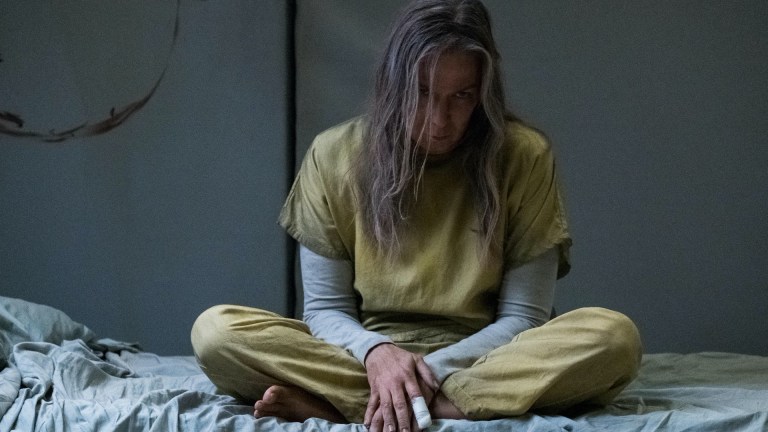 Hell hasn't quite frozen over on the Vancouver set of Marvel's Helstrom but it's close. A chill can be felt even inside the fabricated walls of St. Teresa's Church as Tom Austen, who plays the titular Daimon Helstrom, sits down to talk with the press. It's February and the show is months from its release date but Austen is already wearing the classic "Marvel leading man undercover" look, with a logo-less black hat atop his head. He's prepared to discuss many aspects of Marvel's first horror series, chief among them: just how much fun it is to set things on fire.
"I love the stuff with fire. I would say like over 90 percent of the fire-work that we've done has been practical. If there's fire and Daimon's standing by it then I'm standing by it. Which has been quite nice shooting outdoors because it's cold here."
Helstrom represents plenty of firsts for the Marvel TV universe. It will be the first time a Marvel series has shot in Canada and the first time a Marvel show has been chiefly classified as horror. It's also set to be the last in many regards. For starters, Austen just might be the last actor to ever set stuff on fire for Marvel Television…and that's because the entity known as Marvel Television no longer exists.
Last year, Marvel czar Kevin Feige consolidated Marvel's TV offerings under the Marvel Studios banner, creating a new TV-producing entity known as Marvel TV Studios that could create TV content that fits within the Marvel Cinematic Universe for the newly-arrived Disney+. As part of the transition, Marvel Television (known for Netflix's The Defenders, Hulu's Runaways, and ABC's Agents of SHIELD) was shuttered.
With one stroke of the pen, a half-dozen Marvel Television-produced shows were left in the lurch. Howard the Duck, Tigra & Dazzler, Hit Monkey, and Ghost Rider, which were all in active development for Hulu (which has been controlled by Disney since the Disney-21st Century Fox merger in 2019) were killed. In the end, Marvel decided to move forward with only animated series M.O.D.O.K. and live-action horror drama Helstrom and even then the latter show lost its "Marvel's Helstrom" original title. Nor has the word "Marvel" appeared anywhere in the show's advertising campaign. How then did Daimon Helstrom even become one of the last heroes standing for a Marvel era of television that no longer exists?
For starters, the character is used to being an underdog. Though Marvel has historically been willing to mine some lesser-known titles, like Guardians of the Galaxy or The Eternals, for its adaptation purposes, Daimon Helstrom is particularly obscure. The character was created in the '70s when Marvel (perhaps wisely) vetoed Stan Lee's desire to make none other than Satan himself a Marvel superhero. The character was revised to be the son of Satan, known as Daimon Hellstrom (the Hulu series drops the extra "l" in "Hellstrom"), and made his debut in 1973's Ghost Rider #1. Daimon would go on to get his own brief "Son of Satan" arc in Marvel Spotlight issues 12 through 24. Since then, Daimon has popped up in a couple more runs but never fully took off as a character.
To most, Daimon Hellstrom is best known as the moody magic-user with a Pentagram on his chest and a chariot of three-winged demon horses at his disposal. Despite the Son of Satan's relatively limited comic history, however, one comic book page was all Helstrom producers needed to be convinced the character had a second life waiting on television.
That one page, from issue 13, captures everything one would need to know about the Helstrom family, as Daimon reads his mother's diary and discovers that he is the product of a union built on lies and treachery. He has his father's abilities but no guidance. He is charged with creating his own identity all the while marked with the sign of the devil plainly visible on his chest.
"Look at the building blocks of what (Daimon) is," co-executive producer Megan Thomas Bradner says. "He's a demon who has an incredible guilt over his history, over who he is. Maybe the different writers and artists chose not to go down that path, but it all starts with the stuff that they gave us."
Helstrom is a more grounded and realistic take on the character that delves deeper into his sense of isolation and pain. This Helstrom is the son of a serial killer father (according to the show's synopsis at least) and a mother (Elizabeth Marvel's Victoria) who lost her mind and now lives, restrained, in a padded cell inside St. Teresa's hospital wing. As an adult, Helstrom now lives in Portland and works as an exorcist of sorts, all the while dealing with the trauma of an interrupted family life. There are no tights, no magical tridents, and no demonic horses… probably… maybe…
"They're going to be ponies actually," Austen quips.
He does have a physical scar, in addition to his emotional ones. And that scar just may or may not resemble a Pentagram but it's hard to say. Daimon keeps getting a tattoo over it but the tattoos quickly fade away. Makeup Artist Cindy L. Barlow says she knows where to place the scar on Austen's back by tracing his freckles before applying the adhesive in a 10-15 minute process. Austen likes to peel it off at the end of each work day.
"You're supposed to gently remove it but that's not as fun," Barlow says.
Daimon's life has reached a fragile equilibrium as the series begins. Though he chiefly works as an Ethics Teacher at Gateway University (which makes a brief appearance in the comics), he also uses his supernatural abilities gleaned from "The Shadow Side" to assist St. Teresa's and other interested parties in demon removal. To aid in that mission, he is supported by Dr. Louise Hastings (June Carryl), head of the psychiatric hospital within St. Teresa's where Daimon's mother Victoria is committed.
"(Dr. Hastings) acts as a kind of surrogate mom for Daimon," Austen says. "She's one of the first people to become aware of his abilities and tries to channel those for him to do some good."
"There is a practicality to Louise that I think gets a workout," Carryl adds of her character. "Walking that line is interesting. When something kind of goes off the rails and into another realm there's a 'huh, okay. I'm going to have to put that in the hopper. And it's going to pop for a minute and we'll deal with it later.'"
Another one of Daimon's allies is Gabriella Rossetti (Ariana Guerra), a young agent sent by the Vatican to assist Daimon with his demonic issues. While everyone involved in Helstrom has old source material to sort through, Guerra decided to check out some even older texts to prepare to be an agent of the Church.
"I was reading the Bible every day," Guerra says. "I was going to church maybe like two or three times a week, just to kind of feel connected and to appreciate the rigidness of it and not see it as a chore. For a while I was like, 'Mom, I think I'm going to convert.' But then all of a sudden I started having a lot of Catholic guilt. So I had to just step away."
The presence of the Catholic Church in Helstrom indicates just how big, old, and elemental the forces at play are. And if this is all starting to sound a little like The Exorcist, that's by design.
"I think there's fun stuff in there for Marvel fans, whether you are a comic fan or a TV fan. But if you also are just a fan of horror, you can come to this too," Bradner says.
This is the kind of production where (disturbingly anatomically correct) rubber corpses lie haphazardly on stretchers outside of offices. It's the kind of production where the props team likes to note that they're working on "human meat cubes" and that they've got a "bin full of thumbs." It's horror through and through.
All that horror is a lot for any one Son of Satan and his Vatican agent buddy to deal with. And that's where Ana Helstrom comes in.
For as little Daimon Helstrom source material that the show has to work with, there is even less to go off of for his superpowered sister—the sultry Satana. In the comics, Satana's key features are a profound love for her father and an even more profound distaste for modest clothing.
"I said, 'Oh, okay. So we're going to be using wigs and prosthetic body parts apparently.' That was an overwhelming sight," Ana actress Sydney Lemmon says of seeing the comic version of her character.
"My Ana Helstrom is a little different though," she adds.
For one, Satana is now simply Ana. Ana Helstrom works as an art and antiquities dealer at her own San Francisco auction house who uses the selling of swords owned by Napoleon Bonaparte and ancient Sumerian daggers as a jumping off point for her own brand of demonic justice. Lemmon (who is Jack Lemmon's granddaughter and was recently seen in a crucial arc on Fear the Walking Dead) appreciates the role that legacy plays in crafting Ana's psyche.
"I was really, really drawn in by the intense family dynamics happening between all of the Helstrom family members," Lemmon says. "It's fraught and turbulent and then when you add in the element of superpowers, it's a done deal."
Just as Daimon has his own helpers in the form of Gabriella and Hastings, Ana too has her allies. One is Chris Yen (Alain Uy), Ana's business partner and surrogate brother figure in Daimon's absence.
"Chris is a very in-control type of person and likes things in this specific way," Uy says. "In some ways that is the yin to Ana's yang. It literally feels like a brother-sister relationship. Listen: I don't know if you've got brothers or sisters, but I do and there's definitely like a rivalry there, but it's a healthy rivalry."
Like many a Marvel sidekick, Chris Yen will become embroiled in some of the more intense and interesting aspects of Ana's life, bringing the pair into contact with another one of Ana's friends, Caretaker (played by The Wire's Robert Wisdom).
As the name implies, Caretaker has close ties to the dead and all manner of dark magic. The character is one of the few Helstrom supporting figures who has a comic book presence and has previously been played by none other than Sam Elliott in the 2007 Ghost Rider film.
"If you're familiar with New York, you know about the third rail on the subway. In the sense, Caretaker is working in two dimensions," Wisdom says. "He's up on the platform and he's holding the third rail. He's one of the few that can conduct that energy without snapping. That's the tensile strength that I've given him."
Wisdom describes Caretaker as a Nick Fury type, and also as a father-figure and guardian for Ana.
Daimon and Ana Helstrom clearly aren't hurting for paternal and maternal figures in their life, which is fortunate given the fate of their real parents. Though the siblings' father is understandably not an announced part of the cast yet, Victoria Helstrom is set to play a big role haunting the pair's lives, even from within the dismal confines of her padded prison.
Elizabeth Marvel (no relation to…well, Marvel) took on the role of Victoria in part due to her teenage son being deeply steeped in the Marvel entertainment universe. Though she quickly found other aspects of her character and the show at large to appreciate.
"It's incredibly satisfying and creatively wonderful. It's just actor candy all the time," she says. "We work through a lot of issues, a lot of pain on this show. There's a lot of dealing with the past and childhood trauma, and where, as a parent, your responsibility is, and how can you control and care for your children when circumstances are overwhelming?"
Victoria's circumstances couldn't possibly be more overwhelming. As indicated in the series' first trailer, there's a pretty compelling, pretty demonic reason that Victoria has been institutionalized for 20 years. As such, the character's environs are as bleak as they come in the Helstrom world, though it comes with some actorly benefits
"We love going to visit, because the entire room is padded. So we all lie down," Austen says.
"Yes. We do a little yoga while they set up lights," Marvel adds.
Downtime for family yoga is few and far between on set but the Helstroms have done their best to create a familial environment amid all the blood, fire, and severed thumbs. And they're hoping that chemistry and those themes of family and trauma appeal to Marvel fans looking for something new.
"I don't think that anything that Marvel's put out is quite like what we're making," Lemmon says. "I cannot wait for people to get to see this grounded, fantastical story that we've crafted. It looks so much like life, but has such magical elements. It feels like new ground for Marvel, and it's such an honor to be a part of."
Who knows what the future holds for Helstrom as Marvel casts its eye towards Loki, WandaVision, The Falcon and The Winter Soldier, and more. For now, however, Daimon, Ana, and a whole cadre of demons are prepared to liven up Hulu's October. Perhaps that's why Daimon Helstrom was the last hero standing for Marvel Television. Somebody had to bring a spooky edge to the proceedings before the lights went out for good…and it might as well be the Son of Satan.