Features
Hawkeye Episode 5: MCU Easter Eggs and Marvel Comics References
Hawkeye episode 5 gives us plenty of Black Widow, but there are even bigger reveals within! Here's all the cool MCU connections and Marvel Comics Easter eggs we could find...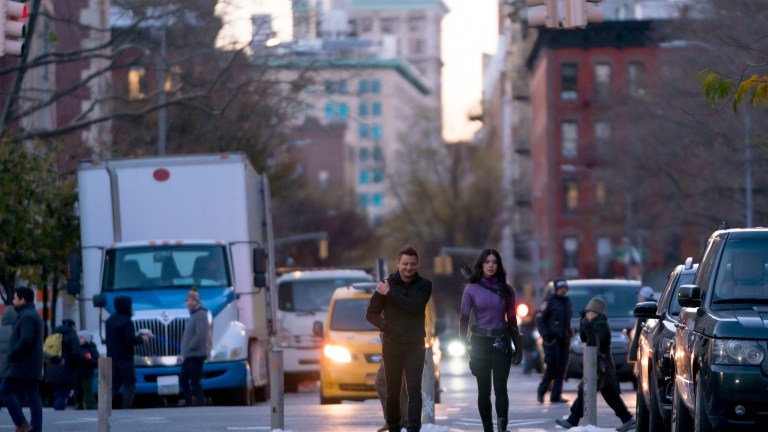 This article contains Hawkeye episode 5 spoilers, as well as potential spoilers for future episodes and the wider MCU.
Hawkeye Episode 5
It's Yelena Belova's world, we just live in it. Or maybe it's Wilson Fisk's. Either way, the two characters everybody's gonna be talking about after Hawkeye episode 5, "Ronin" for once, aren't Clint Barton or Kate Bishop. It's a "light on Easter eggs" kind of episode, but there's still some cool connections to be made. And as always, we'd love to hear from you about anything we might have missed!
BLACK WIDOW
We get a lot of ties to this year's Black Widow movie, and not just because of all the wonderful Florence Pugh screen time in the episode, either. In particular, the cold open plays almost like an epilogue to Black Widow, and it could just as easily have been that film's mid or post-credits scene rather than the Hawkeye tease with the brilliant Julia Louis-Dreyfus that we got. Not that we're complaining about that one.
The Widow accompanying Yelena, Sonya, and the one they're trying to "rescue," Ana, don't appear to have any Marvel Comics counterparts, nor are they significant in the wider MCU (yet).
YELENA BELOVA
That cold open also establishes definitively that Yelena was "snapped" but also gives us an even clearer picture of a "full snap experience" than we got with Monica Rambeau on WandaVision. It's a great scene. Also, did we hear Scarlett Johansson delivering a line in that moment or were we imagining it?
The Blip aftermath scene with Ana establishes exactly why Yelena is doing "contract work" now, too. Just a really elegant connecting of the MCU dots all around.
The instant, grudging rapport and respect between Yelena and Kate Bishop (who we might only refer to by her full name for the rest of this article in Yelena's honor) makes it abundantly clear that these two are going to be a big deal in the MCU going forward. We had plenty of Clint and Natasha working together in the context of the Avengers, but very little in the way of them as an independent unit. With any luck, we'll have a Hawkeye & Black Widow series with this pairing at some point. Although…it's more likely they'll be rivals for a while, who would end up on opposing sides of a Young Avengers vs. Thunderbolts/Dark Avengers dust-up. But we're getting ahead of ourselves…
The idea of Yelena telling Kate Bishop to eat as a habit that she picked up from her surprisingly nurturing father, the Red Guardian, is endlessly charming. But not as charming as her referring to Rudolph as a "super-powered reindeer" which…well, she's right.
SPIDER-MAN: NO WAY HOME
The Hawkeye and Spider-Man: No Way Home reciprocity seems to continue! In Spider-Man: No Way Home, a Rogers: The Musical billboard is plainly visible when Spidey and MJ are swinging through Manhattan. While in this episode, Yelena suggests going to see the "new and improved Statue of Liberty," which is referring to the fact that we see in No Way Home that they're working on adding Captain America's shield to the monument.
This tells us two things about the MCU timeline: we know that No Way Home takes place within the first year after Avengers: Endgame, since it picks up right where Far From Home left off. In that film, the Statue of Liberty renovations are underway, as there's still scaffolding covering the monument. Hawkeye takes place at least one year, possibly two after that. It also means that Rogers: The Musical was at least being advertised within a year of the events of Endgame. Maybe it was in previews or something.
WILSON FISK RETURNS!
OK, yes, we were guilty of assuming everything was Mephisto in WandaVision when, in fact, it was "Agatha all along." So it's nice to see that all these Kingpin teases were legit. There's not much else to say here (for now) other than how incredibly cool it is to see Vincent D'Onofrio back as Wilson Fisk, and in the comics-accurate white suit, to boot!
The status of the Netflix Daredevil series from a purely continuity standpoint remains questionable (although I'm of the opinion that there's no reason it SHOULDN'T be considered part of the Sacred Timeline), but the fact that Fisk helped facilitate the slaughter of his own henchmen by Ronin sure shows that he's every bit as bloodthirsty here as he was on that show, so let's just go with it.
But amazingly, from a story point of view, Fisk isn't even the biggest reveal of that final shot…
ELEANOR BISHOP
So it turns out that the mysterious person who is REALLY behind Yelena's contract on Clint Barton? That would be none other than Eleanor Bishop. As it turns out, Valentina Allegra de Fontaine was just a middleman in this deal. That doesn't mean she isn't one to watch for the MCU's future, it just means that as everyone has suspected, Eleanor has a lot going on.
MISCELLANEOUS COOL STUFF
It's neat to see the Battle of New York memorial at Pershing Square by Grand Central Station. Folks should be able to start taking selfies there right about…now. A way cooler NYC destination than those Joker steps if you ask me.
The New York Coalition for Gifted Young Archers doesn't appear to be a real thing (from a cursory Google search) but…Young Archers isn't too far from Young Avengers, a team that Kate Bishop is a founding member of.
Kate Bishop attended the Spence School which is a VERY fancy all-girls school.
MUSIC
When Clint walks dejectedly to Grills' place, "Christmas Time is Here" is played. This weirdly mournful holiday tune was written by Vince Guaraldi and Lee Mendelson for the 1965 television special A Charlie Brown Christmas.
We will never not get excited for Run DMC's "Christmas in Hollis" which is way too cool for those dopey tracksuit mafia bros.
The closing credits song is "You're a Mean One, Mr. Grinch." The song was written by Dr. Seuss, composed by Albert Hague, and performed by Thurl Ravenscroft for the 1966 animated special How The Grinch Stole Christmas (and the only adaptation of that story worth watching). It's a fitting note to go out on after we get our first look at Wilson Fisk.
Spot anything we missed? Let us know in the comments!