News
New Spider-Man: No Way Home Clip Links to Marvel's Hawkeye
The opening scene of Spider-Man: No Way Home has been released, and it makes a surprising connection to Marvel's Hawkeye TV series.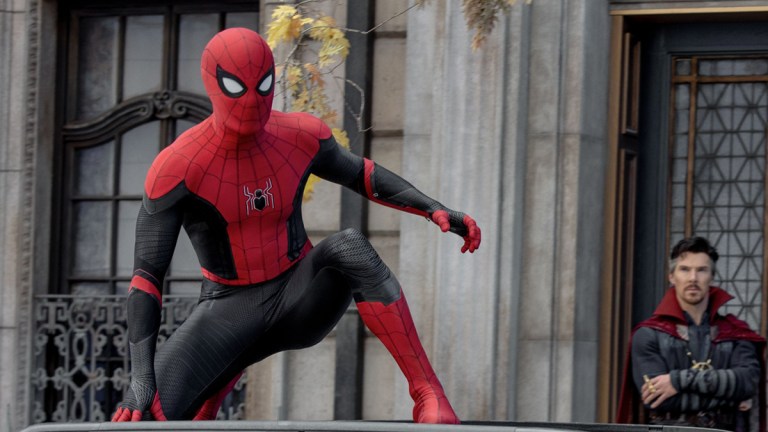 This article contains some speculation, and therefore potential spoilers for HAWKEYE, SPIDER-MAN: NO WAY HOME, and the wider MCU.
A fresh clip from Sony and Marvel Studios' hotly anticipated Spider-Man: No Way Home makes reference to the Hawkeye TV series currently streaming on Disney+, indicating that the two projects are likely set concurrently in the MCU timeline.
The new No Way Home clip premiered on Late Night with Seth Meyers this week and features the opening minute of the Peter Parker and Doctor Strange team-up threequel, which starts exactly where Marvel's previous web-crawler outing, Spider-Man: Far From Home, left off.
During the opening scene, Tom Holland's Peter grabs MJ (Zendaya) after his identity becomes public and bystanders begin to harass her and accuse Peter of murdering Mysterio (Jake Gyllenhaal). The Daily Bugle's J. Jonah Jameson (J.K. Simmons) had revealed the twisted information on a livestream that exposed Peter to the general public at the end of Far From Home.
The pair then swing to a safe spot past billboards advertising Rogers: The Musical, a Broadway show about the legacy of Captain America featured heavily in the premiere of Marvel's Hawkeye. In the MCU series, Clint Barton takes his kids to see Rogers: The Musical and has some difficulty watching the show's version of 2012's Loki-defeating Battle of New York play out on stage because it's hard to see an actress singing and dancing while playing his dead best friend Natasha Romanoff during an upbeat number. And also because the musical is extremely cringe.
You can see the aforementioned Spider-Man: No Way Home clip below, which ends with Peter calling Ned (Jacob Batalon) in a panic.
It's unclear at the time of writing if Hawkeye and No Way Home will be connected beyond the film's reference to Rogers: The Musical, but rumors that they could very well be have been swirling for a while. Not only are the two projects releasing at the same, but Hawkeye has begun teasing the MCU introduction of Vincent D'Onofrio's Kingpin from Netflix's Daredevil series.
Various Marvel leaks making their way online have also got tongues wagging due to their inclusion of Charlie Cox's Matt Murdock aka Daredevil, with Marvel Studios boss Kevin Feige recently confirming that Cox would reprise the beloved character in the MCU going forwards.
Spider-Man: No Way Home is likely to be an enormous hit at the box office, despite its issues with leaks in recent months. The film throws Benedict Cumberbatch's Sorcerer Supreme into the story as a mentor for Peter after the death of Tony Stark, and trailers for the movie have teased multiversal threats from other Spider-Man timelines with appearances from previous villains like Doc Ock, Green Goblin and Electro.
Fans are also hoping to see former Spider-Man actors Tobey Maguire and Andrew Garfield pop up when the multiverse breaks down after Strange tries to cast a spell to restore Peter's secret identity, and it goes badly wrong.
Hawkeye is now streaming on Disney+. Spider-Man: No Way Home will be released on December 17.
Want to dig deeper into the Marvel Cinematic Universe? Please consider subscribing to Marvel Standom on the Den of Geek YouTube channel, where we dish out weekly episodes on all the new Marvel TV series, trailers and movie releases. If YouTube's not your thing, you can listen to Marvel Standom on Spotify and Apple, too.