News
Hartley Sawyer Fired from The Flash Over Offensive Tweets
The Flash's Elongated Man, Hartley Sawyer, has been fired from the series over racist, misogynistic tweets from his past.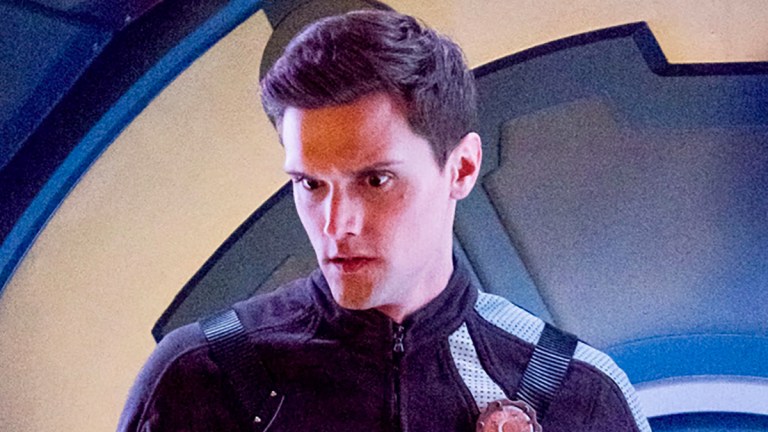 The Flash may not be back for a long time, due to its pandemic-pushed production schedule, but it now appears that it will do so without a fan-favorite character, Ralph Dibny, a.k.a. Elongated Man, after some recently-unearthed tweets by the actor who portrays him, Hartley Sawyer, retroactively stretched his foot into his mouth.
The CW has officially fired Sawyer from his series regular role on The Flash, reports THR. The move occurs after attention was recently called to the tweets in question, made from 2012 to 2014, which—due to their sheer volume—tick quite the array of offensive boxes, with some racist, misogynistic and all-around sexually-crude attempts at humor. After the tweets resurfaced, Sawyer issued an apology, which he posted on his Instagram, seeing as his Twitter appears to have been—quite understandably—deleted. However, it was apparently not enough for the network.
As the collective statement from The CW, producers Warner Bros. TV and Berlanti Productions and executive producer Eric Wallace reads:
"Hartley Sawyer will not be returning for season seven of The Flash. In regards to Mr. Sawyer's posts on social media, we do not tolerate derogatory remarks that target any race, ethnicity, national origin, gender, or sexual orientation. Such remarks are antithetical to our values and polices, which strive and evolve to promote a safe, inclusive and productive environment for our workforce."
The network's move occurs during a particularly powder keg time amidst global protests over police brutality sparked by the brutal killing of George Floyd in Minneapolis, and the subject of racial inequality—particularly of African-Americans—brought to the forefront of the national conversation. Indeed, the straw that might have broken the camel's back was a 2012 tweet that read, "The only thing keeping me from doing mildly racist tweets is the knowledge that Al Sharpton would never stop complaining about me." Moreover, the tweet collection is laden with references to things such as date rape, voyeurism and domestic violence.
As Sawyer states in his Instagram apology, which he released on May 30 (before his dismissal from The Flash):
"My words, irrelevant of being meant with an intent of humor, were hurtful, and unacceptable. I am ashamed I was capable of these really horrible attempts to get attention at that time. I regret them deeply. This was not acceptable behavior. These were words I threw out at the time with no thought or recognition of the harm my words could do, and now have done today." He adds, "I am incredibly sorry, ashamed and disappointed in myself for my ignorance back then. I want to be very clear: this is not reflective of what I think or who I am now."
Sawyer's post of repentance also references his current personal journey to becoming a responsible adult and having his eyes opened to the impact of his words. Contextually, he was a working actor during the 2012-2014 time period of the tweets, best known at that point for his 2010-2011 television run on TBS 1980s-set coming-of-age comedy Glory Daze. He debuted on The Flash in 2017 in the recurring role of Ralph Dibny, a sleazy private investigator—and former rival on the police force to Barry Allen—who is turned into a metahuman, gaining the power to stretch his body in rubbery ways, eventually becoming superhero Elongated Man. Indeed, Dibny's redemption arc toward his superhero status was one of the most entertaining aspects of the series in recent years, and it earned Sawyer a promotion to the main cast in 2018, leading to the casting of Natalie Dreyfuss as the character's eventual wife and crime-fighting partner, Sue Dearbon. Thus, this is a firing that is—at least from a story standpoint—a major setback for The Flash.
Additionally, The CW's firing of Sawyer occurs shortly after a shocking shakeup on the show's DC Comics-adapting Arrowverse continuity cousin, Batwoman, which saw its star, Ruby Rose quit the show in what was a mutually-agreed move. Rose's character, Kate Kane/Batwoman, will reportedly be replaced with a yet-to-be-cast, similarly-LGBTQ character, named Ryan Wilder, who will eventually inherit the mantle of Batwoman from Kate due to circumstances not yet known.
Regardless, The Flash and the majority of The CW's primetime lineup is scheduled to return in January 2021.