Features
Happy Valley Recap: Catherine, Tommy Lee Royce, Becky and Ryan's Story So Far
As Series 3 begins, here's a Spoiler-filled reminder of the Happy Valley saga so far.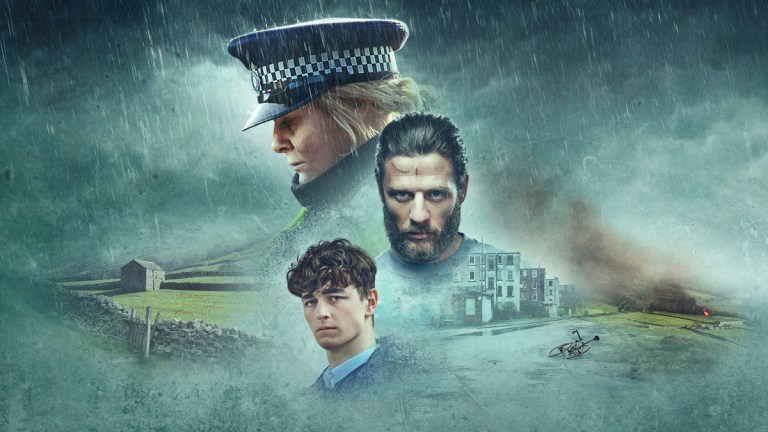 Warning: contains spoilers for Happy Valley Series 1 and 2.
"I'm Catherine, by the way. I'm forty-seven, I'm divorced, I live with my sister – who's a recovering heroin addict – I have two grown-up children. One dead and one who doesn't speak to me. And a grandson! So."
That's how Sgt Catherine Cawood introduced herself to a junkie threatening to light himself on fire, and to us, the audience, in Happy Valley's opening scene. That speech set out the character's stall – Catherine was unflappable, no-nonsense, good in a crisis, and had a complicated home life with tragedy in her past. It was all we needed to know to fall in love.
Over two series, we watched Catherine police her patch, solving kidnappings, serial killings and drug murders, while holding back a wave of shit threatening to engulf her at home. There was recovering addict Clare's relapse and dubious new relationship with Neil, son Daniel's failed marriage (after he'd thawed and started speaking to her), her grief over the suicide of her then-teenage daughter Becky, and looming largest of all, there was the son Becky had left behind – Ryan.
Happy Valley's third and final series takes place around five years after the Series 2 finale, when Catherine's grandson Ryan, played by Rhys Connah, is sixteen. The time lapse was very deliberate on creator Sally Wainwright's part, who explained at the BBC press launch that she'd waited to return to the crime drama until it got "to a point where Ryan would be old enough to start making choices about whether he wanted to have a relationship with his dad."
Ryan's dad Tommy Lee Royce, played by James Norton, has been the plague of Catherine's life. A violent narcissist who brutally raped and impregnated her daughter, leading to her suicide, Royce is one of TV's most despicable and manipulative villains. In Series 3, he continues to plague Catherine even from prison. Here's their history.
Tommy Lee Royce
Series one starts with Tommy Lee Royce's release from prison after serving an eight-year sentence on a drugs charge. He was never convicted for the rape of Becky Cawood and his role in her suicide, and Catherine had kept the existence of his biological son Ryan a secret from him. Once free, Tommy Lee took a labouring job with Ashley Cowgill, a businessman and drug dealer who was in cahoots with Kevin Weatherill, an employee of wealthy local man Nev Gallagher on a plan to kidnap Nev's daughter and hold her ransom. Tommy got involved with the plan, and escalated it horribly by murdering suspicious police officer Kirsten by running her over with a van, raping kidnap victim Ann Gallagher and drugging her with heroin.
Catherine learned of the kidnapping via Ann's mother Helen, who was friends with Catherine's sister Clare (Siobhan Finneran) through her charity support groups for recovering addicts. Catherine alerted her colleagues and used her instincts about Tommy Lee to track Ann down to his mother's basement. Catherine was brutally beaten by Tommy Lee, but rescued Ann and escaped, while he went on the run. After laying low and squatting in a vacant narrowboat, a seriously injured Tommy sensed his end was near. Having learned about eight-year-old Ryan from his addict mother, he approached the boy and showed him the boat, where Ryan later chose to visit him. On the narrowboat, Tommy covered them both in petrol and planned to commit a murder-suicide as revenge on Catherine. She got there just in time, saved Ryan and arrested Tommy Lee Royce, who was sent to prison for his role in the kidnapping, the murder of his co-conspirator and more.
Eighteen months later in Series 2, Tommy Lee Royce is in prison but writing to and receiving visits from multiple women including Frances Drummond (Shirley Henderson), a vulnerable and unhinged woman who believes that they're engaged to be married. Manipulated by Tommy Lee, Frances moves to Catherine's town and gets a job as a teaching assistant at Ryan's primary school under a false identity. There, she grooms Ryan, manipulating him to think about forgiving his father and to write to him in prison but keep it a secret from his grandmother. On Ryan's birthday, she buys him an expensive Scalextric set and leaves it for him with a card saying it's from his dad. When Catherine works out what's going on, she confronts Frances about Tommy Lee's true nature and tells her about the other women he's supposedly engaged to. That ends Frances' infatuation with Tommy, but the damage between Catherine and Ryan has been done, and the subject of his father has become a tinderbox between them, threatening to blow up at any time. Before Frances was found out, Ryan successfully sent a letter to his father, thereby opening the channels of communication, despite Tommy having a no-contact order with the boy.
Sgt. Catherine Cawood
After rescuing Ann Gallagher in Series 1, Catherine received a medal for bravery but continued to be haunted by the brutal attack Tommy Lee meted out. She was forced to see a therapist by her job, but failed to tell the truth about her trauma. It didn't help her professional reputation that she was also considered a suspect in a murder.
In Series 2, Catherine's team investigated a violent serial killer whose victims – all female sex workers – included Lynn Dewhurst, Tommy Lee Royce's mother. Tommy Lee accused Catherine of killing his mother as revenge on him, and her colleagues considered it a possibility because Catherine had left threatening messages on her answerphone after Lynn tried to approach Ryan, and Catherine discovered the body. Of course, Catherine had nothing to do with Lynn's death.
After investigating a sex trafficking operation linked to local gangsters and drug dealers the Knežević family, and rescuing a trafficking victim, Catherine discovers that the killer was local young farmer Daryl Garrs (Robert Emms). He lived an isolated life with his mother Alison Garrs (Susan Lynch), and suffered mental illness due in part to being the product of incest between his mother and her father. Catherine learns about this from Alison, who tells her that when Daryl confessed to being the serial killer, she killed him with a shotgun to protect him from prison and put him out of his misery. Alison then tried to take her own life through an overdose, but Catherine got there in time to save her. The idea of Daryl's having inherited his sick instincts from his father/grandfather ties into Catherine's fears that Ryan may share traits with his own father.
Catherine's police colleague DI John Wadsworth (Kevin Doyle), a married man with children, was being blackmailed by his former mistress Victoria Fleming (Amelia Bullmore), and killed her in a fit of rage. Knowing the serial killer investigation details, Wadsworth replicated the injuries on the killer's other victims and staged the body to disguise Victoria as another sex worker murdered by the serial killer. Wadsworth started to spiral when Daryl's confession to the murders specifically said that he hadn't killed Vicky Fleming. When Wadsworth was discovered, Catherine attempted to talk him down from killing himself, but he jumped off a bridge and died.
Series two ended with Catherine, Clare, Daniel and Ryan taking a walk, as she considers Ryan's future and whether either of them will ever be able to escape Tommy Lee Royce's shadow.
Clare, Neil, Ann and Daniel
A recovering heroin addict and alcoholic, Catherine's sister Clare fell off the wagon at the funeral of Helen Gallagher, who'd died from cancer and had played a big part in Clare's recovery. Helen was the wife of Nev and mother of Series 1 kidnap victim Ann – another survivor of rapist Tommy Lee Royce. In Series 2, Ann was training to be a police officer, inspired by Catherine.
After Catherine scraped her up off the floor, Clare regained her sobriety and started seeing a former alcoholic and old schoolfriend Neil (Con O'Neill), who'd lost his marriage and job when he was also blackmailed by Victoria Fleming, the same woman who'd blackmailed and been killed by DI Wadsworth. Catherine has her concerns about Clare and Neil's relationship, seeing it as a threat to Clare's recovery.
Romantically, Catherine still shares a spark with her ex-husband Richard, and the two continued having sex while he was married to his new partner Ros. Their son Daniel cheated on his first wife and was forced to stay on Catherine's sofa, where he met Ann Gallagher.
All of which sets the stage for Series 3, which finds Catherine months off retirement and still trying to clean up the drugs mess on her local patch caused by the gangland Knežević family, Ryan celebrating his 16th birthday, and Tommy Lee Royce implicated in a freshly discovered murder…
Happy Valley Series 3 starts on Sunday the 1st of December at 9pm on BBC One and continues weekly. Series 1 and 2 are available to stream on BBC iPlayer in the UK.