News
Netflix's Grand Army Trailer Reveals a Gritty High School Aesthetic
Grand Army will premiere this October on Netflix and follow in the grand tradition of dark and gritty high school shows.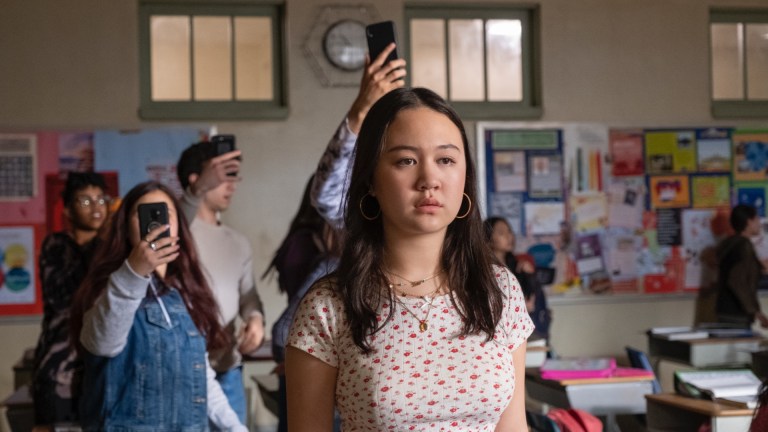 Move over Skins and Euphoria, Netflix's Grand Army is joining the gritty (and hopefully not too realistic) high school show bandwagon.
Netflix has unveiled a release date and first trailer for Grand Army, an adult drama about a New York high school from playwright Katie Cappiello. Grand Army will premiere all nine of its hour-long episodes on October 16 on Netflix. Here is the aforementioned, decidedly gritty, trailer.
Oh yes, there is some Skins DNA in that bad boy. A mournful saxophone rendition of The Star-Spangled Banner over images of a dingy New York high school is what one might call a dramatic layup. But darn it all if it doesn't work. Social issues highlighted here are of a much darker Degrassi variety, including kneeling for the anthem, rampant uncontrollable teenage sexuality, and perhaps even a school shooting or another similar crisis.
Netflix's synopsis for the series reads:
"Grand Army tunnels into a generation that's raging and rising. Five students at the largest public high school in Brooklyn take on our chaotic world as they fight to succeed, survive, wild out, break free, and seize the future."
Cappiello, who is best known for her plays Slut and Now That We're Men, developed and will executive produce the series. Josh Donen, Nicolette Donen, Elizabeth Kling, Beau Willimon, and Jordan Tappis are all attached as executive producers as well.
Grand Army's young ensemble cast is made up of Odessa A'zion as Joey Del Marco, Odley Jean as Dominique (Dom) Pierre, Maliq Johnson as Jayson Jackson, Amalia Yoo as Leila Kwan Zimmer, Amir Bageria as Siddhartha (Sid) Pakam, Alphonso Jones as John Ellis, Brittany Adebumola as Tamika Jones, Crystal Nelson as Tor Sampson, Naiya Ortiz as Sonya Cruz, Brian Altemus as Luke Friedman, Thelonius "Monk" Serrel Freed as Tim Delaney, Anthony Ippolito as George Wright, Jaden Jordan as Owen Williams, Ashley Ganger as Meera Pakam, Sydney Meyer as Anna Delany, Marcela Avelina and Flora Mejia, August Rosenstein as Victor Borin, David Iacono as Bo Orlov, Lola Blackman as Rachel Finer, and Keara Graves as Grace.
Netflix has enjoyed some success with YA high school-focused shows of late. The soapy Carolina drama Outer Banks performed well enough to receive a second season. The Jenji Kohan-produced Teenage Bounty Hunters bowed in August to positive reviews. Grand Army could represent the streamer's biggest dark high school attempt since 13 Reasons Why, however.