News
Giveaway – Win a Copy of Altered Carbon: The Art and Making of the Series
Our Sci Fi Fidelity podcast hosts are giving away a great coffee table book for fans of Altered Carbon to go along with the release of season 2 on Netflix.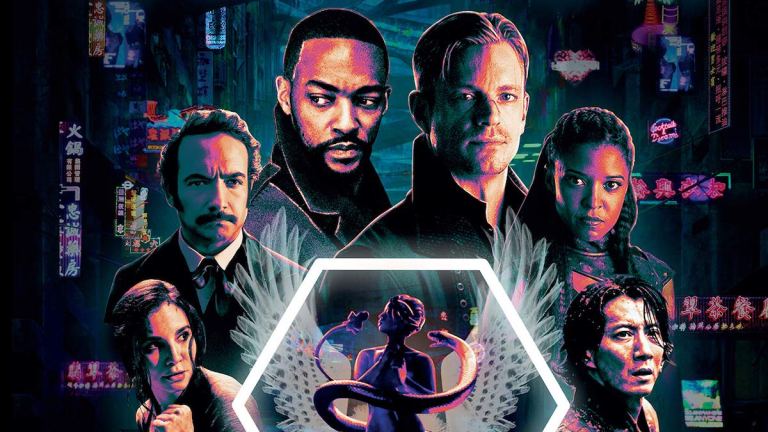 Altered Carbon is one of the few "cyberpunk" adaptations on science fiction television that tackles issues of mortality and identity in a digital future. We've been fans of the show since season one, and we spoke to season 2 showrunner Alison Schapker on Sci Fi Fidelity. We're therefore excited to announce another prize giveaway to help promote the podcast and show our appreciation for the series, which Netflix released on February 27, 2020.
Three lucky listeners of the podcast can win their very own copy of Altered Carbon: The Art and Making of the Series, an official companion to the sci-fi series from Titan Books that features everything from behind-the-scenes interviews to character and concept art. With the stunning visuals associated with the cyberpunk world of Altered Carbon, this coffee table book could make the perfect gift for any fan.
Here's the official description of the book by Abbie Bernstein, which goes on sale March 31, 2020:
This richly detailed and beautifully presented coffee table book takes readers from the glittering Aerium to the gritty streets of Bay City. Featuring episode stills, development art, final designs, VFX builds, set photos, unseen storyboards, and concept art from the first two seasons, plus interviews with the cast and crew. Altered Carbon: The Art and Making of the Series will bring readers into this visually stunning futuristic world where technology has transformed mortality.
Entering the giveaway is simple! Just follow Sci Fi Fidelity on Twitter or join the Facebook group for listeners of the podcast. Then respond to the giveaway thread on either platform (which is pinned in both instances) by telling us who your favorite character is from Altered Carbon and why.
You can also win a bonus entry by writing a review for Sci Fi Fidelity on Apple Podcasts! Just tell us what name it's under when you respond to the Facebook or Twitter thread. Social media entries only need to be on one platform – no need to do both.
The giveaway ends on March 26th at noon Eastern, and winners will be selected at random on the March 29th podcast. Those chosen must respond to prize shipping address requests within 48 hours before new winners are chosen (U.S. residents only). So follow, comment, and remember to subscribe to Sci Fi Fidelity wherever you get your podcasts so that you never miss an episode. Or listen to the latest installment below!