Features
Ghosts Season 2: What to Expect
From dinosaurs to shipping opportunities to maybe Luke Skywalker himself, the producers of CBS's Ghosts reveal what to look for in season 2.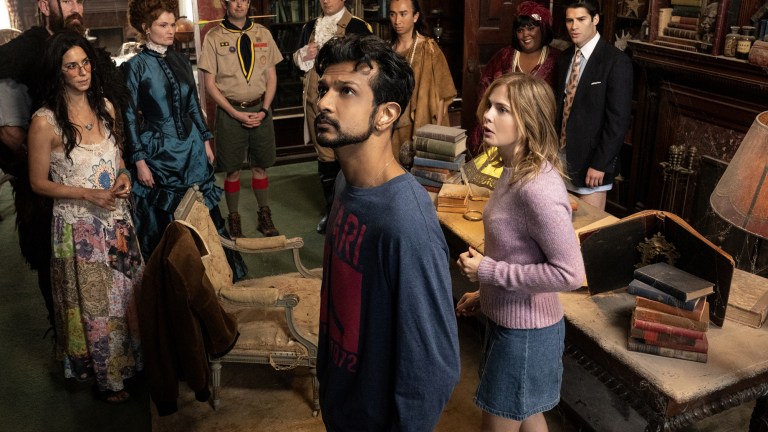 This article contains spoilers for the Ghosts season 1 finale
Ghosts season 1 ended on a cliffhanger that has already generated numerous lines of fan speculation. Although season 2 is currently in production and release date details are still being worked out, Den of Geek managed to get a few nuggets of inside information from Executive Producers Joe Port and Joe Wiseman.
According to Port, season 2 will naturally continue the comforting supernatural comedy vibes established by season 1.
"The one word that always comes up on Twitter about the show, people are always calling it wholesome," he says. "When I first started reading that, I was like 'Hetty's always making jokes about what a cocaine addict she was. We're always making jokes about Thor participating in tons of orgies'. But there is something wholesome and comforting about it."
How will Sam and Jay deal with the termite infestation? Will the accident alter their future interactions with the ghosts? Will the B&B be able to stay open? These are questions that fans want season 2 to answer first and foremost.
"At the end of season one, they finally open up the B&B, so we're going to do stories based on running a stressful business with your spouse and that's going to offer challenges," Wiseman says. "Now that the B&B's open, that'll be a way to get guests cast in. We don't want to become Newhart, we're not going to be the guest of the week or anything like that. But it is an organic way to get stories walking through the door that can affect Jay and Sam but also bring up issues amongst the ghosts."
Another way that season 2 could introduce new ghosts is through the sheer unexplored size of Woodstone Manor.
"We've somewhat [followed] the rule that was established in the British series, where they can't really leave the property, so it's difficult to get visiting ghosts or new ghosts," Wiseman says. "[Woodstone Manor is] a large property and we've found the English ghosts living in a shed. In [the 'Ghost Prom'] episode, we introduce a character who's been spending a lot of time in a rarely visited room in the attic. There's ways [to get around the rule] and we have a couple of fun ideas that we may or may not do in season two to introduce some other people."
Throughout season 1, Ghosts established the backstories of the core ghosts Sam and Jay interact with every day. However, there are a few stories that haven't been fully fleshed out yet.
"We are having a lot of fun talking more about the backstories of the ghosts," Wiseman says. "There's a lot of questions that are still out there that we're not necessarily going to answer all of them this season, but we don't know how Hetty died, we don't know how Sasappis died, we don't know what Pete's power is. Then there's other stories that we want to follow up on."
"Alberta's murder is going to be a mystery that we're going to delve into more deeply in season two. And not just talk about it in one episode, we want to explore that. There also might be a dinosaur," Port adds.
Both the good and the bad in the history behind these backstories will also be a focus in Season 2 with Port promising "it's something we're not going to ignore and shy away from."
The season finale teased future plot lines for Isaac and Nigel's newly revealed mutual attraction, but what about the other relationships in the series? Some of these plot developments were not set in stone at the beginning of the planning process for season 1. Thor and Flower's miscommunication is one example.
"We didn't want it early on to be a show about ghosts dating each other," Wiseman says. "That's definitely going to be a part of it. You have eight people who all live in a house and can't really see or meet other people, so there's going to be some intermingling. We didn't want that to be the crux of the show, we wanted those relationships to come up organically.
"In the third episode, 'Viking Funeral', there was that funny moment when Flower starts to realize that he may be gone, she starts to confess feelings. To be honest, we thought that would be a funny joke. But since we filmed that moment and everything, we talked about maybe there is something there. We just wanted to wait for an organic time to bring it up again. When we shot the 'Thorapy' episode, we thought maybe that could be [the time]. He's someone who's now starting to talk about his feelings, and that could be an interesting thing that could come up at the very end of that episode and throw forward the idea of them being a thing."
Pete and Alberta are another popular pairing in fandom.
"Pete, even from the pilot, is such a fanboy of Alberta's," Port says. "There's a joke where Sas complains that Alberta has sung the same song 487 times and he's getting sick of hearing it, but Pete could not appreciate her talent more and that he gets to be a front-row seat to her for eternity. We thought it was funny because he's so much the opposite of the bad boys that she claims to have been within her life. It's definitely a long game, those two, because I don't think he's really her type, but he definitely has an interest."
While it's too soon to have all the details on all the new ghosts, there are some one-off characters from season 1 that will have follow-ups in future episodes. Every week during the Ghosts live tweets there was at least one person asking about where the greaser/Elvis era headless ghost is.
"It's fun because his head can be separated, so his body has been spotted in a handful of episodes," Wiseman says.
Many fans had theories about the 1950's or 1960's housewife ghost Sam saw at the Farnsbys but Port assures that they the writers have something planned for her and they "think she's a Farnsby."Guest star casting for season 2 is still in progress but there is one person who is already on the list: the legendary Mark Hamill.
"We've made it clear anytime, anywhere he wants to be on the show, we will come up with a part for him," Wiseman says. "Everyone, the whole cast, the whole crew, and all the writers were just delighted. Obviously not only just fans of Star Wars and [Luke Skywalker], but also he's just such a positive presence on Twitter. He's so passionate, and he took the time. After he tweeted about the show, the cast would reach out and say thank you. Then he wrote everyone back very specific things about their character and how the actor was great at doing. It was clear that he clearly really liked the show, and it really meant a lot."
Ghosts season 2 is set to arrive this fall. Until then there's plenty of time to rewatch the season with friends and family who didn't see it before, form some theories, and possibly check out the original UK series on HBO Max or the U.S. series on Paramount+.