News
Gangs of London: Is Sean Wallace Dead?
The Gangs of London finale arrived with lots of questions - directors Gareth Evans, Corin Hardy, and Xavier Gens tackle one of the big ones.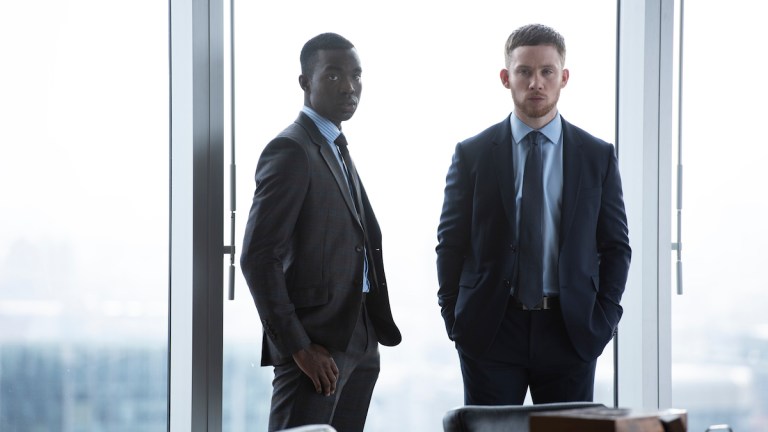 The finale of Gangs of London, the buzzy new crime show on Sky and Cinemax, left us with some serious cliff hangers. Is Elliot going to the dark side? Will Asif really take his son's brutal murder lying down? What's Luan's next move? And who are The Investors?
One of the key questions of course is is Sean Wallace dead? In the final episode Elliot shoots Sean in the face having been instructed by The Investors to make sure he never takes the stand in exchange for the safety of Shannon and her son Danny. Later we overhear the police who have raided the club where the shooting took place repeating that Sean Wallace is dead. 
But is he? Joe Cole as the "boy who would watch cities burn just to prove he's a man" is incredibly charismatic and a fascinating character so killing him off when there's clear potential for a second series might seem like a risky move. There's also the fact that Elliot, a trained police officer who was former military, wouldn't have accidentally shot Sean in the face rather than the head – we clearly see where the shot lands and we don't see Sean's dead body, we only hear the cops saying he's dead.
We can speculate till the cows come home, but instead we spoke to the directors of the show Gareth Evans, Corin Hardy and Xavier Gens about their thoughts on that aspect of the ending.
Hardy, who directed the finale, explains that Sean's death was on the cards from the beginning.
"It was really important, and it was planned out from the start that Sean Wallace would die at the end of episode nine," he says.
"He's shot and he's killed, and the policeman identifies that. We wanted to really follow through on our mission. It was important to me that you see the gunshot. I wanted to make it feel like Alex is going there to kill Sean. It's the last thing he wants to do, but he has to do it. What we know of Elliot is, Elliot is going there to bring Sean out at that point. Although we don't know that he's encountered these investors on the way, and they've actually given him an ultimatum.
"You know that Alex is going there to kill him, and then you think Sean's diffused it. He's very good at that, tapping into the people he knows well and charming them. But what we don't know is what Elliot's encountered. So when Elliot suddenly pulls the gun and takes Sean out, there's no time to understand what the hell has just happened."
Even if the original plan was that Sean would definitely die, co-creator and director of the pilot and episode 5 Gareth Evans still reckons there's room for maneuver.
"I think we've kept that pretty open, in terms of where Elliot shot him," he says. "If it had been dead center, then yeah, absolutely."
Xavier Gens, the director of episodes 6, 7 and 8 which lead right up to the finale is hedging his bets too.
"We don't know. We don't know. It's too early!" he tells us, though he says he'd be back in a flash if a season 2 was on the table. "If they asked me to come back yes, for sure, because I love the cast. I love the production company!"
Ultimately, Evans points, out it's really too early to say what might happen, and with the production times involved, not to mention the fact that everything is halted due to the pandemic, it'll be a while before we find out.
"I don't know, to be honest," he says of plans for Gangs of London going forward. "I don't necessarily know what the plan is in terms of what they're going to do with season two. It's been one week since it got released, and it's this weird thing for me where we spent two years, three years just to get season one made. It's so exciting and heartwarming to hear that people have just binged through, but they're like, 'So what's next? What's season two?' I'm like, 'Uh, we're just enjoying the moment right now' because it's too far ahead in a weird way."
All nine episodes of Gangs Of London are available to watch now.