News
Stage and Screen Icon Diana Rigg of Avengers, Bond, and Game of Thrones, Dies at 82
Diana Rigg was the epitome of fashionable espionage and spy cool in The Avengers, and the only true Bond Girl.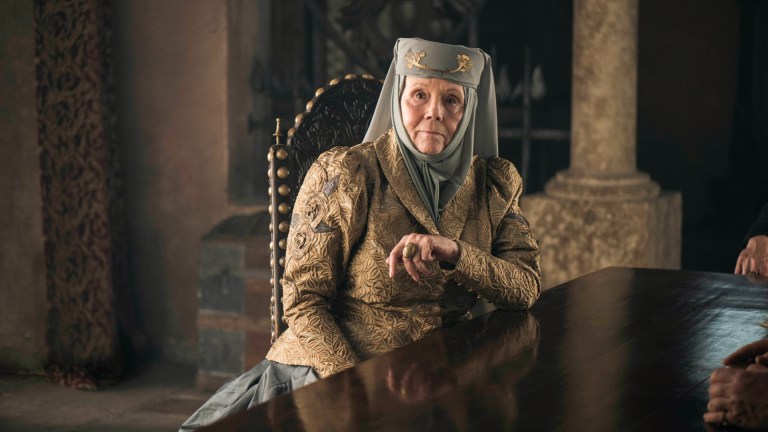 Diana Rigg, best known for her iconic turn on The Avengers, and memorable roles on Game of Thrones and Theatre of Blood, died Sept. 10, at home with her family at the age of 82, according to Variety. "It is with tremendous sadness that we announce that Dame Diana Rigg died peacefully early this morning. She was at home with her family who have asked for privacy at this difficult time," her agent Simon Beresford said in a statement. "Dame Diana was an icon of theatre, film, and television. She was the recipient of BAFTA, Emmy, Tony and Evening Standard Awards for her work on stage and screen. Dame Diana was a much loved and admired member of her profession, a force of nature who loved her work and her fellow actors. She will be greatly missed."
Rigg was diagnosed with cancer in March, according to her daughter Rachael Stirling, who said the actress "spent her last months joyfully reflecting on her extraordinary life, full of love, laughter and a deep pride in her profession. I will miss her beyond words."
Diana Rigg is a quintessential part of English espionage entertainment. She came into people's homes on a weekly basis as the Emma Peel, a spy as skilled in seduction as she was in hand to hand combat, on The Avengers. Rigg was the third of four women sidekicks to Patrick Macnee's John Steed on the ITV series, and the first with a bristling sense of humor. The duo set the tone and the style for swinging 60s British Intelligence: The bowler hatted Steed with his lethal umbrella and Peel in the mod fashions, leather jumpsuits or op-art psychedelic patterns. She drove a Lotus Elan convertible.
As Tracy di Vicenzo, Rigg was the only true Bond girl, having actually married James Bond, played by George Lazenby, in On Her Majesty's Secret Service (1969). Tracy Bond's life with Agent 007 did not have a happy ending. Modern audiences recognize Rigg as Olenna Tyrell on HBO's Game of Thrones. Horror fans will remember her turn as Vincent Price's daughter in the 1973 classic thriller Theatre of Blood. Price played an underappreciated Shakespearean actor. The classical theatre trained Rigg, who did a stint with the Royal Shakespeare Company, played almost everyone else.
Enid Diana Elizabeth Rigg was born on July 20, 1938, near Doncaster. She grew up for a short while in India and spoke Hindi as a second language. She returned to the UK to attend a Yorkshire boarding school run by the Moravian church. Rigg enrolled in the Royal Academy of Dramatic Art in 1955. One of her classmates was Glenda Jackson. She made her professional debut in a production of Bertolt Brecht's The Caucasian Chalk Circle as part of the 1957 York Festival. Rigg was first noticed for her role in the Ronald Millar play Abelard and Heloïse. She was nominated for a Tony Award.
Rigg screen-tested for The Avengers in 1965 after Honor Blackman, who had been playing Emma Peel, was cast as Pussy Galore in Goldfinger. Rigg starred in 51 episodes. She also had major roles in the films A Midsummer Night's Dream (1968), The Assassination Bureau (1969), and Julius Caesar (1970), which starred Charlton Heston. Rigg was nominated for a Golden Globe Award for her role in the 1971 classic satire The Hospital, which was directed by Arthur Hiller, written by Paddy Chayefsky and co-starred George C. Scott.
On television, Rigg starred in the eponymous NBC sitcom Diana from 1973-74. She starred as Clytemnestra in BBC's 1979 miniseries adaptation of Sophocles' Oresteia. In 1981, she starred in an adaptation of Hedda Gabler for English television. from 1989-2004, she was host of PBS' Masterpiece Mystery.
Rigg was a member of the National Theatre Company at the Old Vic from 1972 through 75. Rigg played leading roles in the premieres of two Tom Stoppard plays: Jumpers in 1972 and Night and Day in 1978. She played Lady Macbeth in 1972, and was Eliza Doolittle in a 1974 revival of Pygmalion. In 2011 she returned to George Bernard Shaw's timeless classic in the role of Mrs. Higgins. Her last stage appearance was as Mrs. Higgins in the 2018 revival of My Fair Lady. In 1994, Rigg won a Tony Award for Best Actress in a Play for Medea. Her other stage work included roles in Bertolt Brecht's Mother Courage, Albert Albee's Who's Afraid of Virginia Woolf, Tennessee Williams' Suddenly, Last Summer, and a revival of Noel Coward's Hay Fever.
In 1977, Rigg starred in A Little Night Music with Elizabeth Taylor. She also appeared in The Great Muppet Caper in 1981. She was the Evil Queen in the 1987 film Snow White. She also played in Bruce Beresford's A Good Man in Africa, which starred Sean Connery in 1994, as well as Parting Shots (1998), the 2006 romantic drama The Painted Veil and Andy Serkis' romance Breathe (2017).
Rigg took the part played by Marlene Dietrich in 1982 TV movie remake of the 1957 Billy Wilder film Witness for the Prosecution for Hallmark Hall of Fame. She starred with David MacCallum in the BBC/PBS miniseries Mother Love (1989). She starred in the CBS telepic Mrs. 'Arris Goes to Paris (1992) with Angela Lansbury. Rigg won an Emmy for Rebecca in 1997. Rigg was a memorable guest star on the BBC/HBO's Extras in 2006. She also put in an appearance on Dr. Who in 2013. She recently appeared in ITV's Victoria and Channel 5's All Creatures Great And Small.
Rigg's last film appearance will be in Edgar Wright's upcoming Last Night In Soho, scheduled to hit theaters on April 23, 2021.
Rigg was married twice. She was married to Israeli painter Menachem Gueffen from 1973 to 1976. Her second husband was theater producer Archibald Stirling, who she was married to from 1982 to 1990. Rigg is survived by their daughter, two-time Olivier Award nominated actress Rachael Stirling.