News
Friends Reunion Delayed at HBO Max
Filming of the Friends reunion special for HBO Max has been delayed amid the coronavirus outbreak.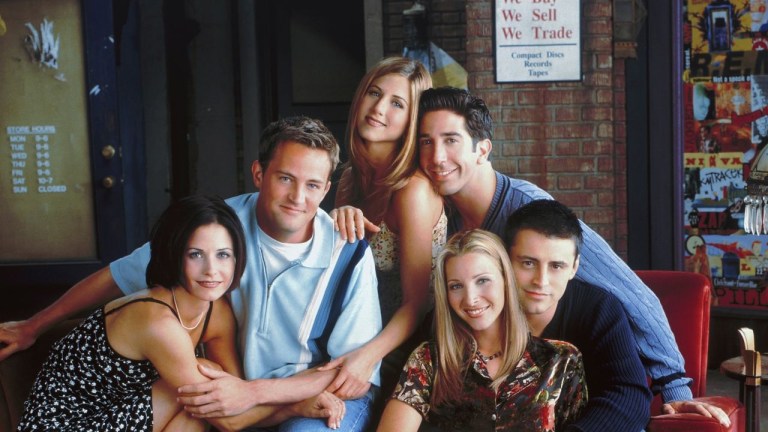 They'll still be there for us. It's just going to take a little while longer.
According to The Hollywood Reporter, the Friends reunion special at HBO Max has been delayed amid the coronavirus pandemic across the U.S. and world at large. WarnerMedia has not yet confirmed the news. 
Filming was set to occur on the special at the show's former home on the Warner Bros. lot sometime next week. But with much of Hollywood shut down due to the virus, filming will have to be delayed, along with likely the release date of the special itself. 
The Friends reunion special was first reported by THR back in November and confirmed by WarnerMedia in February. The reunion was intended to be an untitled and unscripted special in which all six members of the main cast, Jennifer Anniston, Lisa Kudrow, Courteney Cox, Matt LeBlanc, Matthew Perry, and David Schwimmer came together to celebrate the beloved sitcom. Each of the six actors were reportedly set to earn somewhere between $2.5 and $3 million for the special.
Production has been halted on most, if not all shows throughout the television landscape. Notable delays include Amazon Prime's Lord of the Rings, Netflix's The Witcher, and all of Disney+'s Marvel shows (Loki, WandaVision, The Falcon and The Winter Soldier). Some shows with looming release dates have even had to be rescheduled including FX's Fargo, which would have premiered on April 19 but had not finished filming the entirety of its season yet. Countless more films have been rescheduled or delayed as well, due to the unprecedented pandemic locking down much of the world.
As of now WarnerMedia's streaming service HBO Max is still set to launch in May of this year. The service is designed as a competitor to Netflix and Disney+ and incorporates over 10,000 hours of Warner content including shows like Rick and Morty, South Park, and The Big Bang Theory. HBO Max will also have the entire Friends library available at launch, so while it didn't necessarily need a reunion special to capture the Friends crowd, it would have been (and still could be) helpful.
Friends was one of the most successful TV shows of the '90s and early 2000s. Created by David Crane and Marta Kaufman, the show simply followed the exploits of six friends living in New York. In the streaming era, in which highly bingeable sitcoms are prized as comfort food, Friends has become an important property once again and is crucial to WarnerMedia's HBO Max launch strategy.