News
Will Fear the Walking Dead Season 7 Bring Back Madison Clark?
With AMC's renewal of Fear the Walking Dead Season 7, speculation continues about the possible return of the show's original lead, Kim Dickens.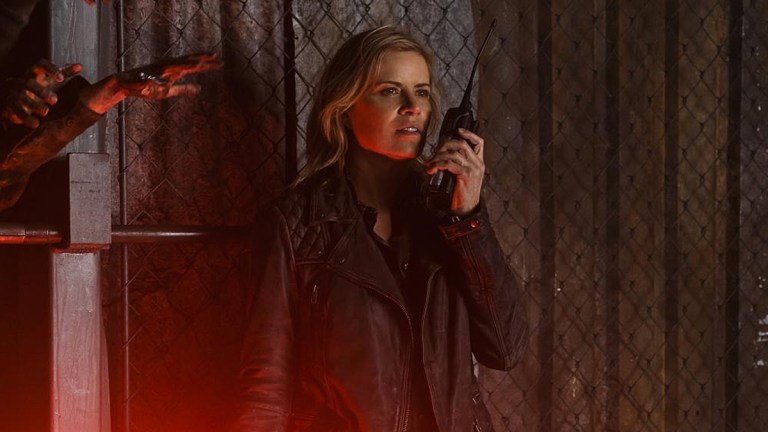 Fear the Walking Dead is now poised to outlive the soon-to-end mothership series from which it was spun, thanks to AMC's renewal for a seventh season. While it's far too early to speculate on Season 7, since the announcement only arrives shortly after the recent midseason finale of Season 6, the renewal will likely boost the rumor that the show's original main character, Madison Clark (Kim Dickens), will make a momentous return after her presumed death in Season 4.
AMC's Fear the Walking Dead Season 7 announcement came with a teaser trailer bearing imagery hinting that the series (which started in Los Angeles,) will stay in its current Texas setting. However, the latest Madison rumor stems from this past October's Season 6 premiere, which picked up on the cliffhanger moment in which Morgan (Lennie James) was left for dead, mortally wounded from a gunshot to the chest from the imperious leader of survivor group the Pioneers, Virginia (Colby Minifie). Indeed, while Morgan survived—albeit clinging to life for weeks with an untreated wound so gangrenous that walkers avoided him—we know that a mystery person initially came to the rescue, saving him from certain death before leaving a note. But WHO?
Well, according to the rumor, that someone could turn out to be Madison. But how? After all, we last saw her in the Season 4 midseason finale, "No One's Gone," back in June 2018, making a grand sacrificial gesture to ensure the safety of the group and her children by leading the imminent threat of an undead mega-herd (consisting of thousands,) into their settled Baseball stadium home to ignite a blaze that destroyed them—and presumably herself. Yet, the rumor hinges primarily on the fact that we never got confirmation of Madison's death onscreen, and that her survival, while unlikely, is still possible. In fact, Dickens herself offered such a theory back at Walker Stalker Atlanta in 2018, lamenting of her character's stadium pyre, "Madison would have shimmied up that wall" and "would have never let her babies [kids] go like that."
However, the inside-baseball (no pun intended,) reason for Madison's end was a bold creative shakeup from the at-the-time new showrunners, Andrew Chambliss and Ian Goldberg; a controversial choice that happened to cost Kim Dickens the starring role she had been fielding since the show's 2015 inception. While the duo contemporaneously confirmed Madison's death in the episode's postmortem interviews, they have since noticeably walked back their initial certainty, as evidenced by Goldberg's response in an interview last month with ComicBook.com about the possibility of Madison being Morgan's mysterious rescuer, stating, "There's always a chance. There's always a chance. We can't say much else about who saved Morgan, other than we saw the note."
That leads us to the freshly-ordered Fear the Walking Dead Season 7, which is still an abstraction at this point, with the second half of Season 6 still left to presumably play out the long-running storyline pitting our survivors against Virginia and the Pioneers. Of course, said second half could end up validating the other major theory, which implies that the mystery rescuer is Virginia's rebellious sister (who consistently plots against her), Dakota (Zoe Margaret Colletti), which would invalidate the exciting "Madison saved Morgan" narrative (and, yes, this article as well). Yet, as Goldberg added to his Madison-teasing answer, "We saw that it [the rescuer] was someone with an ulterior motive who said that Morgan still had things to do. It's someone that Morgan doesn't know. We know that from the note, also. I think when we do reveal who that person is who saved them, that note is going to take on a whole new level of resonance in terms of what it means."
Further adding to the speculation, Dickens's docket currently appears open for a Fear the Walking Dead return. She was recently seen reprising her original series role as Joanie Stubbs on HBO's Deadwood: The Movie, and fielded a series regular role on USA Network's Briarpatch, the now-canceled crime series headlined by Rosario Dawson. Additionally, showrunners Goldberg and Chambliss haven't restricted their Madison teases to interviews, since a recent episode saw the Clark family's now-lone survivor, daughter Alicia (Alycia Debnam-Carey), mention the possibility of going back to the stadium—the one in which Madison made her sacrifice—to escape the grasp of Virginia; a shout-out that did not go unnoticed by the rumor mill. Consequently, with teases this potent, some of which have come straight from the showrunner horses' mouths, any non-Madison revelation to this mystery would be rendered underwhelming.
Nevertheless, Madison's return to Fear the Walking Dead would be an exciting development for the ongoing Walking Dead television universe, which, upon the main show's impending conclusion with an extended Season 11—by which point spinoff World Beyond will have presumably ended its two-season run—will go on to see Fear complemented by new continuity siblings such as anthology series Tales of the Walking Dead and the untitled Daryl and Carol spinoff. Indeed, as Madison poignantly stated in her last words to her children, "No one's gone until they're gone."