Features
Fear the Walking Dead Season 4: Behind the Scenes of a Zombie Drama Reborn
We spent some time on the set of Fear the Walking Dead season 4 to chat with the main cast and learn how the show has evolved.
There's never been a shake-up in The Walking Dead universe quite like the one you're about to witness on Fear the Walking Dead season four. The show, which is known to be quite a bit more nomadic than its older sibling, has moved from the U.S./Mexico border to the Austin, Texas area. That's not all: Two new showrunners, Andrew Chambliss and Ian Goldberg (both worked on Once Upon a Time), have replaced Dave Erickson, who co-created the series with Walking Dead mastermind Robert Kirkman. There are also a few new characters joining Madison, Alycia, Nick, and Strand. And there's even a time jump that kicks off the season!
But none of those game-changing details can top this one: Lennie James, who until now has played Morgan Jones on The Walking Dead, has joined the main cast in a once-unlikely crossover. The troubled pacifist Morgan journeys all the way from Virginia to Texas in the hopes of finding peace. Unfortunately, he quickly discovers in the season four premiere, "What's Your Story," that he can't avoid conflict forever.
While I won't spoil exactly how Morgan crosses paths with the other characters or what exactly the fourth season is up to, there's plenty I can share from my recent set visit in late January. I had the chance to check out some filming as well as catch up with the show's stars and new additions. I also visited a brand-new set inside of a baseball stadium that's unlike any settlement we've seen in this universe before. I even learned quite a bit about FTWD's two-hour premiere on April 15, which kicks off a brand new story for the show.
Here's what you should expect when the walking dead arrive in Austin next month…
***
It's an unseasonably cold morning in Smithville, TX, although you wouldn't know it from the scene being shot on the set of FTWD. It almost feels like high noon in the postapocalyptic Lone Star state, as a scavenger named Edgar (Jason Liebrecht) rolls a rickety grocery cart full of supplies he's stripped from a run-down convenience store. He's loading up his van with an assortment of fluorescent light bulbs, a broom, and other knick-knacks – things we might call junk but are actually a survivor's lifeblood in this zombie-infested world – when out of nowhere he hears the click of a revolver. A hammer being pulled back on a custom Colt .45.
Enter John Dorie (Garret Dillahunt), a man FTWD stars Kim Dickens and Alycia Debnam-Carey later describe as a "lonesome cowboy." It's easy to see why, as John stands behind Edgar, pointing his gun under the cold Texas sun, his wide-brimmed hat covering his face in shadow. He looks like a gunslinger ripped straight out of an old Western and John talks like one, too. It's a beautiful Southern drawl that is at once intimidating and funny. His dark Western wear, which comes complete with a wide-brimmed hat, really stands out in a modern day setting.
"Well, it's modern-day, what kind of dude does this in modern day?" says Dillahunt about the ridiculousness of John. "Is he crazy?"
Judging from the first two episodes of season four, the characters who encounter John on the road don't seem phased at all by his John Wayne-like appearance. Certainly, everybody's seen weirder shit since the outbreak. It also helps that, despite what Edgar may think as he's being held at gunpoint, John's pretty friendly.
"He's very good on his own, but he's a social person," says Dillahunt. "I think he might be the best suited kind of personality to this kind of crisis, which is sort of – he's a real adapter. But he tries to keep his chin up, you know what I mean?"
In the scene being filmed, John is looking for someone and suspects Edgar, who we quickly discover is working with an enemy faction, has some vital information. The scene is no longer than two minutes but it must feel like an eternity for Edgar, who has to choose whether to tell this stranger what he wants to know or pull out the gun he's hiding behind his old tan jacket. Edgar prepares to make his move as John asks his question one last time…
This tense scene is from episode 406, titled "Just in Case," directed by Daisy von Scherler Mayer (Orange Is the New Black). The set is actually at an abandoned gas station about 20 yards from the real world — there's a bright yellow house right across the street and a tall water tower in the distance. A store next to the set will sell you a big glazed doughnut for 90 cents. Despite its surroundings, the set actually looks the part, with a dirt driveway, a rocky field of dead grass out back, and a wooden fence that stands in the way of a man trying to figure out what all the commotion is about. There's a patrol car blocking the road for good measure.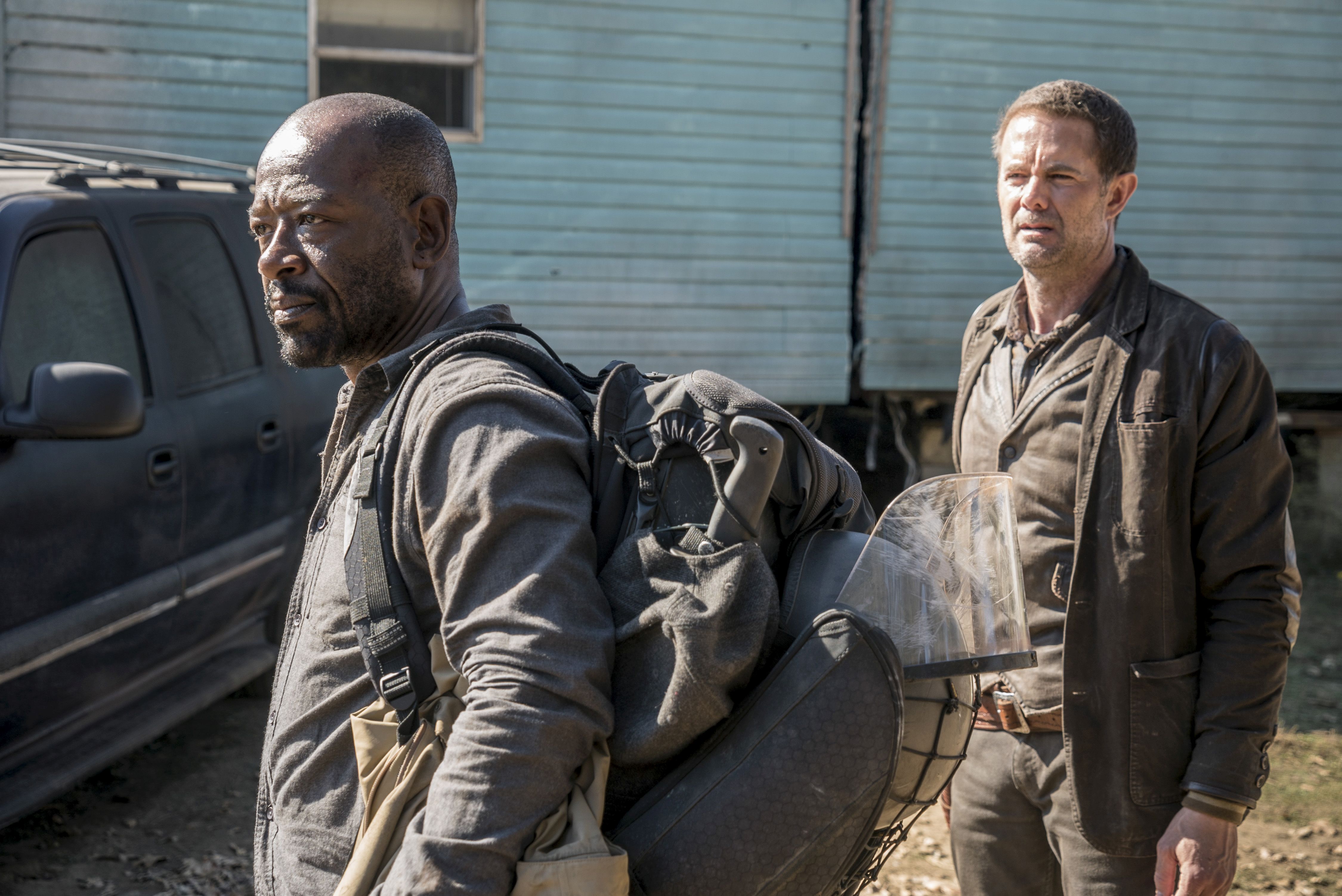 Taking a breather just beyond the cameras and the tents for the press, equipment, make-up, and snacks is James, wearing sunglasses and fidgeting with his phone. He looks relaxed and at home on the set despite the fact that it's a totally different zombie show and cast. At one point between takes, we could even hear him quietly singing "Walk the Dinosaur" by Was (Not Was) to pass the time.
Morgan is involved in the scene between John and Edgar, although James keeps quiet about what exactly he's doing with the gunslinger. What is clear is that we're going to meet a Morgan who is going through a bit of a "rebirth" on FTWD, according to James.
"It's a different aspect of Morgan and who he's been and what the potential is of what could happen to him," says James. "It's a very weird situation to be associated with a character for as long as I've been associated with a character, and then have that character reborn in a way."
James, of course, is one of the original cast members of The Walking Dead. His character first appeared in the pilot, alongside protagonist Rick Grimes (Andrew Lincoln). After that first episode, Morgan appeared sporadically before becoming a series regular in season six. That said, A LOT happened to Morgan between his first meeting with Rick and his arrival in the Alexandria Safe-Zone, events littered with violence and loss, including the death of his son, Duane. Things didn't go much better after joining up with Rick's group, as war erupted and Morgan was forced to do what he would never do again: kill. All of the blood on his hands threatened to finally push Morgan over the edge…
By the time we catch up with Morgan in the FTWD season four premiere, he's back to his "no killing" rule. We don't know how he got there after all out war with Negan and the Saviors, but he's in much better shape mentally than you might expect.
"He has kinda made a decision about who he is to people and who wants to be to people. And that's obviously evolved," says James. "Certainly in the storytelling, a shift of location. So, we're about to discover who he is and what's changed about him."
James hints that Morgan and John join forces at some point in the first half of the season.
"Two men who are on a series of missions, really. They're not just wandering. And they come across each other. And for certainly the moment of the story we're telling, their journey joins together."
After watching these two in a scene together, the best way to describe Morgan and John is as an "odd couple." John likes to talk with new people, eat the foil-wrapped candy he keeps in his coat pocket, and is a bit theatrical. Morgan, on the other hand, is not much for words and just wants to be left alone. As in all good stories, circumstances make it so that these two have to stick together.
James also alludes to yet another companion for Morgan: Althea, who is played by Maggie Grace (Lost). I can't say much about Althea except that she drives a huge SWAT transport with machine guns mounted on its side (as revealed in the season four trailer). She's also one of the most unique characters ever introduced to the Walking Dead universe. Her mission is nowhere near what you might expect for a person driving a heavily-armed death machine through the wasteland.
"[Morgan] has a connection to [Althea]," says James. "I don't know where it goes yet. But it's a kind of growing relationship."
Morgan will, of course, cross paths with some of the other characters in the story. (There's a particularly funny scene between Morgan and Nick in the trailer.) James says all of these relationships evolve throughout the season, as the characters go through their own personal conflicts.
"All of the relationships are in flux at the moment. The place where they meet, everybody's in a state of re-evaluating who they are and where they are and what's kind of going on. So, it's a different telling of the story."
After watching Morgan's debut on the show, I have to say that some FTWD fans might find the character's arrival a bit troubling in terms of just how much of the flagship series bleeds into the spinoff. After all, FTWD has always carried its own tone and explored themes unique to its settings and characters. The FTWD season four premiere plays a little too close to TWD for comfort, but the following episode definitely begins to give the story a bit more shape. And watching Morgan hang out with John Dorie really is a pleasure.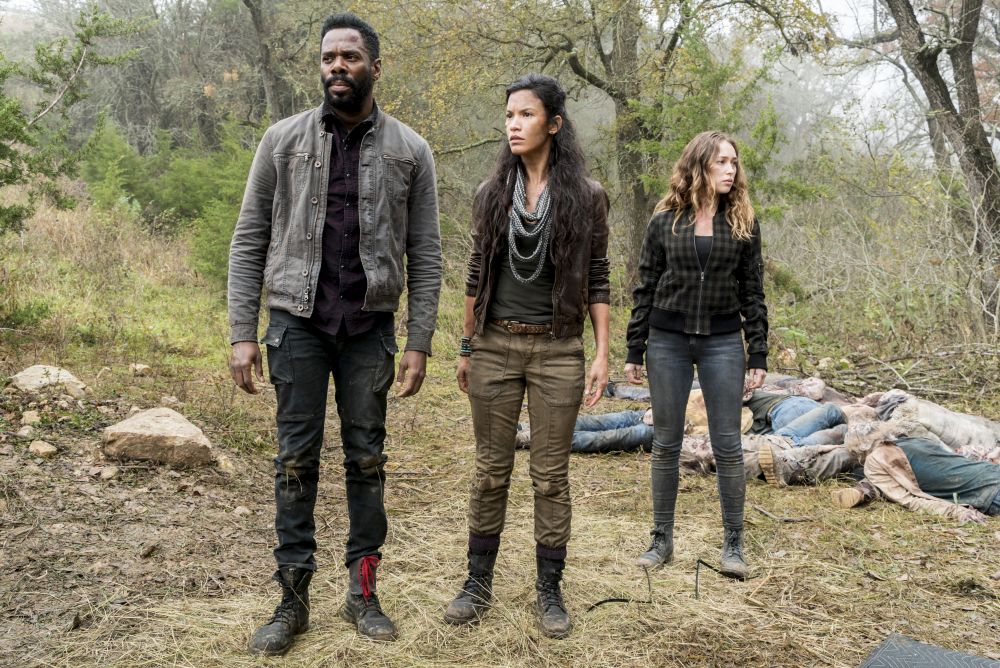 ***
When we last left Madison (Dickens), Alicia (Debnam-Carey), Nick (Frank Dillane), and Strand (Colman Domingo), their fates were uncertain. Well, we knew none of these main characters would actually be killed off-screen after Nick detonated the explosives that brought down the Gonzalez Dam. Leaving the lives of Alicia, Nick, and Strand on the line after the explosion was a neat way for the new showrunners to craft their story without being restricted by loose plot threads. In the end, we always knew these characters would find their way back to each other.
For all intents and purposes, season four is a fresh start for the Clark family and Strand. They escaped Tijuana and somehow made it all the way to Texas. We don't see that journey in the season's opening episodes, although the cast does tease that flashbacks make up a big part of the storytelling in the first half of the season.
"A lot of playing around with time this season, which was to a point where it was actually confusing for us too. I was like, 'Wait, where are we?'" explains Debnam-Carey.
The cast teases that fans will get to see what happened to the characters between season three and season four, which means we might get to see what happened to Daniel (Ruben Blades) and Qaletaqa (Michael Greyeyes), who are absent in the first two episodes.
"There's some devastating events that happened actually, and they may happen early on," Domingo says of the flashbacks. "You have to figure out how did that happen? How did we get there? Where are they jumping to? Where are they going back to?"
In general, it's not quite clear how time is going to work this season. For one thing, the show has done a bit of a time jump to catch up to TWD. If the first three seasons of FTWD took place in the very early years of the zombie outbreak and Morgan is joining the show after all of the events of TWD season seven, that means that the spinoff has leapt quite a few years into the future. Kirkman himself has tried to explain the timeline between both shows in the past, but any attempt to do that on my part might result in a painful headache.
"You really have to be on your toes and thinking about how this is all going to piece together because the first half, it's like a puzzle," hints Debnam-Carey. "You'll see main characters in very different places too because of these plays in time, you're seeing them in head spaces, emotional places, that are so contrasting, very starkly different."
When we do reunite with these characters in season four they've already accomplished the impossible: to find a permanent home where they can live in peace. That home is a settlement called the Dell Diamond, a baseball stadium in a town about 20 minutes outside of Austin called Round Rock, home of the Triple-A minor league team, the Express.
A sign inside the Dell Diamond set actually reads that the stadium is the "Home of the Armadillos." You can barely tell that people ever played something as trivial as baseball here, though. The field itself has been turned into farmland, complete with a makeshift barn, some shacks, tents, barbecues, and even a swing set. The team's armadillo mascot now guards the fruits and vegetables as a scarecrow.
The stands, once full of fans munching on peanuts and hot dogs, are now mostly used for irrigation, as pipes run down from the top of the stadium to a giant container full of water. Madison and company have even constructed a ramp with a big plastic sheet over it to catch condensation.
The Clarks and the other survivors living in the Dell Diamond sleep in the luxury boxes around the stadium. I only got to see one of these rooms, but it was a colorful little space with mix-and-match pieces of furniture and a view of the gardens below.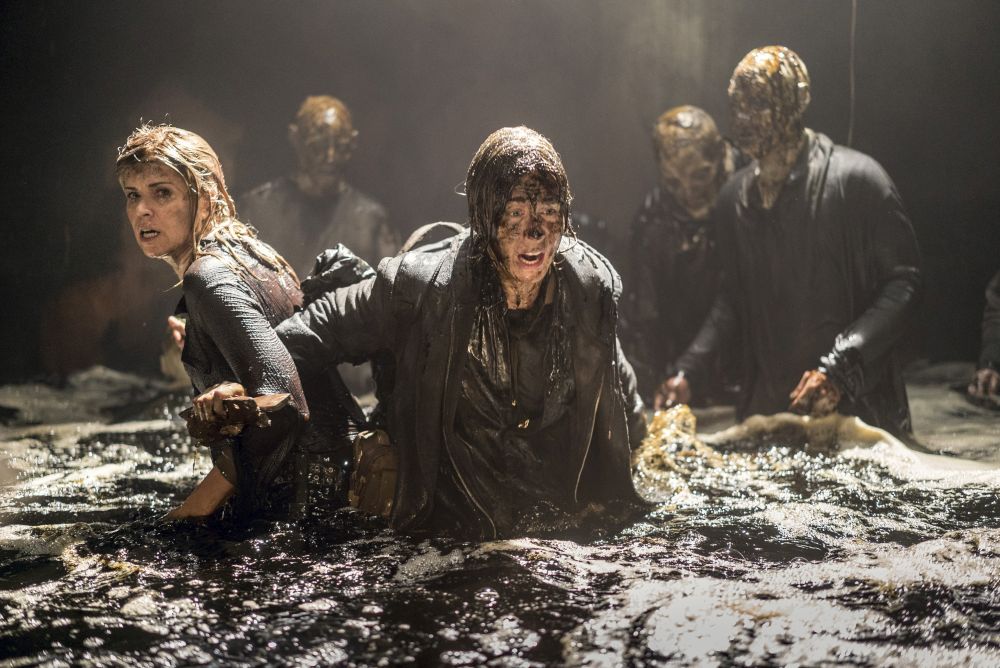 "I found it," Dickens says proudly, as if still in character. Indeed, it's Madison who discovers the stadium and decides that her family can settle there and build it up into a safe haven for other survivors.
"Yeah, it was a dream scenario for Madison. She's been sort of looking for that kind of to start over, to start a society, start a community again. They found this amazing baseball field. I think it's really fun to be there, I actually like being there. Especially, since we had so many tough locations last year. It's been nice to really feel like we have a home."
Indeed, something feels more permanent about the Dell Diamond as opposed to La Colonia from season two or the Otto Ranch from season three. This place feels different for the characters, like a place they can actually keep going.
Veteran Walking Dead director Michael E. Satrazemis (the cast and crew lovingly refer to him as "Mikey"), who is making the jump to FTWD this season, also hopes the Dell Diamond can stick around for a while – perhaps even as long as Alexandria or the Hilltop – but he's also not making any promises.
"Yeah, this would be one of those places that you want to keep for a while," says Satrazemis while admiring the set from a makeshift guard tower on the roof of the stadium. "You never know, with this show. You get an ounce of hope and [then it] takes it away. Same with the ones you love the most. Well, the Walking Dead world is just good like that. It stays unpredictable."
While it may seem that Madison, Strand, Alicia, and Nick have found their paradise amid all the chaos, the cast warns that things are not exactly what they seem on the inside.
"We're still licking our wounds and figuring it out," says Domingo. "We're finding resources, we're finding a new way to be but we're still carrying a lot of baggage. As you see us in the top of season 4, it may appear that things are different, but, we're still holding on to some things."
One person who still has quite a bit of unfinished business is Luciana (Danay Garcia), who left Nick and the others at the Otto Farm in the opening episodes of season three. The character is living at the Dell Diamond by the time we reunite with her, although we don't know how she got there.
Garcia is coy about her return. "I don't know what's happening, but I have a lot to say. Especially to Nick."
When we first met Luciana in season two, she thought she had found a permanent home in La Colonia, a place that was safe from the flesh-eaters and the gangs taking over the country. That, of course, wasn't the case. This time around, Garcia says that Luciana might have finally found a place that might actually last.
"I mean the reason why they're here is because they discover a better way to live and they found a hope and a future. So even for me as an actor, I had to really shift my survival instinct, because now I'm dealing with – I don't want to say First World problems because there are no First World problems right now – but I mean this is what they were looking for … So I had to shift my mind like, 'Oh now we're okay, right? There's nothing going on?'"
Not quite. As you might expect, another faction eventually shows up at the Dell Diamond's gates without a ticket or any interest in buying one. They simply like what Madison and the others have going on and they want it. They're appropriately called the Vultures.
But taking the Dell Diamond won't be easy.
As Garcia puts it, "This is what we built. This is our home. This is everything."