News
When Will The Walking Dead Return?
AMC was unable to finish production on The Walking Dead season 10 finale due to the coronavirus outbreak. When will we get to see it?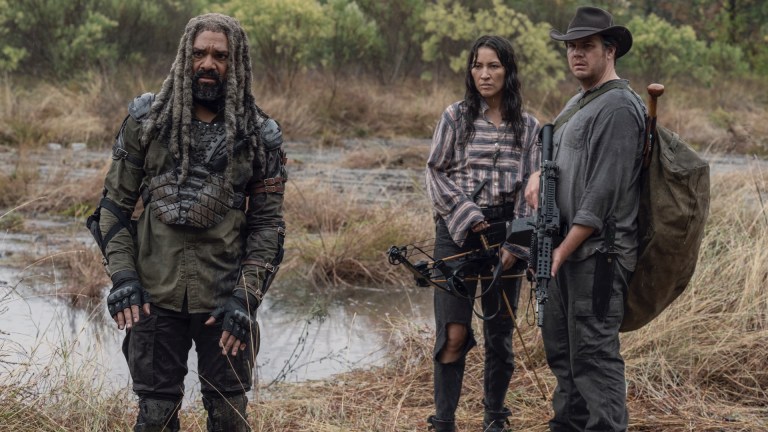 This was undoubtedly the safe, responsible decision – or really the only decision that The Walking Dead braintrust could have possibly made. Still, it's frustrating for any season of television to abruptly halt with only one episode to go…particularly a season of television with as much momentum as this stellar recent batch of The Walking Dead episodes. So with that in mind, let's figure out when The Walking Dead could possibly return.
Let's get the obvious out of the way to begin with. Answering the question of "when will a global pandemic end?" is clearly above Den of Geek's pay grade. The finest epidemiological minds across the known world are pondering the answer to that question themselves and are unable to come up with a concrete answer. We're on the coronavirus's timeline now. It calls the shots around here. But what we do know confidently, however, is that once things get rolling again it shouldn't take too long for The Walking Dead to put the finishing touches on the finale, "A Certain Doom."
Many people were understandably caught off guard that The Walking Dead even had to postpone its finale in the first place, given that the entire season has been airing since October of last year and filming had long since concluded. The fact that the finale still had some postproduction work to go is a fascinating insight into the way that TV works.
All television productions are fundamentally different beasts. Traditional networks, cable channels, and streaming services all handle their properties in varying ways. Netflix has boasted that they have months worth of future content signed, sealed, delivered, and ready to go with few delays anticipated. Networks like The CW on the other hand, continue production on their shows as seasons air, largely due to the inflated episode count. This has led to mass cancellations and delays across the landscape on the lower channels.
The Walking Dead appears to have gone with a hybrid approach, in which filming is completed shortly after the season premieres, but a host of postproduction responsibilities remain. As a sci-fi-oriented show, The Walking Dead clearly requires a lot of editing and visual effects. That much is expected and easy to understand. Few of us, however, likely realized that that process can last until only weeks before the final episode is set to premiere.
"We have people around the world that work on our VFX and so people were having to start moving things remotely. But there's just certain parts of the post-process that are very difficult to move remotely, and everything that moves remotely works slower because it's like rendering these giant effects. If you don't know that technical language, it's like once they finish the stuff, the machines basically work on it to spit out a beautiful version of it, which we drop into the show. Everything just takes longer. And there's certain processes that couldn't be moved before California shutdown for business. And it just couldn't be done."
The good news is that if The Walking Dead was still working on postproduction for "A Certain Doom" for 4-5 weeks prior to it airing, then reasonably the episode would only take around that time or shorter to complete once the producers are able to do so.
That unfortunately brings us back to the question of when all of…well, this will end. Stay-at-home orders vary by date across the United States and the world at large. The federal recommendations for social isolating are set to expire on April 30 but are likely to be extended. What seems possible is that quarantines will be lifted in certain areas for short periods of time as early as the summer but more likely in the fall.
Depending on where and for how long quarantines are lifted, The Walking Dead could very easily wrap up postproduction on "A Certain Doom" and have it ready to air quickly. AMC is likely to follow through on its promise to air the season 10 finale as a special event later this year. Exactly when this year, however, is anyone's guess.