News
Extraction 2 Confirmed at Netflix
Avengers: Endgame director Joe Russo will return to write the sequel to the hit Netflix film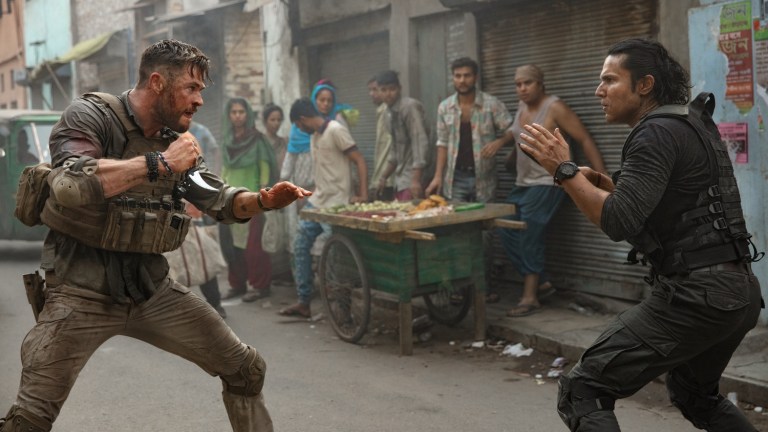 This article contains spoilers for Extraction
Extraction 2 is happening at Netflix, it's been announced. Marvel Cinematic Universe stalwart Joe Russo will be back on writing duties for the sequel, according to THR, after he and the streaming service came to an agreement this week.
The first film stars Chris Hemsworth as grieving mercenary Tyler Rake, who sets out to rescue the kidnapped son of a notorious crime lord. A week after Extraction's late April debut, Hemsworth revealed that it was projected to be "Netflix's biggest feature film of all time" with "an estimated 90 million households" checking it out in the first four weeks of release.
Our reviewer David Crow described the flick as "two hours of action movie bingo that viewers will constantly stay ahead of until the very final shot" but he also praised the film's "handful of spectacular action sequences." Extraction still holds a fairly decent score over at Rotten Tomatoes, where a combination of audiences and critics alike have it hovering at around 70% fresh.
Confirmation of Extraction 2 so soon after the original movie's release doesn't come as a massive surprise, given the project's success at Netflix. Indeed, the climactic moments of the first movie were deliberately left open to interpretation, and a possible sequel.
"We did end up going with the ambiguous ending," director Sam Hargrave said as the movie arrived. "We found in the testing of the movie, and back and forth between us as filmmakers, that there was kind of a split down the middle of those who wanted Tyler Rake to live and those who thought his story was completed with his sacrifice for Ovi. So we devised this idea of an ending that kind of serviced both camps."
Hargrave added, "If you watched the movie and your experience was that you love Tyler Rake, he's a great character and you want to see more of him — and you think he deserves to live — then hopefully you project onto that final image that it's Tyler Rake and he's alive. If you watch the movie and you think, 'You know what? I love Tyler, but I think his story is complete with him giving his life for this kid,' then you might be able to project onto that final image that it's not Tyler Rake. The beauty of that ambiguous ending is both are right and hopefully both camps enjoy it."
The stuntman-turned-director also played his cards close to his chest when the subject of a sequel arose, but it seems likely that talks were pretty far along at the time.
"I'm not going to give too much away, but there definitely were, during production and post-production, discussions of other stories that could come out of this world and with these characters," he said. "Further movies have definitely been discussed, so there's definitely some potential there."
More on Extraction 2 as we have it.