Reviews
Evil Season 2 Episode 1 Review: N Is for Night Terrors
Old acquaintances and new friends want benefits as Evil opens season 2 with "N Is for Night Terrors."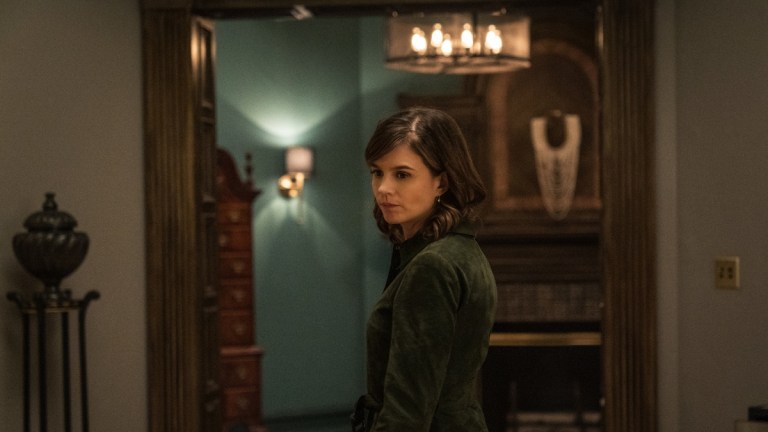 This Evil review contains spoilers.
Evil Season 2 Episode 1
Evil season 2 returns bearing gifts in episode 1. The Pop-Up Book of Terrifying Things MMXXI is open to the chapter "N Is for Night Terrors," and Dr Kristen Bouchard (Katja Herbers) gets proactive on things which might disturb her sleep.
The first season ended on news of the death of Orson LeReaux, a serial killer Bouchard tried to help the DA's office put away. He got out on a technicality, threatened her family, and Kristen grabbed an ice axe and took off into the night. Ben Shakir (Aasif Mandvi) later noticed a drop of blood on her leg, which she willed him to unsee. As season 2 opens, Kristen takes that mountain climbing tool out of her trunk, where she'd concealed it beneath the spare tire and, after a half-hearted attempt to bury it, cleans it with bleach and puts it back with the umbrellas. That's just a little too obvious. Really, if she killed Orson with it, would the show open its season with its cleaning? That's what we'd be expecting, and Evil is about confronting the unexpected.
David Acosta (Mike Colter) hits the ground running this season, and the ambient noise and camera angles make it seem like he's evading arrest. The audience knows the pre-ordained priest takes regular exercise and he's even wearing athletic clothes, but after what looks like an obvious criminal coverup on the part of his partner, the mind makes its own assumptions. Such is the power of cinematography and psychology. Evil puts the makeup of evil under the microscope of science and religion and magnifies its ambiguities.
The first series focused on piecemeal investigations of the Church's backlog of unexplained mysteries, but this season has a focal point. Many of the possessions the team investigated could all be linked to RSM Fertility, which happens to be the clinic Kristen used when conceiving one of her four, intensely curious, children. David believes "a demonic presence is trying to corrupt a generation through manipulating their eggs," and suggests the team go on the offensive. After all the research and puzzle pieces the trio uncovered during their investigations, a clear pattern can be discerned. Just as David makes the case for specializing all their efforts on the one site, the church brings in a major distraction.
Say what you want about David's immediate boss, Bishop Thomas Marx, but Peter Scolari, the actor who plays him, is a master of the double-take. The audience visibly witnesses him wrapping his head around the concept of an evil fertility clinic, and will see him perform further cranial contortions while trying to understand David's theological priorities. But when he learns the new parishioner seeking an exorcism is getting married to Kristen's mother, the Bishop almost gives himself whiplash. It is a marvelous moment most people might miss. It also says a lot about his character, who will continue being battered by the unbelievable at regular intervals.
Leland Townshend is an unexplained object, and Michael Emerson only gives false clues to his true origin. He says he voluntarily surrendered to demonic possession to get even with a cruel bus driver who harassed him while he was on his way home from marching band. Leland conjured his "Father Below" while his parents were watching M*A*S*H in the next room. Unlike the rewards which come from Christianity, which don't come until death and are fairly undefined, a deal with Satan is a clear contract. He sold his soul for the "excruciating death of that bus driver," Luke Ferriday. But Leland isn't looking to renege on some teenaged whim, he wants to double down.
Kristen is masterful at unraveling the "cornucopia of biographical information" Townshend provides, but Ben approaches it with the common sense of a building contractor who has had to pay off inspectors. He lets Leland take as much rope as he needs to hang himself, but the Church further binds itself with it. The pair bring a fascinatingly uneasy dynamic in their scenes together. Kristen's kids think Ben is "The Magnificent," and he is a reliable friend. But he treads treacherous waters during questioning. It really seems like the more Ben presses Kristen about "her dead serial killer," the more she consciously acts as if she's got something to hide.
In the last episode of the first season, Kristen's hand burned when she put a cross in it. Looking at the scene again, in the "previously on" segment, it looks like Kristen expects something diabolical to happen. She gives the cross to Ben to find some reasonable explanation, and when he asks "Let me see your hand," she says no. They are playing a cat and mouse game, and sharing the cheese.
Robert and Michelle King, who also made The Good Fight and the all-too short-lived political parody Braindead, expertly mix the creepy with the comedic. For every soul seeking deliverance in hell, there are more who just want to be taken to Funkytown. Even the night terror demon torturing Ben knows how to turn a phrase. Evil is on Paramount+ now, and stakes its pay-cable claim early. When told the Church wants to move forward on Leland's request for an exorcism, Kristen says "we cannot believe a word that comes out of that fucker's mouth."
Another thing which is unbelievable is what's in the mouth of Kristen's daughter, Lexis (Maddy Crocco). The gore on Evil is fairly low-key, but when they decide to go for it, be warned: the show goes for understated realism and familiar locations, and the results are bitingly effective. Two of the most subtly disturbing frights come in a brightly lit bathroom, though the payoff comes in a universally frightening location, a dentist's office. Is it safe? Not as safe as Kristen's therapist's office. The sequence where she ensures Dr. Boggs' (Kurt Fuller) patient confidentiality commitment is a breakthrough for both characters. She's not bothered by the death of Orson LeReaux and wouldn't change her actions, even if she was.
David's idea of "getting proactive with evil" appears to be sidelined by what will be the ongoing Leland charade. "N Is for Night Terrors" establishes how the canon will play out during the season. The characters' relationships are a lot more complicated this season, nuanced in occasionally contradictory ways, and sometimes infuriatingly obstructive. The opening chapter of the popup book of scares maintains its suspense, often exquisitely misleadingly so. This brings an underlying aura of paranoia, which may or may not be delusional.