Features
Evil Season 2 is Paramount+'s First Big Opportunity
Every streaming service needs a blockbuster. Paramount+ may have found its first in the form of CBS series Evil.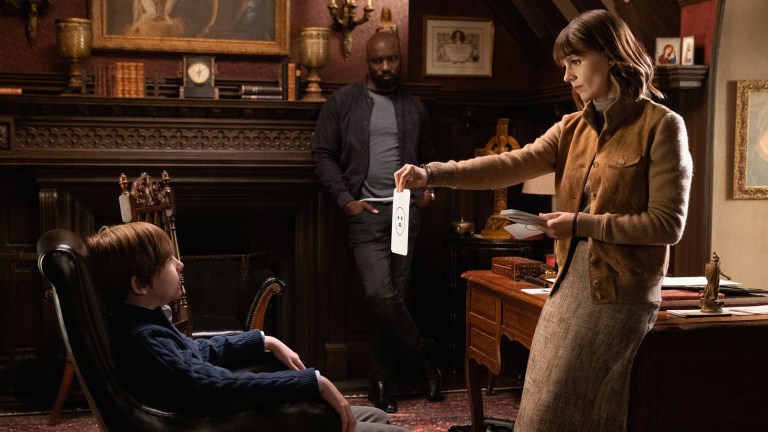 Every fresh new venture needs a feature that makes it essential and worthy of consumer's money. In the technology world they call them "killer apps." Bill Gates once described Internet Explorer as Microsoft's killer app (R.I.P. to Internet Explorer…and also maybe Bill Gates' career as a public figure). Each new videogame console launch is usually accompanied by a killer app game like Grand Theft Auto for PlayStation 2 or The Legend of Zelda: Breath of the Wild for Nintendo Switch.
The streaming world, however, operates a bit differently. Streaming platforms are so big and so important to their respective entertainment conglomerates' bottom line, that they must hit the market as soon as possible, killer app or no. Recall that Netflix's first ever original series was the historically irrelevant Lilyhammer in 2012. HBO Max launched in May of 2020 with little-watched shows like Craftopia and Legendary. 
The newest streaming kid on the block, Paramount+, arrived on March 4 with a similar dearth of blockbuster options. Star Trek: Discovery and Star Trek: Picard made the migration over to the new service from CBS All Access. But the only new arrival of note was a reboot of an old favorite in the form of Kamp Koral: Spongebob's Under Years. Paramount+ is moving typically slowly for a fresh streaming service. In June, however, the streamer is finally bringing a fresh TV project that it can really make its own and justify the $5.99 or $9.99 monthly payments being withdrawn from its users' accounts.
Evil season 2 is set to premiere its first episode Sunday, June 20 on Paramount+. New episodes will follow weekly, copying the traditional episodic format that has worked for Star Trek on CBS All Access and just about all of Disney+'s programming. As the "season 2" portion implies, Evil is not a brand new title. The series, from TV producing royalty Robert and Michelle King (The Good Wife and The Good Fight), first premiered as part of CBS's fall schedule in 2019. 
During its time on CBS, however, Evil never truly felt like a CBS show. That's not to denigrate the quality of network TV shows. Plenty of bold, creative series have made their home on CBS and the other lower channels. It's just that Evil, in particular, was a show seemingly built for a more specific audience – an audience that likes to take in their content when they want it, preferably on a tablet or laptop precariously perched on the end of their bed.
Evil follows a skeptical forensic psychologist, Dr. Kristen Bouchard (Katja Herbers), as she is brought in by Catholic priest trainee David Acosta (Mike Colter) to assess whether a violent criminal claiming demonic possession is clinically insane. Following that first case, Bouchard and Acosta continue to team up, alongside technical whiz Ben Shakir (Aasif Mandvi) to investigate supposedly supernatural incidents.
If that set up sounds like the makings of a modern-day The X-Files, you certainly wouldn't be far off. But what separates Evil from Chris Carter's paranormal masterpiece is that there isn't quite as much paranormal to be found. The evil at the center of Evil is distressingly human. As frequently embodied in the form of Dr. Leland Townsend (Michael Emerson), evil is often a human construct in the show's universe.
In speaking to reporters prior to the premiere of season 1, Robert King said of the show:
"What we wanted to avoid, The X Files certainty, what the supernatural is or flying saucers are, so it's a little more vague. I would say the shows we had seen, we just wanted to be a little grittier about it and just show it's a little Flannery O'Connor, a little Graham Greene, a little bit more these are not issues that are easy. They're actually hard."
Evil is indeed a bit more vague on its supernatural aspects than other shows of its ilk. But its investment in exploring the human underpinnings of malevolence is clear-eyed and focused. The ultimate experience is a challenging, yet wickedly entertaining one. It's also one that's at odds with appointment viewing, in-between pharmaceutical advertisements and NCIS reruns
The show performed admirably in its time on CBS, with episodes averaging somewhere around 3.5 million viewers. It wasn't until the first season arrived on Netflix late last year that the series' pop culture potential really took off. Evil bounced around Netflix's Top Ten feature for weeks, with cord-cutters and thrill-seekers finding the equal parts serialized and proceduralized story to their liking. Netflix breathed new life into a competitor's property. And to thank them, ViacomCBS immediately claimed season 2 for its own streaming service.
Ultimately, Paramount+ will have bigger hits than Evil. Star Trek is still Star Trek and its series are going to grab more subscribers for the streaming service than any CBS property likely ever will. The TV adaptation of the legendary game Halo is also set to arrive on Paramount+ sometime in 2022 (which is fitting for the purposes of this article as the original Halo: Combat Evolved was once Xbox's first killer app). 
In terms of building up a brand identity and establishing a commitment to storytelling excellence though, Paramount+ snatching Evil from CBS is a major moment in one young streaming service's life cycle.