Features
Every Book Isaac Reads in Heartstopper Season 2
Isaac Henderson is a hero to bookworms everywhere. Here's his season 2 reading list!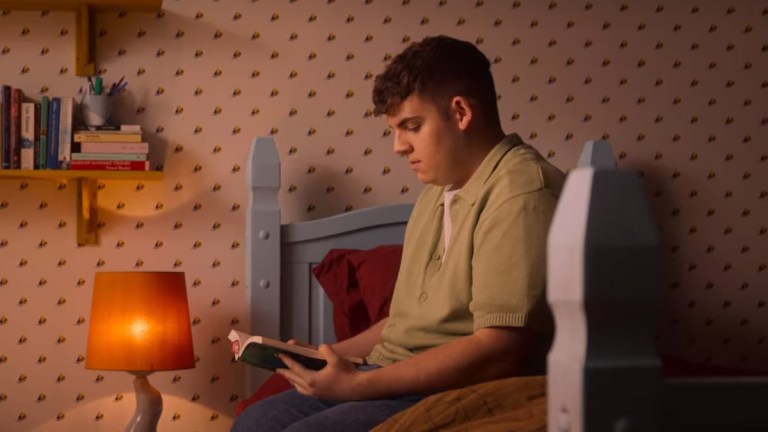 Paris has been the backdrop to many a great romance, and in Heartstopper, that's no different. A school trip to the French capital in season two is the site of an instant connection between boy…. and bookshop. When Isaac Henderson sees Shakespeare and Co. on the banks of the River Seine, it's love at first sight. He's punch-drunk in its aisles, wandering around with wide eyes, balancing an ever-growing stack of titles in his arms and basking in the literary sunshine.
It's not as though Isaac didn't come to Paris pre-stocked with books (it's a good job the schools travelled by coach and not air – you could hardly ask this teen to load up a Kindle). The boy's never seen without a paperback. Reading is part-obsession, part comfort-blanket to him. Books, as they are for a lot of us, are his shield against the world.
Here's (almost) every book Isaac's seen reading in Heartstopper season two, plus a few extras featured in the show.
Disclaimer: Den of Geek may earn commission if you click through to affiliate links below.
Ace of Spades by Faridah Àbíké-Íyímídé
This Young Adult thriller by a British-Nigerian author tells the story of Devon and Chiamaka, two Black students from opposing social backgrounds who are admitted to an elite, majority-white private school. There, they're targeted by a malicious campaign of bullying and must work together to uncover the truth about who is trying to destroy their lives. Like Nick in Heartstopper season two, Devon has to negotiate his own coming out story, but under much more sinister circumstances. Buy here on Amazon.
We Are Okay by Nina Lacour
This celebrated US Young Adult novel about a young woman in the depths of grief has earned places on multiple 'Best Books for Teens' lists. Told across several time periods, it's the story of 18-year-old Marin, a first-year college student raised by her grandfather after her mother died years earlier. When Marin's grandfather goes missing, a mystery opens up that encompasses themes of mental illness, PTSD, and recovery. Buy here on Amazon.
Book Lovers by Emily Henry
A lighter choice here by Isaac, who probably needs it after We Are Okay. Following up Emily Henry's bestseller rom-coms Beach Read and You and Me on Vacation (published as People We Meet on Vacation in the US), this one's an emotional, entertaining romance about two nemeses from the publishing world who can't stop running into each other when they're both trying to run away from it all. Buy here on Amazon.
Les Misérables by Victor Hugo
Isaac clearly doesn't use a holiday as an excuse for some lighter reading. On the coach to Paris in Heartstopper season two, his reading matter of choice is 19th century poverty-and-revolution saga Les Misérables. As you'll know if you've seen the stage production, film musical or song-free TV adaptation, it's the story of Jean Valjean, a man cruelly imprisoned for stealing a loaf of bread to feed his sister's children, his multi-year journey back up the social ladder, and his adoption of a poor child whose beset mother he failed to save. Plus, the French Revolution, tragic unrequited love and all sorts of wretched fates. Buy here on Amazon.
The Awakening by Kate Chopin
Another heady choice from Isaac. This 1899 novel is a classic of early feminist literature that sparked countless other literary works that depicted and legitimised the experience of women on the page. It's the story of Edna, the wife of a New Orleans businessman who expects her to fall in line and behave according to society's gender rules at the turn of the century. As the title suggests, Edna experiences an awakening as she explores herself as a person in her own right, and as a sexual being. Buy here on Amazon.
The Outsider by Albert Camus
No beach-reads for Isaac! Well, this one at least opens on a beach…
Albert Camus was an influential French existential writer and philosopher. This 1942 novella (which inspired The Cure's first single 'Killing an Arab' – a link with Heartstopper because the prom band in which Sahar plays covers The Cure song 'Just Like Heaven') is about Meursault, who, after his mother's funeral, murders a stranger in Algiers and is imprisoned for it. Buy here on Amazon.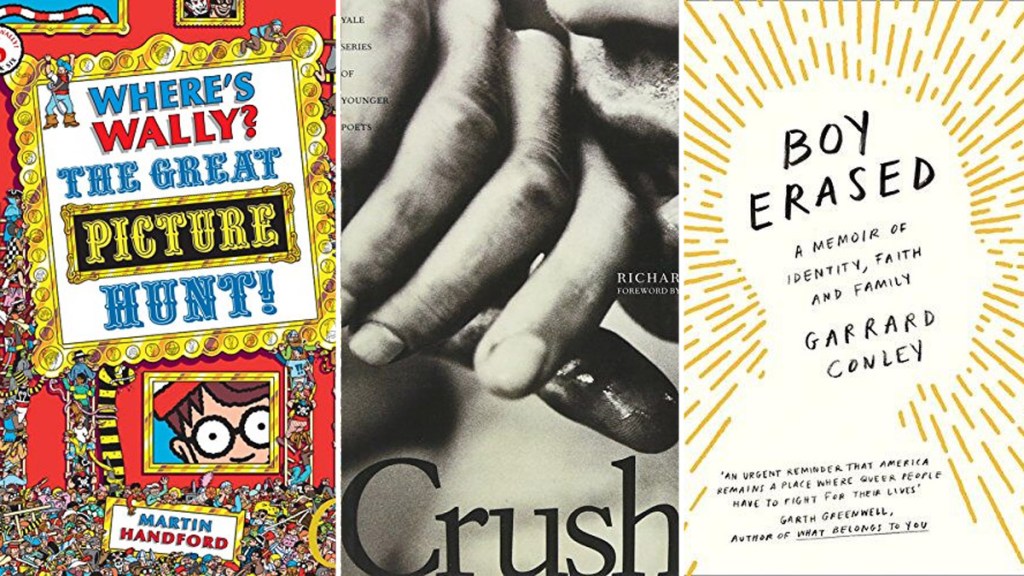 Where's Wally: The Great Picture Hunt by Martin Handford
Now we're talking! In a teeny fun moment during the Heartstopper Paris trip after the visit to art gallery the Louvre, the gang is in their room trying to spot Wally in this art-themed activity book. Finally – a bit of relaxation for young Isaac. Buy here on Amazon.
Crush by Richard Siken
Isaac mixes things up with the poetry collection he's seen reading at Tara's 16th birthday party in Paris. Crush was cult American poet Richard Siken's first award-winning collection, and in 2004 won Siken the Yale Younger Poets Prize. Siken followed up Crush with 2015's War of the Foxes, and his work explores love, obsession, gay sexuality and much more. Read 'Litany in Which Certain Things Are Crossed Out' for a taste. Buy here on Amazon.
Boy Erased by Garrard Conley
To give it the full title, 2016's Boy Erased: A Memoir of Identity, Faith and Family is the disturbing real-life autobiography of author Garrard Conley, who grew up gay in a conservative, Southern, Christian fundamentalist family. When Conley was brutally outed following a sexual assault, his parents enrolled him in a so-called Conversion Therapy programme, and here, he tells that story. The book was adapted into a 2018 feature film directed by and starring Joel Edgerton, with Nicole Kidman and Russell Crowe. Buy here on Amazon.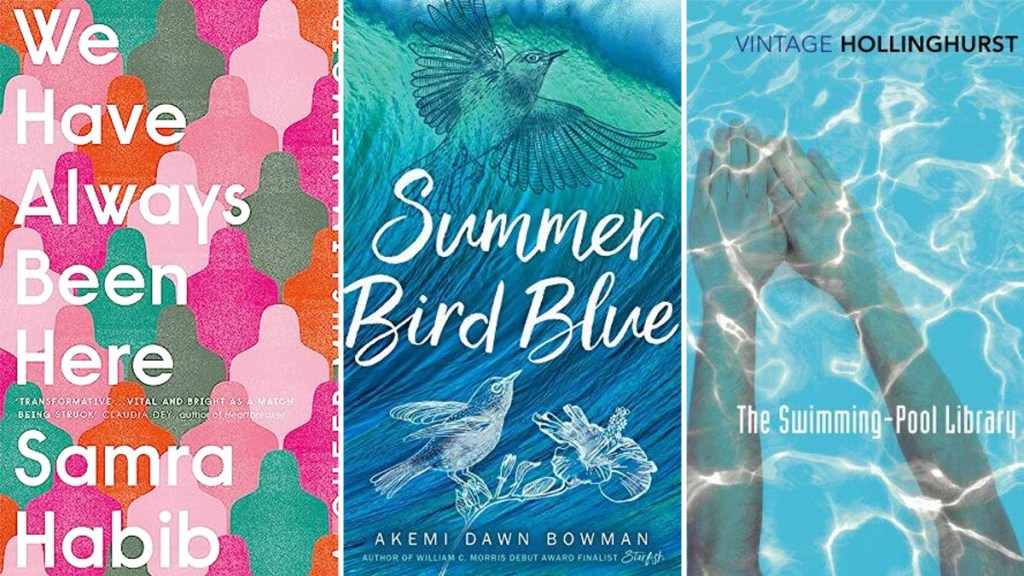 We Have Always Been Here by Samra Habib
Samra Habib's queer, Muslim memoir tells their story of growing up as part of a threatened sect in Pakistan, arriving in Canada as a refugee, and escaping an arranged marriage aged 16. Their powerful fight for freedom is told with a fierce prose style that results in a triumphant and uplifting real-world account. Buy here on Amazon.
Summer Bird Blue by Akemi Dawn Bowman
"Raw, real and deeply hopeful" is the quote by Heartstopper creator Alice Osman on the copy of Akemi Dawn Bowman's Summer Bird Blue that Isaac is seen with towards the end of season two. It's the story of teenage musician Rumi, who suffers a bereavement and is sent to live far from home with her aunt in Hawaii. There, deep in her grief, Rumi works towards acceptance and forgiveness against a backdrop of surfing, songwriting and beauty. Buy here on Amazon.
The Swimming Pool Library by Alan Hollinghurst
A bonus entry here, as this one isn't actually an Isaac Henderson choice, but the book Charlie picks up (and then hides from a photo behind) at Shakespeare & Co. in Paris. If Charlie decided to buy this modern classic of gay literature, the Year 10 pupil might do well to leave it on his shelf for a year or more before delving in, as its story of Will, a 25-year-old gay man who lives an indolent life of shallow sexual gratification firmly does not take place in the chaste, supportive YA world of Heartstopper.
Published in 1988, this story starts when Will – a wealthy hedonist – resuscitates an elderly gay man who suffers a heart attack. Given his diaries, Will accepts an offer to become the man's biographer and learns that he was imprisoned for being gay when homosexuality was illegal in the UK. As their lives interweave, Will moves in and out of sexual liaisons while evaluating the world of homophobia, violence and sex. An award-winning novel, The Swimming Pool Library is a much celebrated, adult, and uncensored picture of 20th century male gay life. Buy here on Amazon.
Truham's School Library LGBTQ+ Pride Display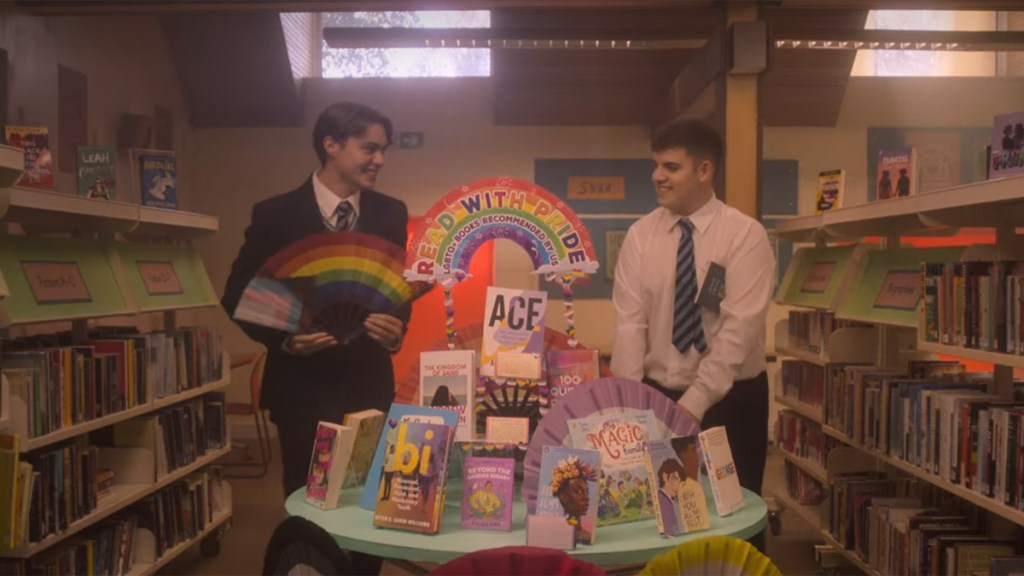 And here's the selection of LGBTQ+ non-fiction books, novels and children's illustrated books on the Truham Grammar Pride display in the school library, as set up by James and Isaac.
Heartstopper season two is available to stream now on Netflix.