News
Dracula: Netflix Series Release Date, Trailer, Cast, and News
Netflix and BBC will team for a Dracula TV miniseries from Sherlock co-creators Steven Moffat and Mark Gatiss.
Dracula is creeping his shadow onto the peak television scene once again. The new miniseries comes from former Doctor Who mastermind, Steven Moffat, and his co-creator on Sherlock, Mark Gatiss, for a new TV version of Bram Stoker's iconic tome, Dracula, are about to come to fruition.
The Girl in the Spider's Web's Claes Bang bears fangs as Dracula himself in the miniseries, a co-production from BBC One and Netflix, set as three 90-minute episodes to air in the UK on the former and stream in the U.S. (and globally, sans China, where it doesn't operate) on the latter. The plan by co-creators Moffat and Gatiss will, according to the official description, "re-introduce the world to Dracula, the vampire who made evil sexy." It further states, "In Transylvania in 1897, the blood-drinking Count is drawing his plans against Victorian London. And be warned: the dead travel fast."
Dracula Netflix Trailer
Dracula has released a final trailer, promoting its U.S. arrival on Netflix.
The trailer just below bears a declaration for which Claes Bang's Dracula is destined to be remembered: "I'm undead, I'm not unreasonable."
Here's Netflix's own ominous teaser for Dracula.
Lastly, you can also check out the first trailer for Moffat and Gatiss' take on Dracula just below.
Dracula Netflix Release Date
Dracula premieres all three episodes in the U.S. on Netflix on Saturday, January 4.
The series premiered on January 1 in the U.K. on BBC One, on which it aired across three consecutive nights.
Dracula Netflix Cast
Dracula actor Claes Bang is known from The Girl in the Spider's Web, The Square, and Danish series The Bridge and Borgen. As Bang expressed in a press release that announced his casting:
"I am thrilled to be taking on the role of Dracula, especially when the script is in the hands of the incredible talents of Steven Moffat, Mark Gatiss and the team responsible for Sherlock. I'm so excited that I get to dig in to this iconic and super-interesting character. Yes he's evil, but there's also so much more to him, he's charismatic, intelligent, witty and sexy. I realise that there's a lot to live up to with all the amazing people that have played him over the years, but I feel so privileged, to be taking on this incredible character."
Here's the rest of the Dracula main cast…
John Heffernan will join the series as a main player, though his character was not revealed. Heffernan, an Essex-born actor, was just seen in an array of small screen offerings like HBO's Brexit TV movie, Netflix/BBC's Collateral, Netflix's The Crown, ITV's The Loch (Loch Ness in the U.S.), along with the BBC offerings Dickensian, Luther, Jonathan Strange & Mr. Norrell and Ripper Street.
Dolly Wells is also joining as a main player, with her character also remaining withheld. The London-born actress is known from her co-starring role – opposite Emily Mortimer – in the HBO comedy series Doll & Em and from Starz's Patrick Stewart-headlined comedy series, Blunt Talk. She was recently seen in episodes of HBO's Room 104 and IFC's Portlandia, along with films such as Furlough, Boundaries and Izzy Gets the F**k Across Town.
They will be joined by Joanna Scanlan (No Offence, Notes on a Scandal), Morfydd Clark (Patrick Melrose, Pride and Prejudice and Zombies) and Luzja Richter (Phantom Thread). Co-creator Mark Gatiss (Sherlock, Game of Thrones) will also appear.
Rounding out the cast are Jonathan Aris (Sherlock, Black Mirror: Bandersnatch), Sacha Dhawan (Iron Fist, The Boy with the Top Knot), Nathan Stewart-Jarrett (Utopia, Misfits), Catherine Schell (On Her Majesty's Secret Service, Space: 1999), Youssef Kerkour (Jack Ryan, Nighflyers), and Clive Russell (Game of Thrones, Ripper Street).
Dracula Netflix Photos
The first images of Claes Bang as Count Dracula were recently released: one in full vampire mode with a blood-splattered fang-rocking countenance – clearly having just extracted an involuntary blood donation from a hapless victim – and the other showing a more mellow, bloodless, non-fangy demeanor, which we'll just call "Casual Vlad."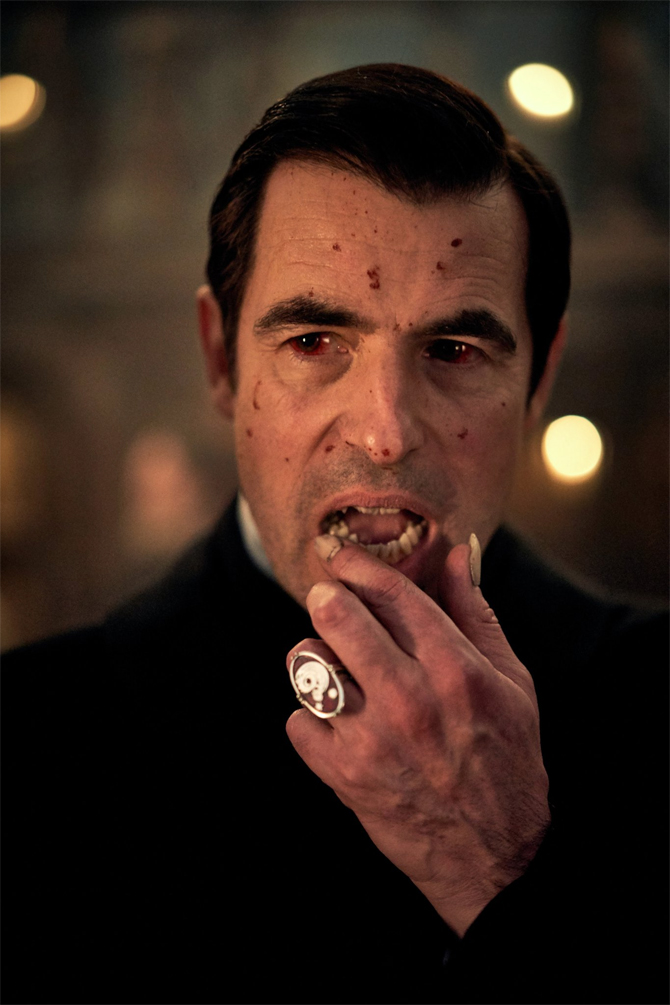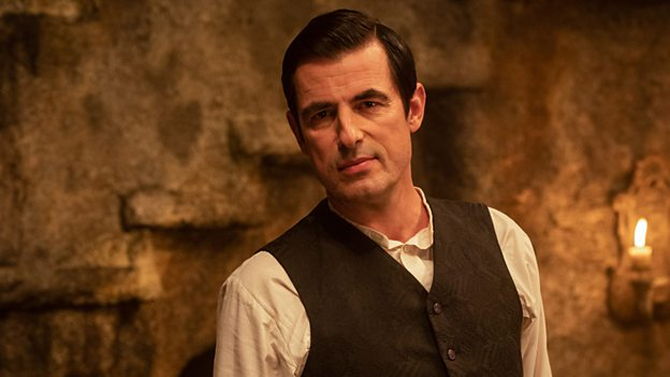 More on the BBC/Netflix Dracula TV miniseries as the news arrives.
Joseph Baxter is a contributor for Den of Geek and Syfy Wire. You can find his work here. Follow him on Twitter @josbaxter.