Reviews
Dracula Episode 1 Review: The Rules of the Beast
From the creators of Sherlock, BBC One's Dracula is a funny, scary, invigorated retelling.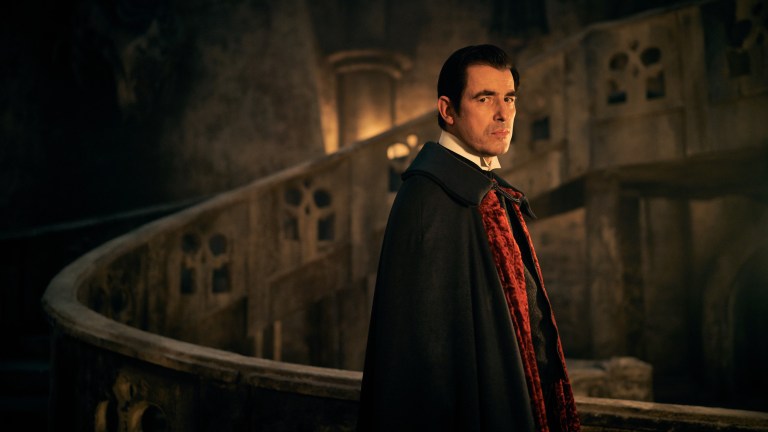 This Dracula review contains spoilers. It originally appeared on Den of Geek UK.
Dracula Episode 1
With a personal brand that stretches across all of culture, the who, what, when and where of Count Dracula are well known. He's a centuries-old nobleman in a Transylvanian castle who vants to suck your blooood. The novel question this adaptation of Bram Stoker's story asks is: why? Why crucifixes, why the need for an invitation, why the brides, why everything. Why is Count Dracula the best, most successful vampire of all time?
It's a good hook, and a much-needed one for this lengthy four and a half-hour adaptation (told in three 90-minute episodes, Dracula follows the same format as the creators' previous show Sherlock). Asking "why" reinvigorates a story we already know, bringing the villain out of the shadows and refashioning him as the lead and not just the title character. 
Fashioning him full stop, you might say. Making Dracula so present in his own story requires the almost complete invention of an actual character beyond the nightmare stuff. Until now, you may as well have asked what drives bacteria, or a school of piranhas, or a lashing rainstorm.
Doing the asking here is queen of weird comedy Dolly Wells, playing Dutch atheist nun Sister Agatha, full name: Sister Agatha Van Helsing – a late reveal signalled early on by a glimpse of the wooden stakes in the bottom of her carpet bag. 
read more: Dracula Series Score is Made From Real Blood and Screaming Babies
Interviewing solicitor Jonathan Harker about his time with Count Dracula in the first hour, Agatha is a jockey with a whip, urging the plot onwards. Once Dracula arrives at the convent, she's a co-lead with her own emotional arc. Wells is the episode's funniest, oddest ingredient, gets all the best lines and doesn't waste a single one. 
Shouldering the Count's new dramatic weight while making him funny, sexy, menacing and monstrously detached is Danish actor Claes Bang. From half an hour in, when Bang is unveiled without ageing prosthetics or Transylvanian accent, he's a hit. His louche delivery and indifference to suffering ("John-ny, there's no ba-by") feel satisfyingly transgressive for a monster as classic as this one. 
read more – Dracula Episode 2 Review: Blood Vessel
A monster who'll be recognisably familiar to viewers of Sherlock, Doctor Who or Steven Moffat's 2007 series Jekyll – commanding, super-intelligent and entirely without conscience. This is Dracula styled with Moffat and Gatiss' tastes and tics: an open-door policy for famous name drops (the Count ate Mozart), in-jokes ("I have a detective acquaintance in London," says Agatha. And could the barmaid at The Rose and Crown Mina lusts after in her letter to Jonathan be a nod to Jenna Coleman's character in Doctor Who's The Snowmen?) as well as a toweringly high tolerance for most badum-tish of puns. ("You do look rather… drained").
As Harker, John Heffernan has much less fun than Bang and Wells, but does even more impressive work. Even with his character's oozing sores, fly-absorbing eyeball, missing fingernails and prosthetic rat teeth, he and Morfydd Clark (playing Mina – "hidden" in plain sight from the start as Sister Agatha's silent colleague) somehow make a heartfelt love scene work. Heffernan is a fine comedy straight man and an even finer tragedian. 
read more – Dracula Episode 3 Review: The Dark Compass
All that, and there's some real horror. Vampire babies and gruesome living corpses and glitch-animated unfolding zombie bones and a glistening nude Count having just burst his way through a bloody wolf pelt, crouching on cobbles and licking blood from a knife blade. Episode one is full of weird imagery and unsettling detail from director Jonny Campbell, supported by an impressive Gothic setting and atmospheric score.
Weird is one word for it. Idiosyncratic is another. Unhinged might be a third. Scary, funny, unusual, simultaneously a tribute to classic movie horror and a pastiche of the same, it careens between broad laughs and disquieting images. 
Like the recently aired A Christmas Carol, any new version of a much-adapted tale needs to justify its existence through the force of its personality. This Dracula could hardly be accused of shirking that job – on the basis of episode one, it has personalities to spare.