News
Doctor Who: Jodie Whittaker Names Her Favourite Guest Star
Jodie Whittaker was overwhelmed by sharing scenes with Stephen Fry in Spyfall, and hopes that she redeemed herself from their first time together on screen.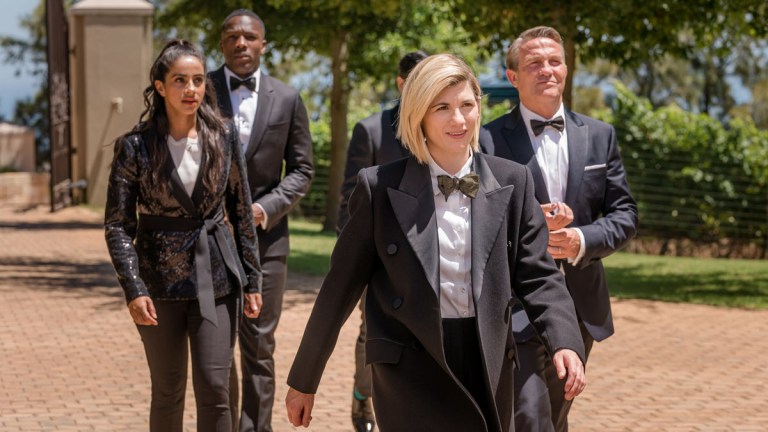 At the Doctor Who: Flux press launch, held just 48 hours before Jodie Whittaker completed her final day's filming as the Doctor, Whittaker was asked to pick her favourite guest star during her time on the show. After initially protesting the question in mock horror and spreading the love by saying, "There's too many people that have just been wonderful and a joy," Whittaker picked a name.
"I suppose the one that I felt moved about because I'm a massive fan… Stephen Fry." When Fry joined the cast of Series 12 two-part opener Spyfall, directed by Jamie Magnus Stone and Lee Haven Jones. He played a character codenamed 'C', the head of MI6, who'd previously struck off an agent codenamed 'O' and then died after a mysterious attack. We all know how that one turned out, with 'O' being revealed as the Doctor's centuries-long worst enemy/best friend The Master, as played by Sacha Dhawan.
Why did Fry's guest spot on the series mean so much? "He's got the most extraordinary brain, and if you think about people who have got however many strings to their bow, he's just kind of a living legend for all the things he creates himself or is a part of."
Whittaker was very touched that Fry wanted to appear in Doctor Who with her, "and the fact that I got to have scenes with him!" It's not the first time those two have shared the screen, something Whittaker remembers with a shiver. They were both in the 2007 comedy film St Trinian's, a modern version of the original film series based on cartoons by Ronald Searle. It's about a boarding school filled with tearaway girls who get up to all kinds of mischief, and Whittaker played the school's down-to-earth receptionist Beverly. "My character was very questionable in St Trinian's… I offered him some pills or something, which was really inappropriate!" she told press. As the Doctor, she hopefully redeemed herself in Fry's eyes.
Speaking of guest stars, Series 13, a six-episode serial which is going by the name Doctor Who: Flux, will welcome a good few. Alongside new Companion Dan Lewis, played by comedian John Bishop, and space pilot Vinder played by actor and musician Jacob Anderson, the show will welcome Kevin McNally, Annabel Scholey, Craig Parkinson, Blake Harrison and more. Meet the new cast here.
Doctor Who: Flux starts on BBC One, BBC iPlayer and BBC America on Sunday the 31st of October.