Features
Doctor Who: Introducing John Bishop
Doctor Who's new companion Dan is played by a much-loved British stand-up comedian and actor who wears his political heart on his sleeve. Here's a rundown to get newcomers up to speed.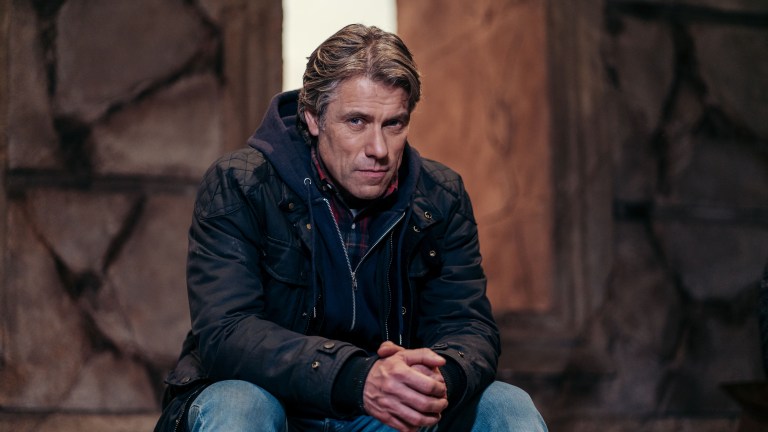 A teaser at the end of Doctor Who festive special 'Revolution of the Daleks' introduced the audience to John Bishop, freshly cast as new companion Dan and due to appear alongside Mandip Gill and Jodie Whittaker in the show's upcoming 13th season.
John Bishop is very well known in his native United Kingdom, mostly for his output as an award-winning stand-up comedian, and for being a mainstay of some of the country's best-loved panel shows. In the US, he's a less familiar face – a consequence of the US comedy scene being harder to break into than Fort Knox in a time eddy. Even in the UK there may be pockets of Who viewers unfamiliar with Bishop's work, especially as ever-fewer people aged 16-34 are choosing to watch broadcast TV.
The only other Doctor Who actor to have been introduced in this way at the tail-end of an episode was John Hurt, a big-name British actor whose brand recognition carried across both the Atlantic Ocean and audience demographics. If the overall reaction to the casting of The War Doctor was, 'Bloody hell, it's John Hurt!', it's no slight on the soon-to-be TARDIS-travelling Liverpudlian to assume that the most common reaction this time, at least globally, might have been: 'Who the bloody hell is John Bishop?' But don't worry. That's what we're here to find out.
The good news is: you'll like him.
Runcorn, Football, and Bad Jobs
John Bishop grew up in a council estate in Runcorn, and always dreamed of greater things, or at least – as he told The Guardian newspaper in 2010 – a job where he wouldn't have to go home and 'get a wash' afterwards. His ambition and intellect carried him to college, and thereafter into a short-lived career playing semi-professional football for Southport FC. His first foray into the working world, however, was as a vacuum-cleaner salesman, where he was mystified – and perhaps a little scared – by the go-getting ethos that the company had adopted. Each working day began with the mandatory recitation of an inspirational sales song performed to the tune of a Beatles hit. "It was mad," he told talk-show host Graham Norton. "As a 17-year-old… I thought that's what all jobs were like." You can watch John Bishop having a bad-job-off with Chris Pratt in this video:
In his thirties, Bishop was living a comfortable existence as a medical rep for a pharmaceutical company. At the same time as his corporate star was rising, his marriage was collapsing, an event that carried within it – unbeknownst to him – the seeds of serendipity: his failing marriage would kick-start his comedy career, and his burgeoning comedy career would, in turn, kick-start his marriage.
From Open Mic Comedy to Sold-Out Tours
In conversation with fellow comedian Rob Brydon on the latter's online show Brydon &, (see below), Bishop explained that didn't nurse a burning, life-long ambition to make strangers laugh in the dark. He pretty much drifted into stand-up. He just wanted somewhere to go and something to do after he'd dropped his three kids off with his estranged wife on a Monday night; something to distract him from missing them. In fact, when he attended his first Open Mic night he didn't even know what the term 'open mic night' meant, but was overjoyed to discover that one of the main things it meant was that as a performer he'd get into the venue for free.
Speaking to Brydon, Bishop recalled stepping out on stage for the first time, struggling a little and getting maybe a few polite titters from the seven-strong crowd. He quickly decided to bin his repertoire of gags, admitting to the audience, "I'm only here because I'm getting divorced". He then launched into a funny, stream-of-consciousness, self-deprecating routine about his ailing marital fortunes.
In many ways, then, John Bishop is the Marvelous Mrs. Maisel of UK comedy (although, unlike Midge Maisel, he successfully rekindled his marriage). Perhaps we should call him 'The Jubilant Mr John Bishop'.
Bishop had never told anyone he was doing stand-up, so it came as something of a shock to his wife when she went along to The Frog and Bucket comedy club with some workmates, only to see her husband walk out onto the stage. She came to talk to him afterwards, and told him it was great to see him more like his old self. Counselling and reconciliation followed, and the family has been rock-solid ever since. "Getting back together was the reward," he told Rob Brydon. "All the rest of this stuff is secondary."
Bishop went on to build a solid, multi-award-winning career on the comedy circuit – branching out into panel shows and some small-screen roles – but it was his 2009 Edinburgh Festival Show 'Elvis Has Left the Building' that launched him into the big time.
Millions find him hilarious, but there are three key critics who resolutely don't: his own children. Bishop told The Mirror newspaper in January 2013: "They just look at me as if to say, 'what are you doing?' My eldest came up to me over Christmas and said, 'Dad, I think you should use this bit of time off to rethink your material'. I couldn't believe it."
You can judge for yourself here by watching one of his early TV appearances, where he muses about refrigerators and municipal tips in his endearingly droll, dad-next-door style.
Politics, Charity and LGBTQ+ Allyship
Bishop's TV roles have provided incidental connections to the wider Who-niverse: he appeared as comedic but catastrophic dad Rob Fitch on the E4 series Skins from 2009 to 2010, a show that had also once featured future 12th Doctor Peter Capaldi; in 2012, Bishop appeared in fellow Merseysider Jimmy McGovern's Accused, a characteristically gritty drama in which Christopher Eccleston had also previously appeared. By 2012, Bishop was no stranger to working with smart, angry, ideology-driven writers and auteurs, having played a small but key role in Ken Loach's 2010 pro-friendship, anti-Iraq movie Route Irish.
Politics are, and have always been, at Bishop's core. He's a long-time vegetarian and animal lover who regularly rails against the UK class system, an oppressive model he managed to buck by becoming the first member of his working-class family to attend university. He graduated with a BA (Hons) in Social Science from Manchester Polytechnic in 1989. He's a staunch and outspoken socialist, and vocal supporter of the UK's Labour Party. In short, a man who's never afraid to poke his head above the parapets. In 2014 he told The Mirror newspaper that if he ever appeared on the political panel show Question Time he'd probably end up punching someone.
Nowhere is this anger more intense than in his support for the victims of the Hillsborough disaster, a 1989 footballing tragedy that affected his beloved Liverpool football club, the act and aftermath of which intersected issues of class with police malfeasance and media treachery. The battle for accountability continues to this day. In 2014, Bishop donated £96,000 (£1000 for each of the victims) to the Hillsborough Family Support Group. In the charity sphere, Bishop has raised millions of pounds through all manner of sporting feats, most notably enduring a five-day triathlon from Paris to London.
In 2018, Bishop was named the Virgin Atlantic Celebrity Ally of the Year at the NatWest British LGBT Awards, a moment that fused the political and the social with his family. In his funny yet hard-hitting acceptance speech he revealed that one of his sons is gay. You can watch him talking about it on this clip from The Jonathan Ross Show:
One area of Bishop's life that's stayed relatively free of politics is his stand-up. He explained to The Guardian in 2010: "I don't want to be categorised as a comedian going down any particular avenue. Besides, political comedians are hamstrung, because they're waiting for other people to do stuff before they can come up with something funny."
Dan, The TARDIS, and Series 13
And so we arrive at the latest chapter in John Bishop's career: becoming a fully-fledged member of Team TARDIS. It almost never happened. Executive Producer Chris Chibnall created the part of Dan with John Bishop in mind, but there was too big a scheduling conflict with the star's nationwide stand-up tour to allow him to say yes. Enter stage-left the pandemic, which reduced Bishop's sold-out run to a shut-down nothing, and prompted him to approach Chris Chibnall to see if his offer still stood.
Given that John Bishop is a working-class Liverpudlian playing a working-class Liverpudlian on-screen, and that Chris Chibnall created Dan with John Bishop in mind, it's tempting to conclude that we might see an exploration of class through Dan's eyes, something the show is yet to directly touch upon despite Rose Tyler being a working class character.
Bishop has finished filming for series 13, and returns to the road on tour this September. It's unclear whether this means he's a one-and-done companion, or if he'll be joining Jodie Whittaker or some as-yet unspecified fourteenth (ish) Doctor in seasons to come. But whatever the future holds for Dan, the character undoubtedly is in good hands. And Doctor Who's audience is in good company with John Bishop.
John Bishop will appear on the Doctor Who panel at SDCC At Home on Sunday the 25th of July.