News
Disney+ New Releases: January 2021
We have a list of the new Disney+ movies and shows arriving in January 2021.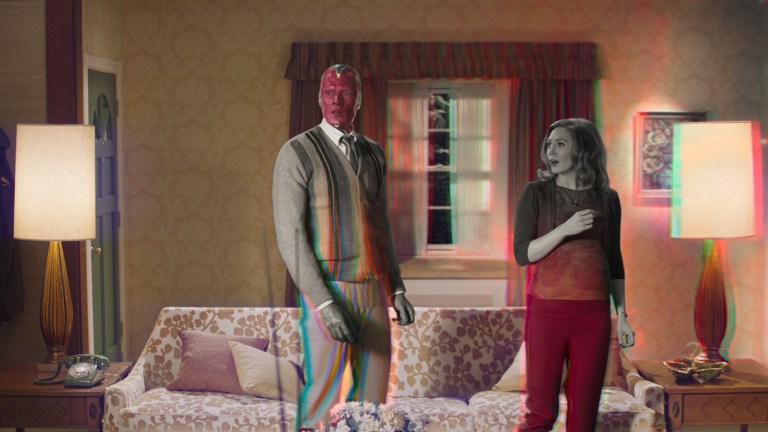 2020, cursed year that it was, represented the first turn of the calendar since 2009 that did not feature an entry in the Marvel Cinematic Universe. With its list of new releases for January 2021, Disney+ is set to immediately rectify that. Not only is WandaVision the first new MCU installment since 2019's Spider-Man: Far From Home, it's the first ever Marvel television show from Marvel Studios' reordering under content czar Kevin Feige.
WandaVision is set to premiere on Jan. 15 and will feature two beloved MCU characters Wanda Maximoff a.k.a. Scarlet Witch (Elizabeth Olsen) and The Vision (Paul Bettany). As the trailers reveal, this series will find Wanda and Vis living in domestic bliss in before discovering all is not what it seems. The series will pay homage to classic TV sitcoms and premiere new episodes each Friday.
WandaVision is understandably the only major Disney+ Original arriving this month (because when you've got Marvel, what else do you need?), but 10 new episodes of charming Jim Henson Company series Earth to Ned will be arriving on Jan. 1 as well.
Library titles of note include Dr. Seuss' Horton Hears a Who! and The Wolverine on Jan. 1, Isle of Dogs on Jan. 15, and all four seasons of Dinosaurs on Jan. 29.
January 1
New Library Titles
700 Sharks
Dr. Seuss' Horton Hears a Who!
Great Shark Chow Down
Mega Hammerhead
Mr. Popper's Penguins
Wolverine, The (2013)
Disney+ Originals
Earth to Ned
Extras – Beyond the Clouds: A Firm Handshake
January 8
New Library Titles
Disney Fam Jam
Ferdinand
Star Wars Forces of Destiny: Volume 1
Star Wars Forces of Destiny: Volume 2
Star Wars Forces of Destiny: Volume 3
Star Wars Forces of Destiny: Volume 4
Toy Story That Time Forgot
Disney+ Originals
Extras – Beyond the Clouds: The Anatomy of Emotion
Marvel Studios: Legends
January 15
New Library Titles
Disney Elena of Avalor (s3)
Doctor Doolittle 3
Isle of Dogs
Mary Poppins Returns
Disney+ Originals
WandaVision – Premiere
Extras – Beyond the Clouds: The Concert of a Lifetime
January 22
New Library Titles
Wild Uganda
Disney+ Originals
Pixar Popcorn
WandaVision – Episode 2
Extras – Beyond Clouds: The Finishing Touches
January 29
New Library Titles
Dinosaurs (s1)
Dinosaurs (s2)
Dinosaurs (s3)
Dinosaurs (s4)
Epic
The Incredible Dr. Pol
Ramona and Beezus
Texas Storm Squad
Disney+ Originals
WandaVision – Episode 3
Extras – Beyond the Clouds: A Promise Kept