Reviews
Deadwater Fell episode 1 review: compelling drama unpicking a tragedy
Channel 4's Deadwater Fell starring David Tennant, is an elegantly constructed, intriguing but painful drama. Spoilers in our review…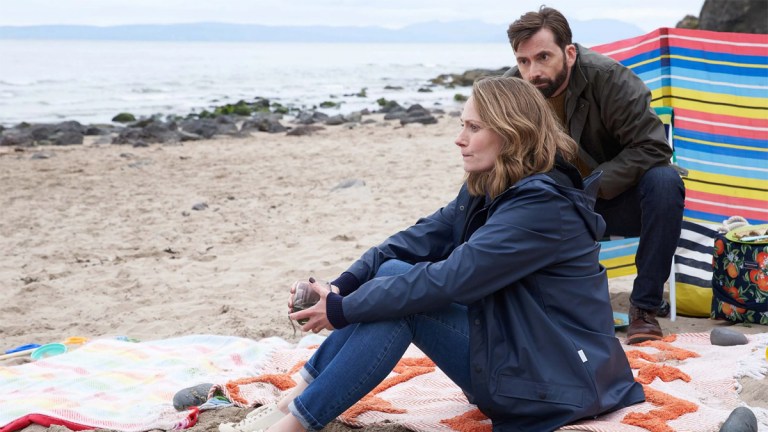 This review contains spoilers.
Meet the Kendricks: Tom and Kate, a GP and a primary school teacher with three young girls living in an idyllic Scottish village. Good jobs, nice house, lovely kids. 
They're best friends with the Campbells, Steve and Jess, a police officer and a teaching assistant with two boys from his first marriage, now trying for their own baby. Together, they all drink wine and swap recipes and watch their children play. They enjoy beach picnics and dinner parties and dancing at the local ceilidh. It all looks just as it should – bright, fun, loving and picture-perfect. Their weekends could be a Boden ad shoot. 
That's the Instagram version of the story anyway, and the lens through which four-part drama Deadwater Fellintroduces us to its characters. It's the version of their lives that clashes most dramatically with the scenes intercut between the cheerful beach picnic, happy school painting session and lively local dance – the burnt wreckage of a building, a forensic pathologist methodically laying out evidence on a sterilised surface.
Such a stark contrast, pairing the sound of children's laughter with shots of devastated aftermath, could feel tasteless and heavy-handed but director Lynsey Miller and editor Paul Knight manage the delicate balance without tipping over into lurid true-crime dramatisation tackiness. The whole hour stays on the right side of exploitation, emphasising the alienating horror of what happens by putting it against an effortlessly warm and naturalistic backdrop. Daisy Coulam's script and the cast make these feel like real people, not cackling TV villains or victims, which makes it all the more disquieting and compelling. 
A fictional story set in the fictional village of Kirkdarroch, Deadwater Fell isn't a true crime drama, but it is a crime drama. By the second ad break, Kate and her three girls are dead, their corpses lying under mortuary cloths in the laboratory. Tom's hooked up to life support in hospital, having been dragged from their burning home and resuscitated. The fire was no tragic accident; it was a premeditated killing. The bodies all bore the needle mark of an injection administered before the fire, and the girls' bedroom was padlocked shut from the outside.   
So Deadwater Fell becomes a crime thriller. Who started the fire? Was it, as some locals venture, a psychopathic stranger; was it Kate (Anna Madeley), captured on CCTV buying padlocks from a hardware shop; or was it Tom (David Tennant), a medical doctor with access to needles and anaesthetic? When he awakes from his coma at the end of episode one, Tom's first words are "What did she do?" Is he waking up to the news that his wife has killed herself and their daughters, or not having expected to survive the fire, is he blaming his own act on someone who can no longer defend herself?  
That's a question the next three episodes are set to answer, along with the overreaching one of what was really going on behind that happy façade. Kirkdarroch is clearly not as peaceful a place as it appeared. The Kendricks are clearly not as they seemed. 
Clues to that disjunct between appearance and reality bleed through the second half of the episode. It emerges that Kate, in the five years since the birth of their disabled youngest daughter, was struggling and being treated with anti-depressants (despite which her GP husband Tom poured her a glass of wine to calm her, as if dispensing a prescription), and joked about using "any excuse to get out the house".  
Filtered through the memories of Jess Campbell (Cush Jumbo), we revisited the beach picnic, which ended in an argument that led to a car accident. Then at Tom's bedside, Jess also remembers having passionate, illicit sex with him (wearing the same denim jacket, so not a memory from the distant past). Was it just once, or was it a longer affair? Jess and Steve (Matthew McNulty) also have their secrets.  
That's what Deadwater Fall is really about – appearance vs. reality. It uses an extreme event to crack open a perfect-seeming community and see what's inside. It invites us to think about the unthinkable to see what might be learned about monstrous crimes committed by people who don't seem like monsters, but like you and me.
Deadwater Fell continues next Friday on Channel 4 at 9pm.  
Read about the new British TV dramas coming our way in 2020 here.