News
Cursed Netflix Series: Trailer, Release Date, Cast
Katherine Langford is the eventual Lady of the Lake in Arthurian TV series adaptation Cursed, which now has a full-length trailer.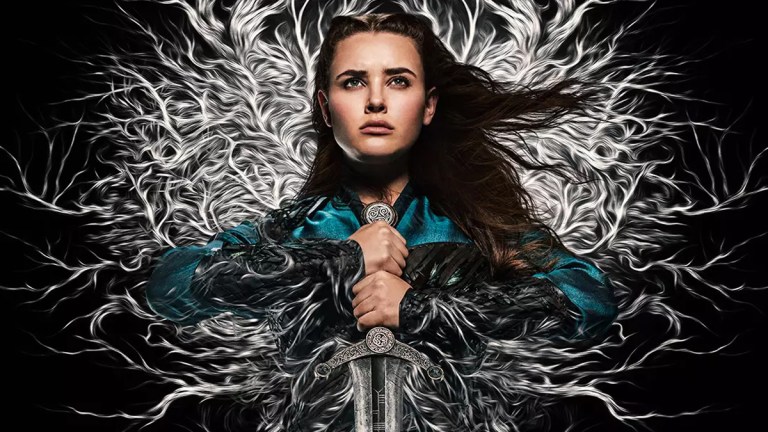 Cursed is coming soon to Netlix, set to showcase an interpretation of the Arthurian Lady of the Lake character as adapted by comic book legend Frank Miller and screenwriter Tom Wheeler. Find out everything you need to know about the 10-episode series starring Katherine Langford below…
Cursed Trailer
We have a new, full-length trailer for Cursed, which gives us even more insight into this story and world. It looks absolutely epic. Check it out…
Netflix has also released the below sneak peek as a teaser trailer. The clip, which runs slightly over a minute, showcases the tragic inciting incident—the slaughtering of a magic-sensitive Druid village by genocidal-minded Red Paladins—that sets a teenage Nimue (Katherine Langford) on a quest to save her people and extract some vengeance against their invading enemies through the attainment of a legendary blade (we all know what it's called), along with a reunion with a legendary sorcerer (we all know his name).
While the legendary blade representing the salvation of Nimue's people is destined to be pulled from a stone by a would-be king, the trailer teases a divergence from the legend, touting the line, "The legend says this sword belongs to the one true king. But, what if the sword chooses a queen?," as we see Nimue emerging from what's presumably the lake in which she'll eventually become lady, wielding the blade herself, ready to battle the Red Paladins and their bellicose king for the freedom of the surviving members of her people. However, she'll also have help from the legend-traditional sword-puller, Arthur (Devon Terrel), and the legendary sorcerer himself, Merlin (Gustaf Skarsgård).
Cursed Release Date
All 10 episodes of the Netflix fantasy series will be released on July 17th.
Cursed Cast
Cursed will be a potential litmus test of a headlining vehicle for Katherine Langford, especially since it's a return to the Netflix platform on which she first broke out in 2017, specifically on controversy-generating teen drama series 13 Reasons Why, on which she starred as Hannah Baker, a troubled teen who left behind a series of videos providing the show's titular 13 reasons for her suicide. She subsequently parlayed that success with an appearance in 2018 drama Love, Simon and the eventual all-time box office topper, 2019's Avengers: Endgame, in which she fielded a role that was ultimately excised from the film. However, she was prominently seen later that year in director Rian Johnson's acclaimed cast-stacked whodunnit, Knives Out.
Besides the aforementioned Devon Terrel and Gustaf Skarsgård, Langford is joined in the Cursed cast by names such as Emily Coates, Peter Mullan, Bella Dayne, Lily Newmark, Daniel Sherman, Shalom Brune-Franklin and Sebastian Armesto.
Cursed Story
Netflix's Cursed adapts the 2019 graphic novel of the same name, which was written by Wheeler and illustrated by Miller. The TV series was written by Wheeler and Miller, run by a lineup of directors consisting of Jon East, Daniel Nettheim, Zetna Fuentes and Sarah O'Gorman. The series is an in-house project by Netflix, which produced on its own and will distribute on the streaming platform.
Of course, Cursed won't exactly be alone in its swords-and-sorcerers thematic nature by the time its July 17 debut rolls around, seeing as Netflix is the home of the genre's most prominent recent hit series, The Witcher, starring Henry Cavill, which is set to return in 2021. The streaming giant also recently released The Letter for the King, a series starring young up-and-comer Amir Wilson, who some may remember from HBO's His Dark Materials.