Features
Crisis On Infinite Earths: Who Are Superman's Sons?
The final chapter of Crisis On Infinite Earths mentioned Superman's sons — could Superman & Lois be taking the Super Sons path?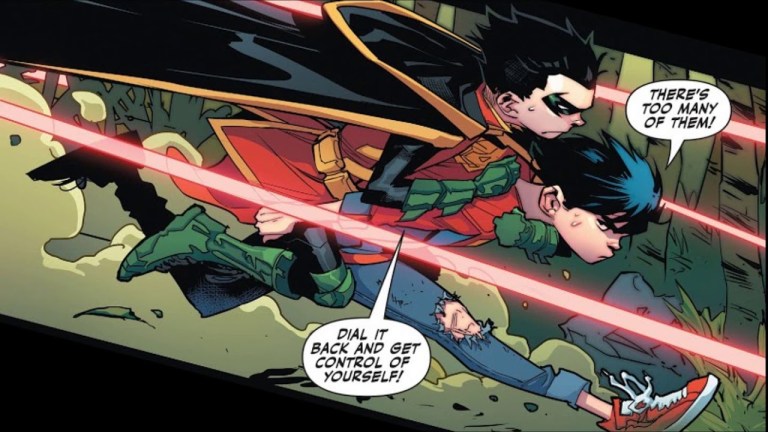 Turns out Sara Diggle isn't the only new kid in the Arrowverse! The final act of The CW's epic Crisis on Infinite Earths dropped a heck of a lot of information about this new, strange world known was Earth-Prime, and much of it was as big news for the characters hearing it as it was for us. One of the quickest and unexpected bombshells? Superman has sons—a fact Lois casually drops into conversation when Clark is out-of-town, telling him he needs to get home for sons-related reasons. Sons. As in plural.
This truth bomb is most certainly set-up for the Superman & Lois TV show that The CW recently gave a straight-to-series order for the 2020-2021 broadcast season. The show will star Tyler Hoechlin and Elizabeth Tulloch in the title roles, and is set to show the "iconic characters as they deal with stress, pressures and complexities that come with being working parents in today's society." Superheroes: they're just like us!
When that initial premise dropped, most fans believed the kid in question would be the baby Lois and Clark headed off world at the conclusion of Elseworlds to have (the baby makes an appearance in the first chapter of Crisis On Infinite Earths). But, last time we checked, that was only one kid. Who could Lois have been referring to then? What changed in the Kent household when Oliver restarted the universe?
Well… a recent casting call for the Superman & Lois TV show asked for submissions for two 14-year-old boy roles. One is described as "clean cut, modest and kind-hearted, with an aw-shucks attitude [as well as] a three-sport athlete garnering attention from college and pro scouts," while the other is described as "a young Leonardo DiCaprio who has an inherent darkness to him," as well as someone with a "mercurial temperament and social anxieties who likes to spend his time playing video games over interacting with people."
Many DC Comics fans have noted that these descriptions sound a lot like the Super Sons, aka Jonathan Samuel Kent (the son of Superman and Lois Lane) and Damian Wayne (the son of Batman and Talia al Ghul). The best friends first appeared in some version in 1973, but had a rebrand and relaunch in 2007 with the Super Sons monthly comic book series, which saw the characters going by the names of Superboy and Robin. With the Arrowverse's Batman currently M.I.A. (or at least he was before the reset), could Clark and Lois be looking after Damian in addition to Jon? 
The other possibility here is that this is Christopher Kent, an adopted son of Lois and Clark. Christopher's biological parents are the villainous General Zod and Ursa, and his actual name is Lor-Zod. Lor-Zod was born in the Phantom Zone, and sent to Earth, where he was adopted by Lois and Clark. The character was created by Geoff Johns, Richard Donner, and Adam Kubert and appeared on and off in a few years worth of Superman stories before returning to the Phantom Zone. If this second son and his "inherent darkness" isn't Damian Wayne, he sure sounds like he could be the child of Zod and Ursa. But having two super-powered sons seems like it might be a bit much for a new show, so it might make a little more sense if one of them isn't powered. You'd probably have "social anxieties" too if your best friend/adopted brother was a half-Kryptonian all-star athlete!
We'll have to wait and see if Superman & Lois goes down the Super Sons path… but, after Crisis On Infinite Earths, it certainly sounds like they might be.
Kayti Burt is a staff editor covering books, TV, movies, and fan culture at Den of Geek. Read more of her work here or follow her on Twitter @kaytiburt.