News
Crisis on Infinite Earths: Trailer, Release Date, Cast, Characters, and News
This year's Arrowverse crossover is none other than DC Comics classic, Crisis on Infinite Earths. Here's everything you need to know.
Crisis on Infinite Earths is here. And it's not just here, it's here with a vengeance. The 2019 Arrowverse crossover has delivered on every single promise from its famed comic book source material, as well as all the heavy dramatic beats that the TV shows have been promising since the first ever episode of The Flash. We're now more than halfway through, and the stakes have never been higher. Not just on superhero TV, but perhaps in TV of any kind!
Here's everything you need to know about how to watch Crisis on Infinite Earths, and all the ways you can keep up with our coverage.
Crisis on Infinite Earths Release Date
Here's the full Crisis on Infinite Earths schedule. Those first three episodes have already aired, but you can watch them for free on the CW Seed app.
SUPERGIRL – Sunday, December 8, 2019 (8:00-9:00pm ET/PT). Read our review of Part One here.
BATWOMAN – Monday, December 9, 2019 (8:00-9:00pm ET/PT). Read our review of Part Two here!
THE FLASH – Tuesday, December 10, 2019 (8:00-9:00pm ET/PT). Read our review of Part Three here!
Crisis on Infinite Earths Return Date
Ah, but there are still two episodes to come, and they'll both air in January to kick off a season of winter TV unlike any other. Here's when Crisis on Infinite Earths comes back to finish its epic, cosmic story. Check out this incredible teaser poster, which reveals your first look at Oliver Queen as The Spectre!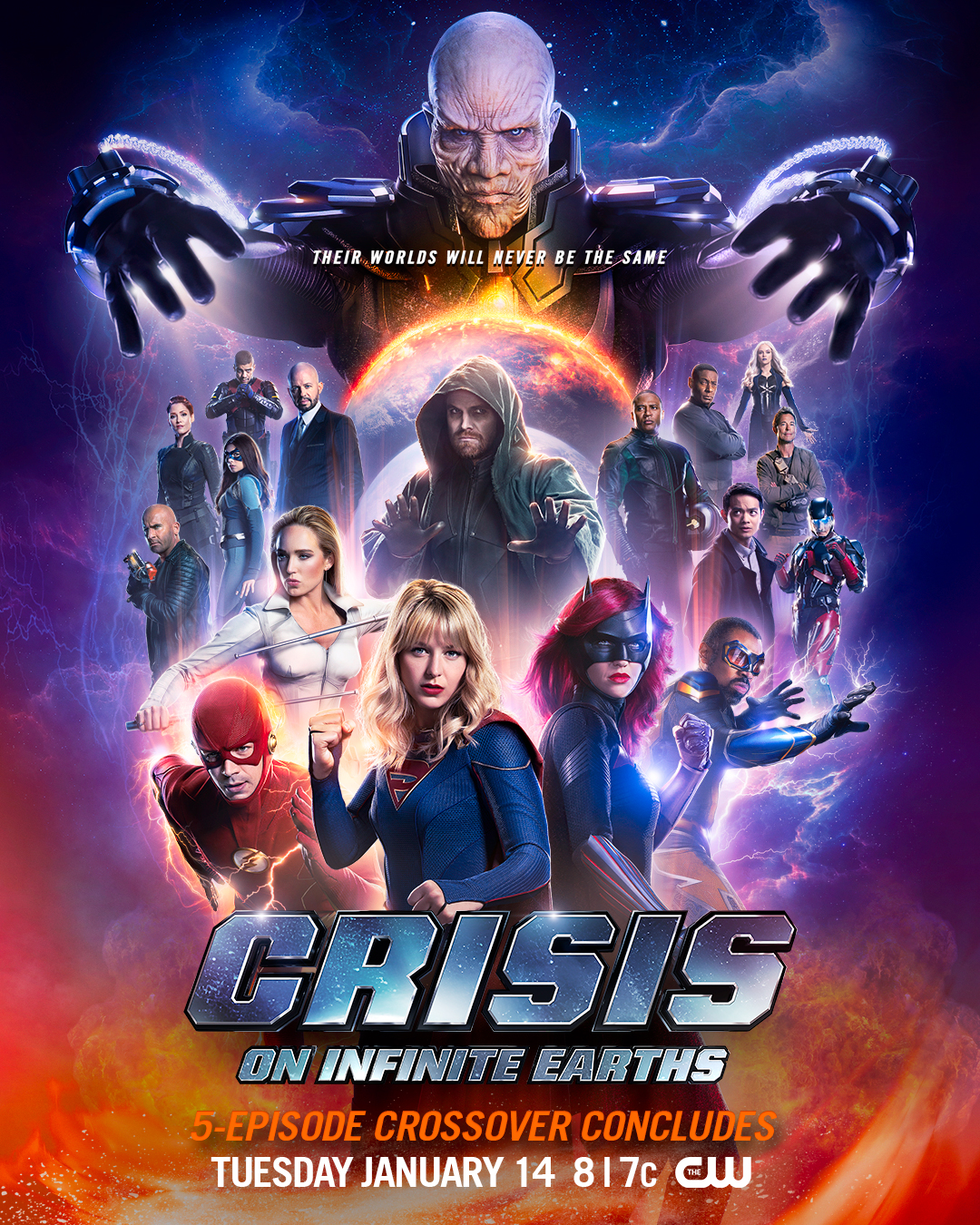 Here are the dates, along with the summaries of the episodes!
ARROW – Tuesday, January 14, 2020 (8:00-9:00pm ET/PT)
"Stuck in the Vanishing Point, the Paragons search for a way to escape. The futility of the situation is compounded by The Flash's (guest star Grant Gustin) disappearance.  However, hope appears in the form of Oliver (Stephen Amell), who reveals that he has become something else. Meanwhile, the origin stories for The Monitor (guest star LaMonica Garrett) and Anti-Monitor are revealed."
DC'S LEGENDS OF TOMORROW – Tuesday, January 14, 2020 (9:00-10:00pm ET/PT)
"Worlds lived, worlds died.  Nothing will ever be the same." 
Crisis on Infinite Earths Trailer
Need a preview of what's coming next? Here's a sneak peek of the return of Crisis on Infinite Earths in January.
Here's the original Crisis on Infinite Earths trailer, which contains lots of footage from those first three episodes.
Crisis on Infinite Earths Story
Without getting into TOO many spoilers, here are the official episode synopses courtesy of the CW, with links to some of our stories that help explain all of the world ending craziness of the Arrowverse Crisis!
Supergirl: Crisis on Infinite Earths – Part One
"The Monitor (guest star LaMonica Garrett) sends Harbinger (guest star Audrey Marie Anderson) to gather the worlds' greatest heroes – Supergirl (Melissa Benoist), The Flash (guest star Grant Gustin), Green Arrow (guest star Stephen Amell), Batwoman (guest star Ruby Rose), White Canary (guest star Caity Lotz), The Atom (guest star Brandon Routh) and Superman (guest star Tyler Hoechlin) – in preparation for the impending Crisis.  With their worlds in imminent danger, the superheroes suit up for battle while J'onn (David Harewood) and Alex (Chyler Leigh) recruit Lena (Katie McGrath) to help them find a way to save the people of Earth-38."
"Pariah (Tom Cavanagh) enlists Black Lightning (guest star Cress Williams) to help stop the Anti-Monitor (guest star LaMonica Garrett) after Flash-90 (guest star John Wesley Shipp) shares what he learned from his battle in Elseworlds. With the help of Black Lightning, Barry (Grant Gustin), Cisco (Carlos Valdes), and Killer Frost (Danielle Panabaker) come up with a plan that could save them all. Meanwhile, Iris (Candice Patton) has a heart-to-heart with Ryan Choi (guest star Osric Chau), while Oliver (guest star Stephen Amell) and Diggle (guest star David Ramsey) return to an old familiar stomping ground."
This episode contained so much in its final moments that we had to write an article just to get through all of that.
We broke down all of the DC Comics Easter Eggs in Part Three here!
Who is Jim Corrigan and what does he want with Oliver Queen?
And that's only for the first three chapters! Two more will air in January, which will likely have even greater repercussions. The possibilities, of course, are infinite, but there are a few things we can glean from this. It's possible that the Arrowverse Crisis on Infinite Earths story will probably do a little bit of housekeeping and finally tidy up a few things that have been annoying fans, namely that Supergirl takes place on a different Earth from The Flash, Arrow, and Legends of Tomorrow (a necessity since Kara's show started on another network), and perhaps Black Lightning will probably follow suit (because that show was initially conceived for another network before moving to the CW). It's possible that all those realities to be merged by the end of this, but at the very least, it will probably apply to Supergirl.
LaMonica Garrett, who plays both the Monitor and the Anti-Monitor on the crossover, says that they're sticking as close to the classic comic as they can. "It's hard to bring everything that's on the page and adapt it to the screen, but they're doing a really good job of that," he tells us in an interview. "Without going too far into details, but they're trying to stick as close to the comic book as possible."
We also went into considerable detail about what Crisis on Infinite Earths might mean for the future of the Arrowverse here.
Crisis on Infinite Earths Characters and Cast
Here's a poster that should give you a pretty good idea of the major players, but then we'll get into more detail down below!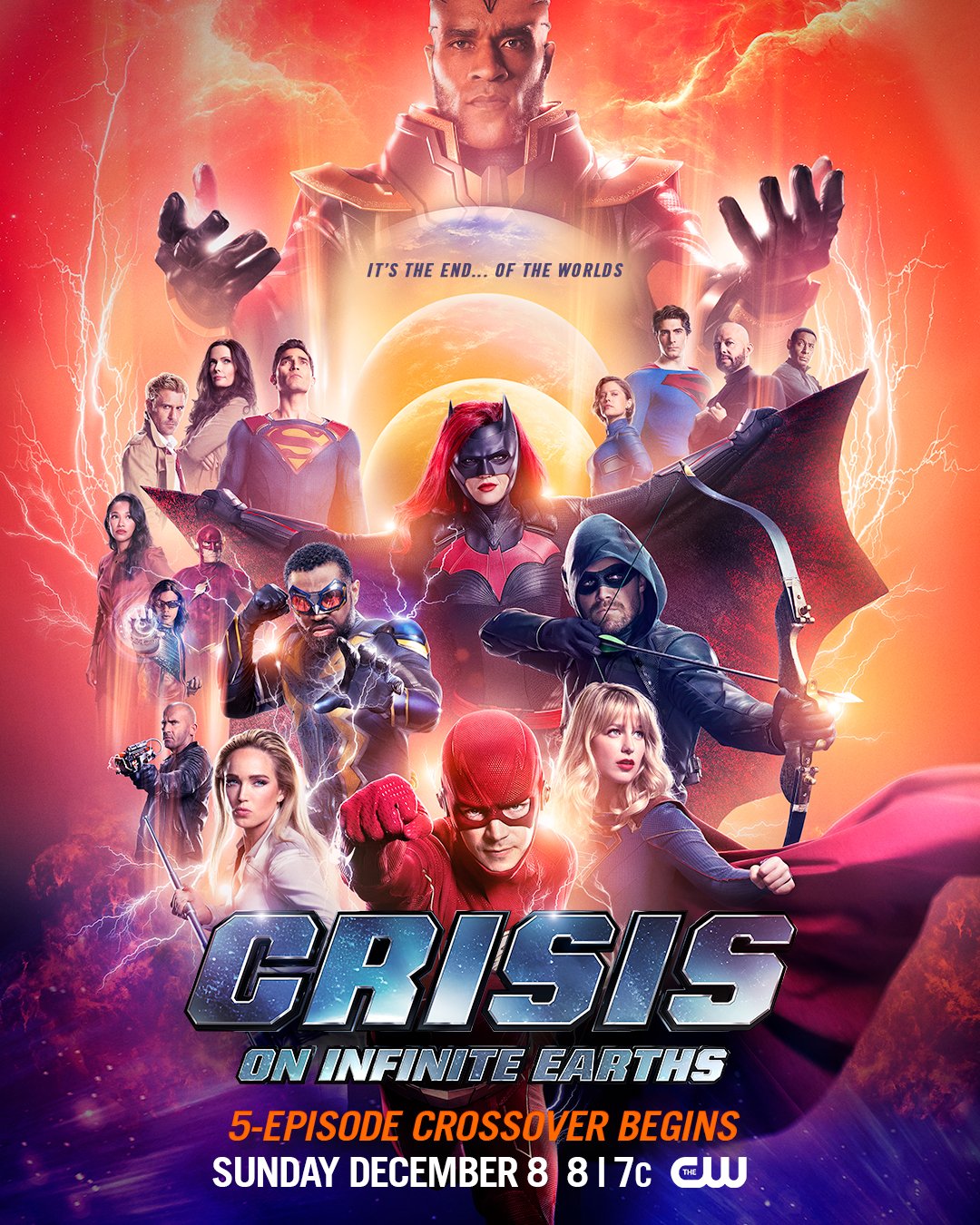 In addition to all the regulars on every CW DC Arrowverse show involved in the crossover, there will be some pretty big guest stars.
As expected, LaMonica Garrett reprises his role as the Monitor, but he'll also take on the dual role of the Anti-Monitor! And to add another very Crisis-specific character to the proceedings, Tom Cavanagh takes on the pivotal role of Pariah.
Beloved 1960s TV Robin Burt Ward appears!
Brandon Routh once again dons the blue tights and red cape as the Superman of Kingdom Come! In other Superman-related news, Elizabeth Tulloch will return as Lois Lane. Check out that suit!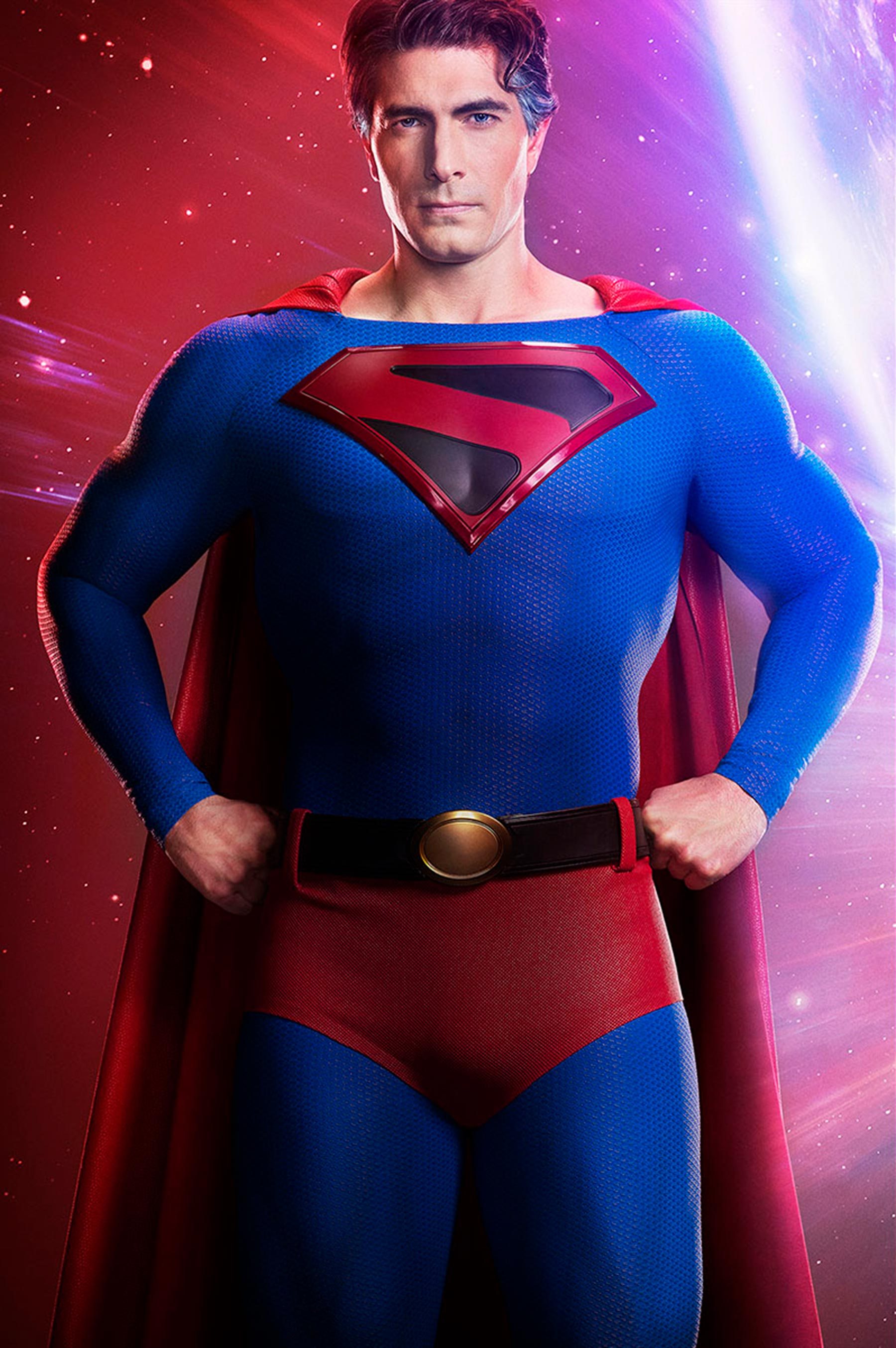 Kevin Conroy of Batman: The Animated Series appears as a version of Bruce Wayne from the future. We have more details on that right here.
Smallville favorites Tom Welling and Erica Durance reprise their roles as Clark Kent and Lois Lane! We have more details on their triumphant return to TV right here.
Supernatural's Osric Chau will be introduced as a new Atom, Ryan Choi. Ashley Scott will reprise her role of Helena Kyle, the Huntress, from the WB's 2002 Birds of Prey TV series. We have more details on their arrival here.
Audrey Marie Anderson will reprise her important Arrow role as Lyla Michaels, but as the character's name has long suggested, she's the Arrowverse version of Harbinger. Check out this very cool look at her costume!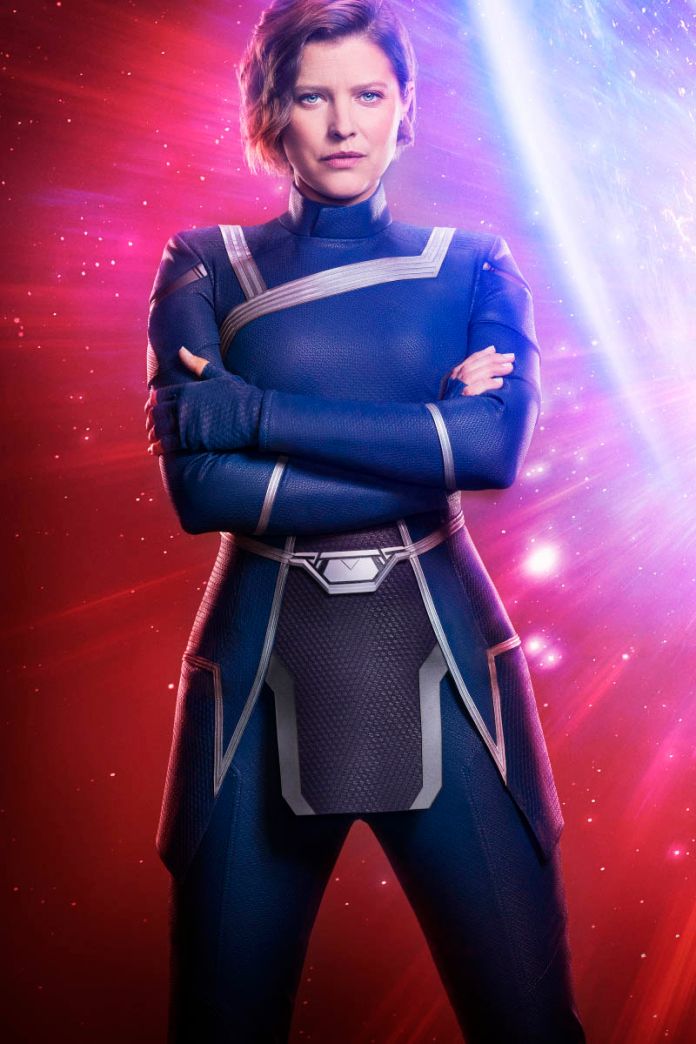 Robert Wuhl (Alexander Knox from Tim Burton's 1989 Batman movie) appeared in a fun cameo, which we wrote about here.
Tom Ellis had a surprise appearance as Lucifer Morningstar!
Supernatural's Stephen Lobo will play Jim Corrigan, the alter ego of the Spectre. Hopefully he gets to go "full Spectre" at some point, too.
Cress Williams from Black Lightning appeared as Jefferson Pierce.
We expect LOTS more announcements like this in the coming weeks, and we'll update this as updates become available.
Mike Cecchini is the Editor in Chief of Den of Geek. You can read more of his work here. Follow him on Twitter @wayoutstuff.
Read and download the Den of Geek Lost in Space Special Edition Magazine right here!