News
Conan the Barbarian TV Series Set for Netflix
Netflix is moving forward with a live-action Conan the Barbarian TV series, bringing swords and sorcery to the streaming platform.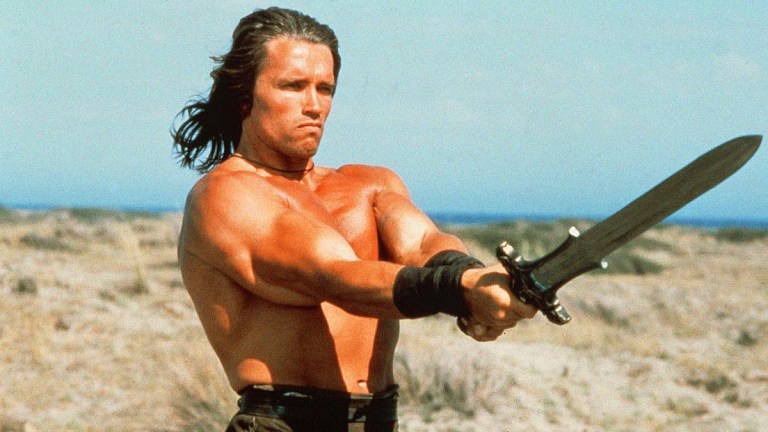 Conan the Barbarian is coming to Netflix…and we don't mean its movie archive! Rather, the streaming giant is moving forward with a live-action television series adapting the swords, sorcery and loincloths-laden mythos created by Robert E. Howard, famously depicted as comic book art from Barry Windsor-Smith and cemented in history as portrayed onscreen by Arnold Schwarzenegger.
Pathfinder Media, of Fredrik Malmberg and Mark Wheeler, have conceived the Conan television project, which has been put into development by Netflix, according to Deadline. The project stems from a deal between Netflix and IP owner Conan Properties International, yielding the streaming giant exclusive rights to the multimedia archives—be it books, television and films—to adapt as new works. Indeed, it's a strategy that mirrors widely-encompassing exclusive deals Netflix made in recent years to produce serial adaptations of author Roald Dahl's work, and comic book titles under Mark Millar's Millarworld branding.
With the deal now set, the Netflix Conan the Barbarian television project will embark on a search for a writer/showrunner to creatively shape the series. For now, the only personnel onboard are the aforementioned Malmberg and Wheeler, who serve as executive producers on behalf of Pathfinder. Interestingly enough, this development is merely the latest on the property's TV series front, arriving over two-and-a-half years after Amazon was eyeing such an endeavor, simply titled Conan, which was to tap quality talent such as Emmy-nominated Game of Thrones director Miguel Sapochnik and Colony's Ryan Condal, who, coincidentally, is the attached showrunner to developing Game of Thrones prequel spinoff House of the Dragon. Consequently, it will be interesting to see who Netflix attempts to pursue for this current iteration of the television project.
Conan the Barbarian, is, of course, a venerable, long-running property, having first manifested as "Conan the Cimmerian" in 1932 as the focus of pulp magazine fantasy stories from creator Robert E. Howard. The character's presence persisted through the decades that followed the creator's 1936 death at the young age of 30, bearing several different titles before Marvel Comics—at the time seen as a hip counterculture contrast to DC's crop of traditional superhero fare—debuted its Conan the Barbarian comic book series in 1970, brandishing stunning, eloquent and brutal aesthetics via pencil work by Barry Windsor-Smith. Eventually, the character's pop culture popularity facilitated a big-screen arrival in 1982 with director John Milius' acclaimed Conan the Barbarian movie, which became a star-making vehicle for Arnold Schwarzenegger, leading to director Richard Fleisher's (lesser-regarded) 1984 sequel, Conan the Destroyer.
Subsequent years proved hit-and-miss for the franchise, with adaptations such as 1992 animated series Conan the Adventurer, 1994 animated spinoff series Conan and the Young Warriors and short-lived 1997 syndicated series Conan the Adventurer, which starred eventual Gladiator actor Ralf Möller. While Lionsgate later tried to capitalize on the post-Game of Thrones momentum of star Jason Momoa with director Marcus Nispel's 2011 remake, that film proved to be a critical bust and a source of significant financial loss, having grossed $63.5 million worldwide against a budget of $90 million.
It will certainly be interesting to see if Conan the Barbarian can find success as a streaming peak television offering, or if the revived property ends up back on the proverbial Tree of Woe this time around.