News
Arnold Schwarzenegger to Star in TV Series from Scorpion Creator
Arnold Schwarzenegger is set to field his first turn as the star of a TV series, a spy adventure from the creator of Scorpion.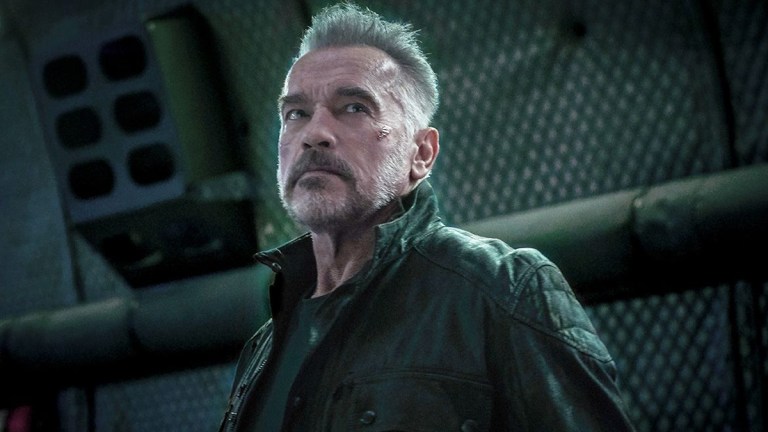 If the realm of scripted television is a "choppa," then it appears that Arnold Schwarzenegger will, for the first time in his illustrious career, finally get to it.
The action icon is teaming with Skydance Television for an untitled television project with designs of becoming an hour-long series that will see Schwarzenegger as the star and executive producer, reports Deadline. The would-be series is being described as "a global spy adventure with a father (Schwarzenegger) and daughter at the center of the story." While that sounds a bit like the climactic moments of Schwarzenegger's starring role in director James Cameron's 1994 classic, True Lies, there's no indication that the project is an adaptation of any kind.
Nick Santora is the creator of the Schwarzenegger television project, set to develop and executive-produce as part of an existing overall deal with Skydance Television. Best known as the creator/executive producer of CBS's 2014-2018 cybercrime drama, Scorpion, Santora recently created Quibi's reboot series of The Fugitive and co-created its thriller series, Most Dangerous Game. He also fielded executive producer turns on shows like Prison Break, Lie to Me, Vegas, Breakout Kings, produced for Law & Order and The Guardian and will serve as showrunner/executive producer for Amazon's developing Jack Reacher adaptation series.
Schwarzenegger's aforementioned executive producer title here won't be his first experience in that capacity, having executive-produced on his meta-minded 1993 movie, Last Action Hero, produced for his starring turns on 2000's The 6th Day, 2015's Maggie and 2017's Killing Gunther, with an executive producer turn on his (best forgotten) single-season run as host of NBC's Celebrity Apprentice and Showtime documentary series The Year of Living Dangerously, amongst others. However, this particular turn with Skydance marks the continuation of a working relationship with the company, which, via Skydance Media, was the producing studio behind his last two franchise sequels/reboots/resets in 2015's Terminator Genisys and 2019's Terminator: Dark Fate.
Interestingly, this planned first foray into the starring splendor of scripted television for Schwarzenegger arrives after reports in early 2018 had him eyed to star in a Western television series for Amazon, titled Outrider; plans that failed to bear fruit. Regardless, he still has some films turns on his docket such as a role in Kung Fury 2 as the President and a role reprisal—opposite Eddie Murphy and a returning Danny DeVito—in director Ivan Reitman's 30+ years-awaited Twins sequel, titled Triplets.  
That is the extent of what's known about Skydance's Schwarzenegger television project at the moment. While there are no production or release windows to cite, it is likely to manifest as a streaming offering, with the company expected to pitch to streamers. The company is also reportedly set to commence preliminary casting for the role of the Schwarzenegger character's daughter. However, if said role ends up going to Eliza Dushku, then we might just have to reconsider the True Lies similarities.