News
Cobra Kai Seasons 1 and 2 Netflix Release Date Revealed
Cobra Kai's migration from YouTube to Netflix is imminent with a release date now set for Seasons 1 and 2.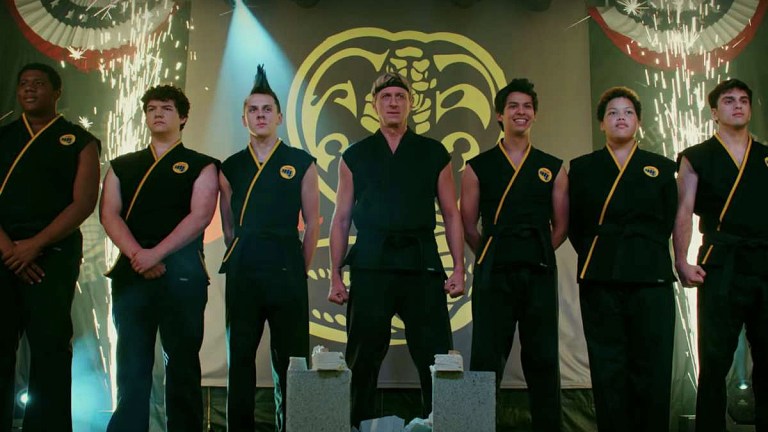 Cobra Kai will soon bask in the biggest audience it's ever had when the series completes its migration from former platform YouTube Premium to the streaming big leagues of Netflix. Now, said migration has a release date for viewers to mark.
Netflix has announced that Cobra Kai Season 1 and Season 2 will premiere on its platform on Friday, August 28. The move of the show's two existing seasons will mark the first part of the show's Netflix transition, which will eventually be followed by the premiere of Season 3, presumably before the end of the year. The originally YouTube-bound, plot-shrouded third season is—by all accounts—completed and ready to be unleashed on a date to be revealed.
The arrival of Cobra Kai on Netflix is the latest chapter in the struggle to get the acclaimed series the audience it deserves. The series made an arguably inauspicious debut on YouTube Premium (née YouTube Red,) on May 2, 2018, initially coming across as a campy nostalgia-strewn serial sequel to classic 1984 crowd-pleaser The Karate Kid and its two direct sequels (three if you count 1994's Hilary-Swank-starring The Next Karate Kid), with Ralph Macchio back in his role as Daniel LaRusso opposite William Zabka returning to his role as the original film's antagonistic bully, Johnny Lawrence. However, while the show is brimming with nostalgia, the series managed to surprise critics and the select population of viewers who originally saw it on YouTube Premium, bringing a profound story of lost youth and quests for redemption.
Indeed, the show wowed audiences with its focus on a middle-aged Johnny's seemingly quixotic attempt to reclaim former glory by karate-mentoring his bullied young neighbor, Miguel (Xolo Maridueña), leading to his restart of the titular bellicose karate dojo. The pathos of the characters were so well put-together that it actually managed to flip the protagonist dynamic of the movies, especially with Daniel's initial position as a braggadocios advertisement-inundating car dealership owner contrasting with a struggling odd-jobs-supported Johnny, who can barely make payments to support his estranged son, Robby (Tanner Buchanan). However, as the inaugural season went on, we'd learn that Daniel's seemingly perfect life has its own issues—left without a mentor after the death of Mr. Miyagi years earlier—leading to issues for his teen daughter, Samantha (Mary Mouser), who ends up in an awkward love triangle with Miguel (who's being taught karate by Johnny,) and Robby (who's being taught karate by Daniel), leading to an epic showdown at a familiar tournament.
Thusly, Cobra Kai's return for Season 2 on April 24, 2019 upped the ante when it came to all of its nostalgic, slightly-comedic and action-packed elements, bringing—as the Season 1 cliffhanger revealed—the return of Martin Kove as the original evil karate sensei, John Kreese, who stirs the pot, slowly manipulating Johnny with sinister machinations he would not imagine until it's too late. Moreover, the aforementioned teen love triangle would come to a devastating climax, igniting a powder keg that bore a serious—and genuinely heartbreaking—explosive crescendo that definitively proves just how profound this seemingly campy series can become when it so chooses.
For those who have never had a chance to catch Cobra Kai on its old home of YouTube premium, the show's Netflix arrival on August 28 is the perfect opportunity to see what all the hype is about, and then get impatient for the arrival of Season 3.