Features
Christmas TV Comedy Episodes List: Where to Stream Friends, The Office and More!
Here's where to stream the major Christmas TV comedy episodes including 30 Rock, The Simpsons, Parks and Rec, South Park and many more
In a perfect world, TV streaming services would offer a playlist feature – imagine the joyful nerdery of shareable Top 10 episode lists. When it came time for a Christmas binge-watch while you're wrapping gifts, or spraying pine cones silver, or gently weeping and glugging Advocaat from the bottle (whatever your festive tradition is, delete as appropriate), you could fire up hours of comedy specials without having to expend a single calorie of energy on touching the remote.
Until that glorious day comes, this is your next best thing. It's a directory of the major US and UK 1990s-2010s sitcoms' Christmas episodes, and where they're available to stream. If you feel like grabbing your Frasier box set and going from Christmas 1993 to Christmas 2002, stopping at every feel-good Outlaw Laser Robo-Geek moment along the way, here's the info you need.
Episodes are listed in chronological order, and we've tried to stick to Christmas-set stories only, so non-seasonal instalments that aired in December mostly weren't included. And though not strictly a comedy, Doctor Who and a couple of others are in there too for good measure. Fill your festive boots!
3rd ROCK FROM THE SUN
Stream on: Peacock (US)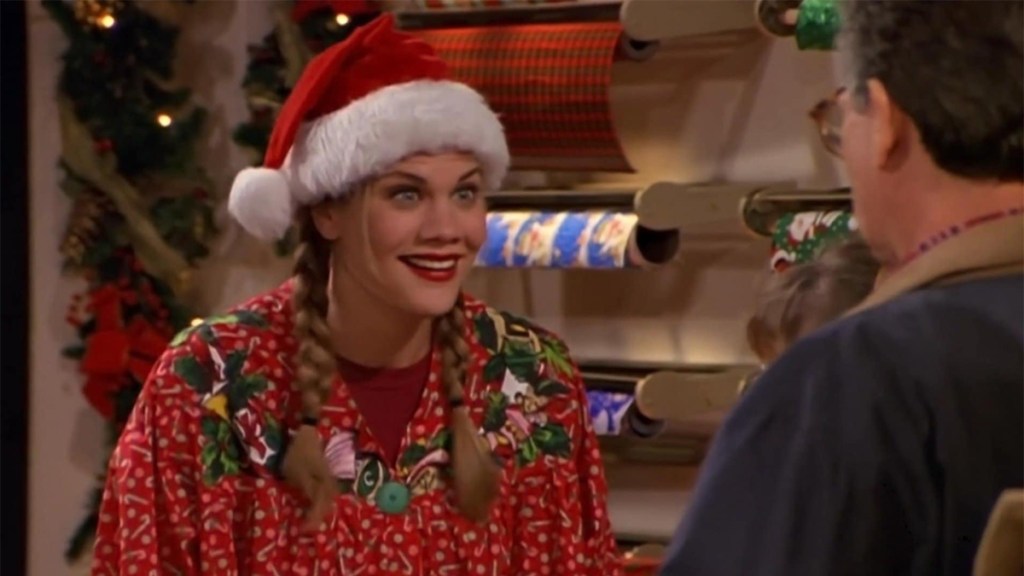 Jolly Old St. Dick (1996) Season 2, Episode 12
30 ROCK
Stream on: NOW TV (UK), Amazon Prime (US), Hulu (US)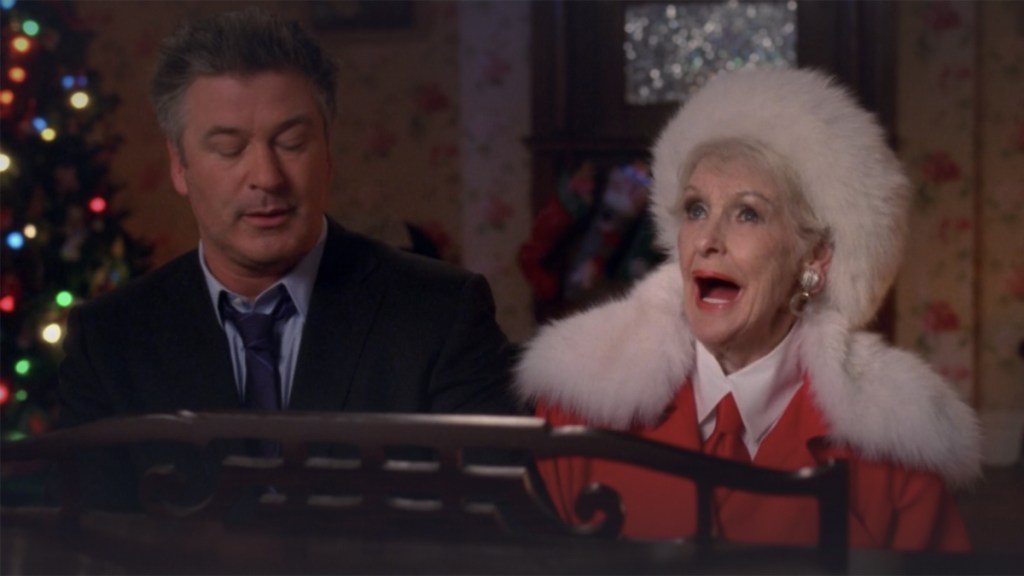 Ludachristmas (2007) Season 2, Episode 9
Christmas Special (2009) Season 3, Episode 6
Secret Santa (2009) Season 4, Episode 8
Christmas Attack Zone (2010) Season 5, Episode 10
AMERICAN DAD*
Stream on: Hulu (US)
*Season numbers below are listed as per Wikipedia (they're different on IMDb)
The Best Christmas Story Never Told (2006) Season 3, Episode 9
The Most Adequate Christmas Ever (2007) Season 4, Episode 8
Rapture's Delight (2009) Season 6, Episode 9
For Whom the Sleigh Bell Tolls (2010) Season 7, Episode 8
Season's Beatings (2011) Season 8, Episode 7
Minstrel Krampus (2012) Season 10, Episode 6
Dreaming of a White Porsche Christmas (2014) Season 12, Episode 6
Gifted Me Liberty (2016) Season 13, Episode 20
Ninety North, Zero West (2016) Season 14, Episode 7
Santa, Schmanta (2017) Season 15, Episode 1
BOB'S BURGERS
Streaming on: Amazon Prime Video (UK)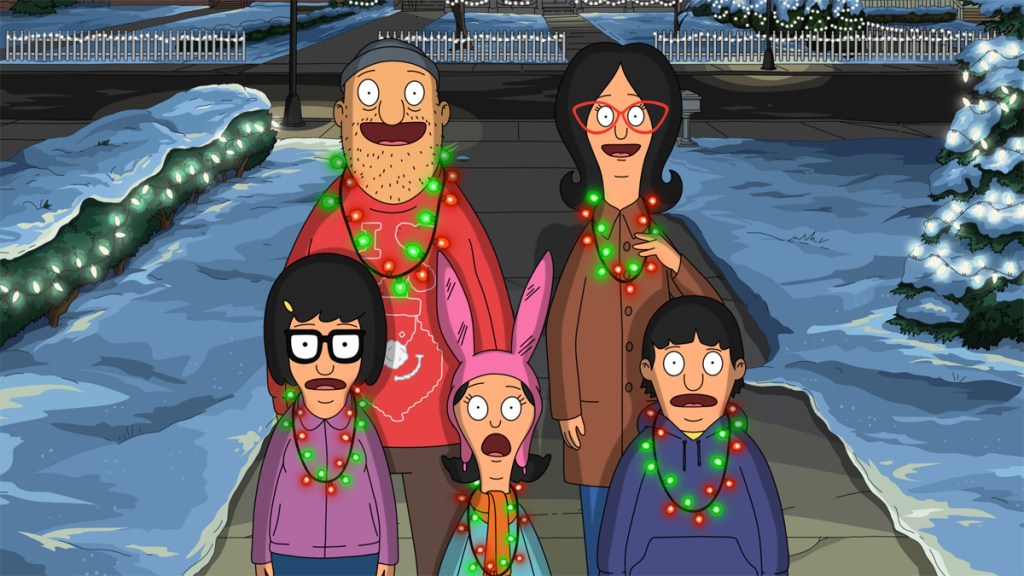 God Rest Ye Merry Gentle-Mannequins (2012) Season 3, Episode 9
Christmas in the Car (2013) Season 4, Episode 8
Father of the Bob (2014) Season 5, Episode 6
Nice-Capades (2015) Season 6, Episode 5
The Last Gingerbread House on the Left (2016) Season 7, Episode 7
The Bleakening Parts 1 & 2 (2017) Season 8, Episodes 6 & 7
Better Off Sled (2018) Season 9, Episode 10
Have Yourself a Maily Linda Christmas (2019), Season 10, Episode 10
Yachty or Nice (2020), Season 11, Episode 10
BLACKADDER
Streaming on: BBC iPlayer (UK)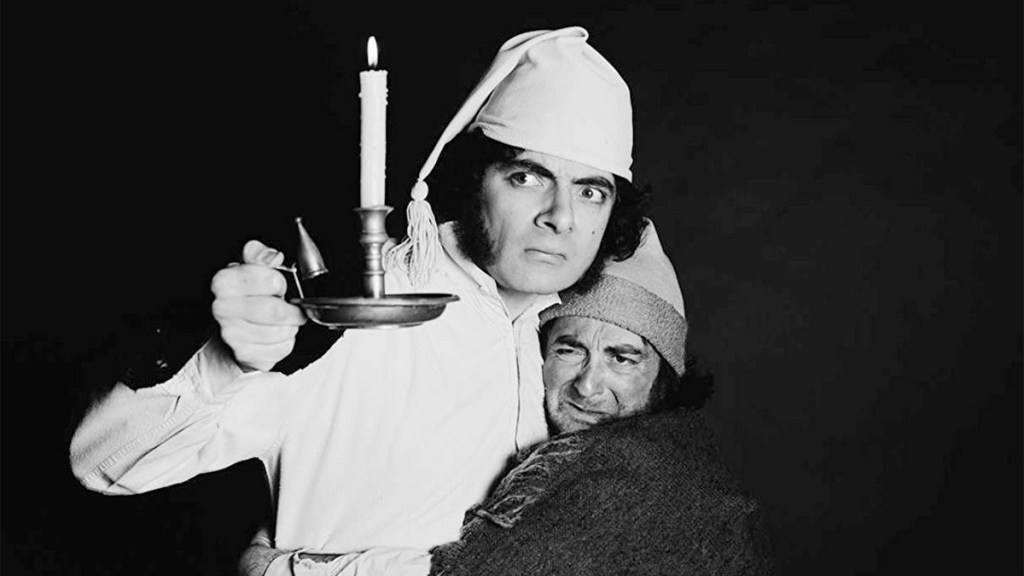 Blackadder's Christmas Carol (1988)
BLACK MIRROR
Stream on: Netflix (UK & US)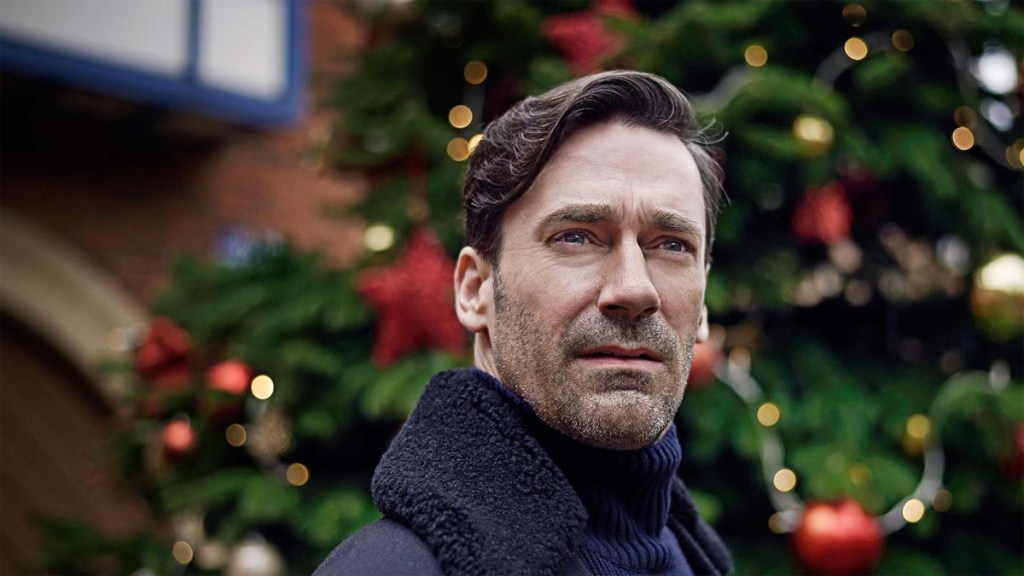 White Christmas (2014)
BOTTOM
Stream on: Netflix (UK)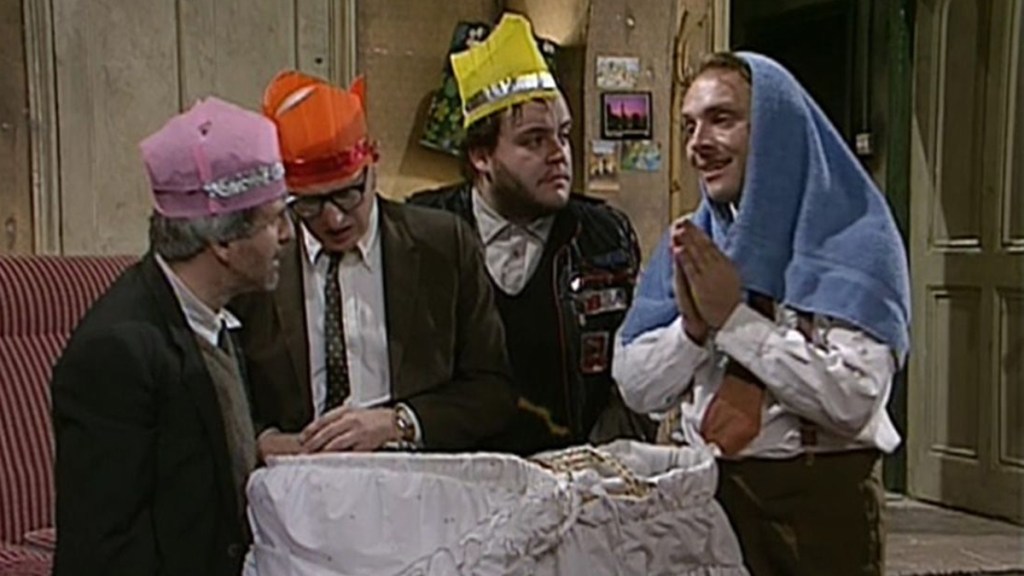 Holy (1992) Series 2, Episode 5
BROOKLYN 99
Stream on: Netflix (UK), Hulu (US)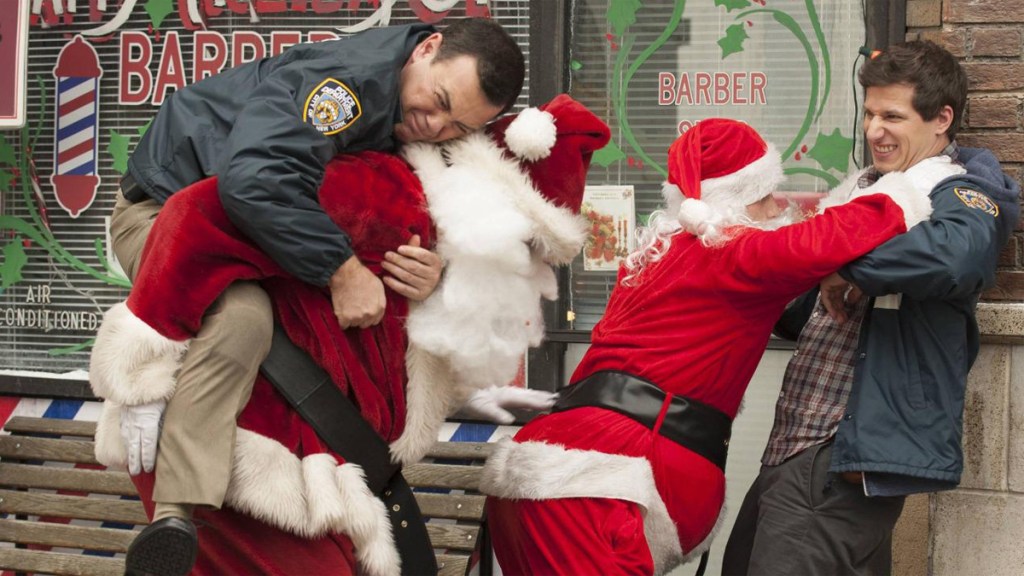 Christmas (2013) Season 1, Episode 11
The Pontiac Bandit Returns (2014) Season 2, Episode 10
Yippie Kayak (2015) Season 3, Episode 10
Captain Latvia (2016) Season 4, Episode 10
Game Night (2017) Season 5, Episode 10
CHEERS
Stream on: Peacock (US)
The Spy Who Came In for a Cold One (1982) Season 1, Episode 12
Where There's a Will (1983) Season 2, Episode 12
A House is Not a Home (1987) Season 5, Episode 25
Christmas Cheers (1987) Season 6, Episode 12
Love Me, Love My Car (1992) Season 11, Episode 11
COMMUNITY
Stream on: Netflix (UK), Amazon Prime (US), Hulu (US)
Comparative Religion (2009) Season 1, Episode 12
Abed's Uncontrollable Christmas (2010) Season 2, Episode 1
Regional Holiday Music (2011) Season 3, Episode 10
Intro to Knots (2013) Season 4, Episode 10
CURB YOUR ENTHUSIASM
Stream on: NOW TV (UK), HBO Max (US)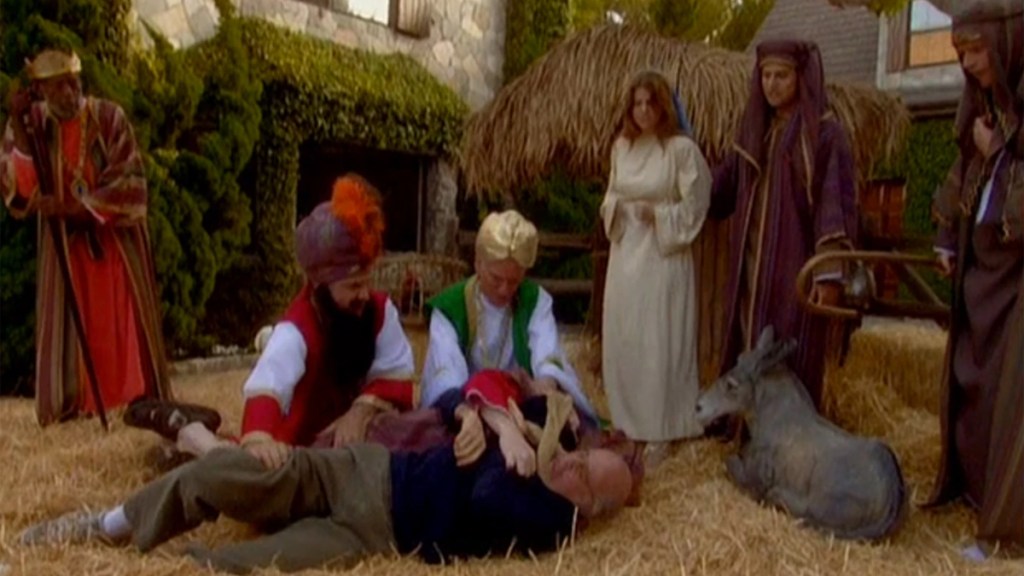 Mary, Joseph, and Larry (2002) Season 3, Episode 9
DOCTOR WHO
Stream on: BBC iPlayer (UK), HBO Max (US)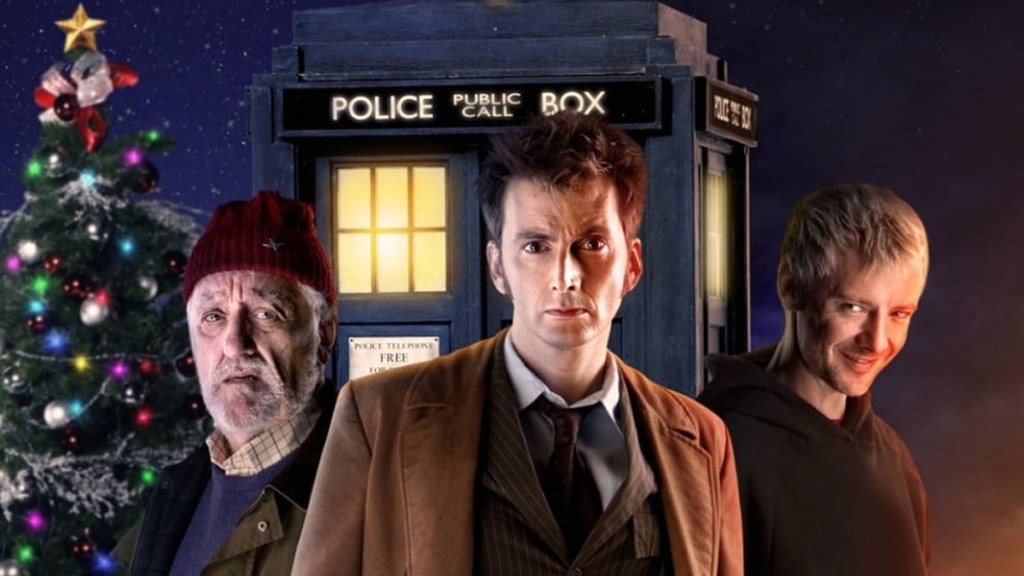 The Christmas Invasion (2005)
The Runaway Bride (2006)
Voyage of the Damned (2007)
The Next Doctor (2008)
The End of Time Parts One & Two (2009-10)
A Christmas Carol (2010)
The Doctor, the Widow and the Wardrobe (2011)
The Snowmen (2012)
The Time of the Doctor (2013)
Last Christmas (2014)
The Husbands of River Song (2015)
The Return of Doctor Mysterio (2016)
Twice Upon a Time (2017)
FAMILY GUY
Stream on: NOW TV (UK), Hulu (US)
A Very Special Family Guy Freakin' Christmas (2001) Season 3, Episode 16
Road to the North Pole (2010) Season 9, Episode 7
Jesus, Mary and Joseph! (2012) Season 11, Episode 8
Christmas Guy (2013) Season 12, Episode 8
The 2000-Year-Old Virgin (2014) Season 13, Episode 6
How the Griffin Stole Christmas (2016) Season 15, Episode 9
Don't Be a Dickens at Christmas (2017) Season 16, Episode 9
Christmas is Coming (2019) Season 18, Episode 9
The First No L (2020) Season 19, Episode 9 – (Hasn't aired at time of writing)
FATHER TED
Stream on: All4 (UK)
A Christmassy Ted (1996)
FRASIER
Stream on: Peacock (US)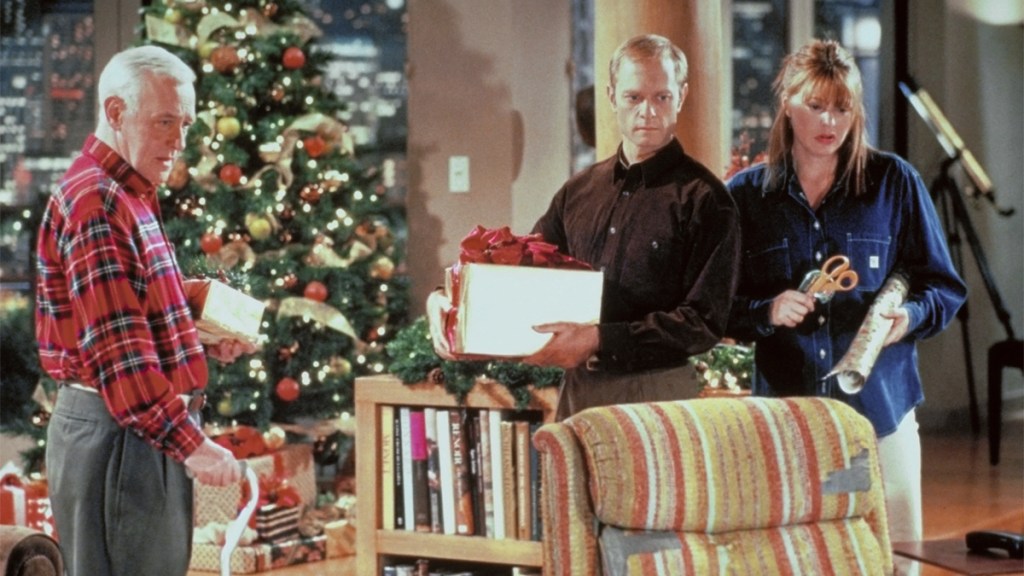 Miracle on Third or Fourth Street (1993) Season 1, Episode 12
Frasier Grinch (1995) Season 3, Episode 9
Perspectives on Christmas (1997) Season 5, Episode 9
Merry Christmas, Mrs. Moskowitz (1998) Season 6, Episode 10
The Flight Before Christmas (1999) Season 7, Episode 11
Mary Christmas (2000) Season 8, Episode 8
We Two Kings (2002) Season 10, Episode 10
FRIENDS
Stream on: Netflix (UK), HBO Max (US)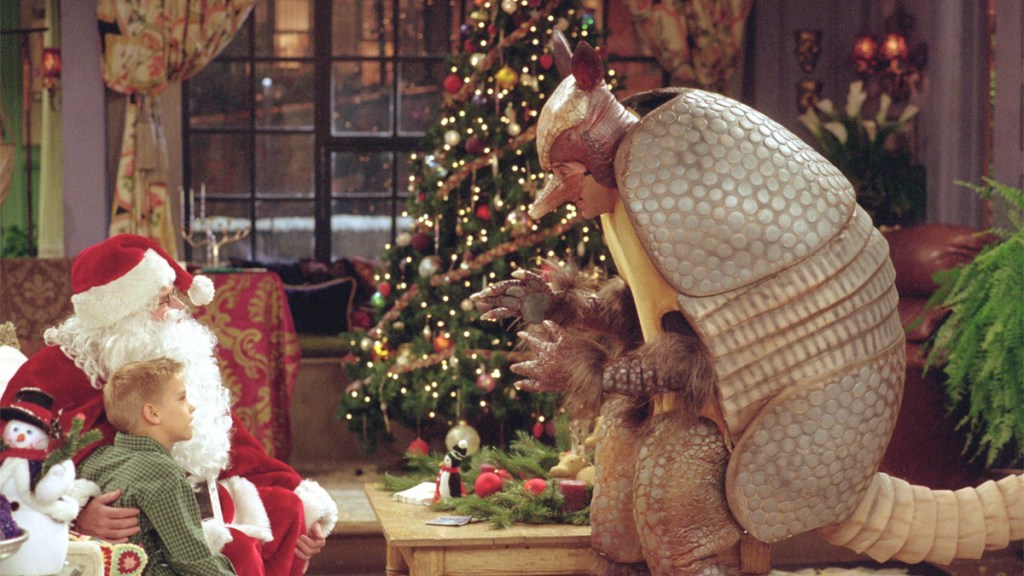 The One With Phoebe's Dad (1995) Season 2, Episode 9
The One Where Rachel Quits (1996) Season 3, Episode 10
The One With the Girl from Poughkeepsie (1997) Season 4, Episode 10
The One With the Inappropriate Sister (1998) Season 5, Episode 10
The One With the Routine (1999) Season 6 Episode 10
The One With the Holiday Armadillo (2000) Season 7, Episode 10
The One With the Creepy Holiday Card (2001) Season 8, Episode 11
The One With Christmas in Tulsa (2002) Season 9, Episode 10
FUTURAMA
Stream on: Amazon Prime Video (UK), Hulu (US)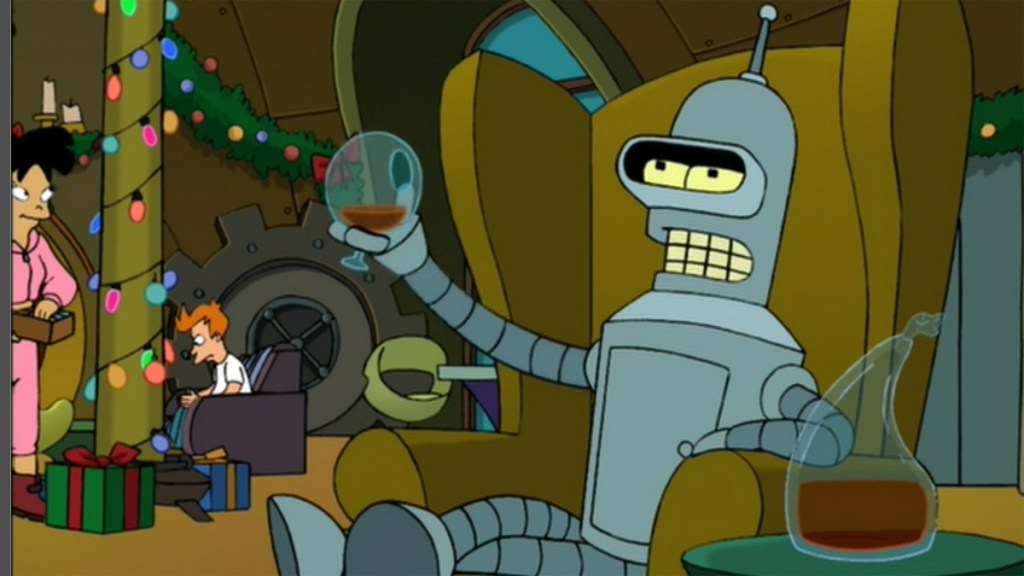 Xmas Story (1999) Season 2, Episode 17
A Tale of Two Santas (2001) Season 3, Episode 3
The Futurama Holiday Spectacular (2010) Season 6, Episode 13
GAVIN AND STACEY
Stream on: BBC iPlayer (UK)
Christmas Special (2008)
A Special Christmas (2019)
GILMORE GIRLS
Stream on: Netflix (UK & US)
Forgiveness and Stuff (2000) Season 1, Episode 10
The Bracebridge Dinner (2001) Season 2, Episode 10
That'll Do, Pig (2002) Season 3, Episode 10
In the Clamor and the Clangor (2004) Season 4, Episode 11
Women of Questionable Morals (2005) Season 5, Episode 11
Santa's Secret Stuff (2007) Season 7, Episode 11
HOW I MET YOUR MOTHER
Stream on: Netflix (UK), Hulu (US)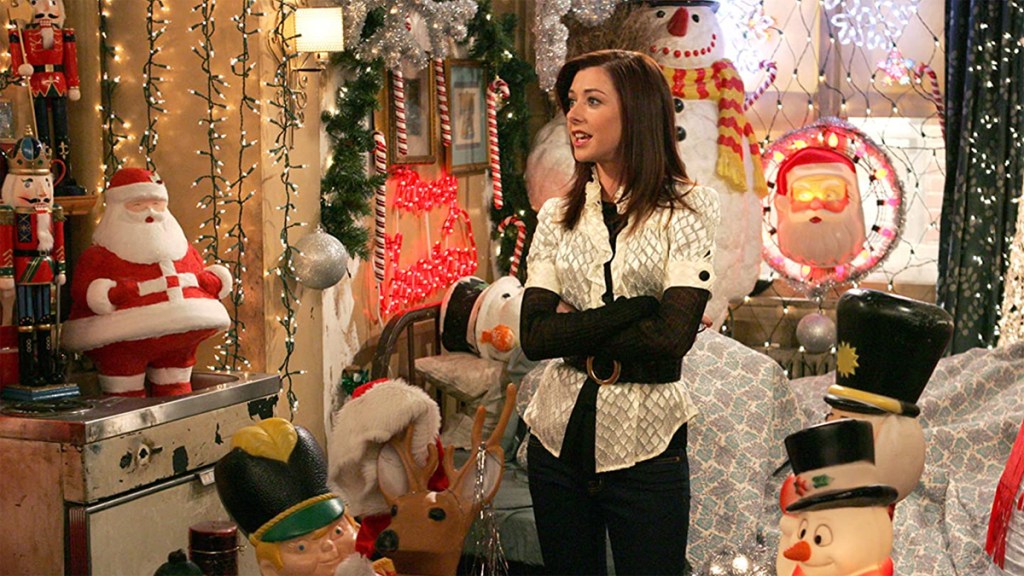 How Lily Stole Christmas (2006) Season 2, Episode 11
Little Minnesota (2008) Season 4, Episode 11
False Positive (2010) Season 6, Episode 12
Symphony of Illumination (2011) Season 7, Episode 12
The Over-Correction (2012) Season 8, Episode 10
The Final Page Parts 1 & 2 (2012) Season 8, Episodes 11 & 12
INSIDE NO. 9
Stream on: BBC iPlayer (UK), HBO Max (US), Hulu (US)
The Devil of Christmas (2016) Season 3, Episode 1
IT'S ALWAYS SUNNY IN PHILADELPHIA
Stream on: Netflix (UK), Hulu (US)
A Very Sunny Christmas (2010) Season 6, Episodes 13 & 14
JONATHAN CREEK
Stream on: BBC iPlayer (UK)
Black Canary (1998)
Satan's Chimney (2001)
Daemons' Roost (2016)
MODERN FAMILY
Stream on: Netflix (UK), DirecTV (US)
Undeck the Halls (2009) Season 1, Episode 10
Express Christmas (2011) Season 3, Episode 10
The Old Man & the Tree (2013) Season 5, Episode 10
White Christmas (2015) Season 7, Episode 9
NEW GIRL
Stream on: Netflix (UK & US)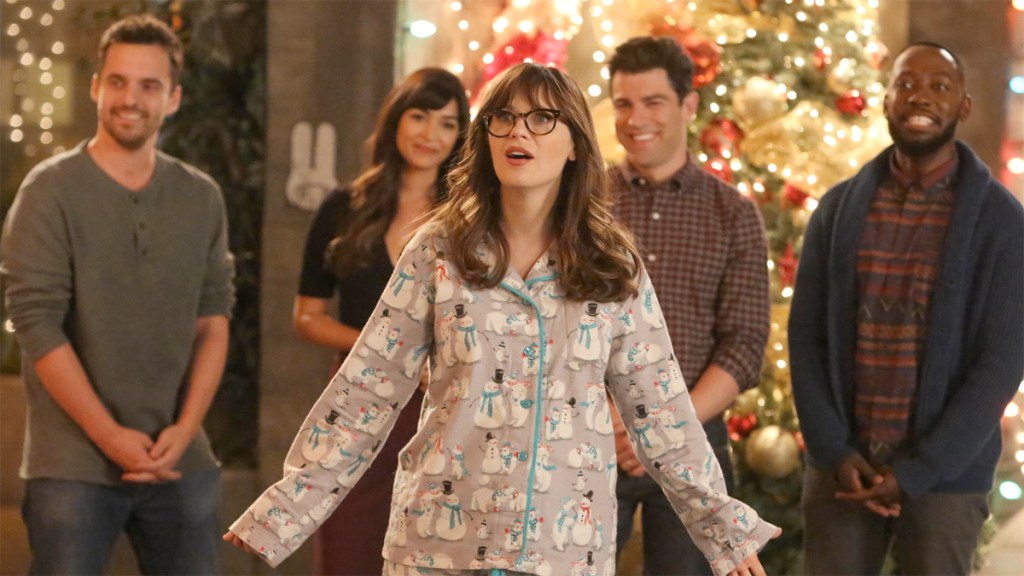 The 23rd (2011) Season 1, Episode 9
Santa (2012) Season 2, Episode 11
LAXmas (2014) Season 4, Episode 11
Christmas Eve Eve (2016) Season 6, Episode 10
THE BIG BANG THEORY
Stream on: Netflix (UK), HBO Max (US)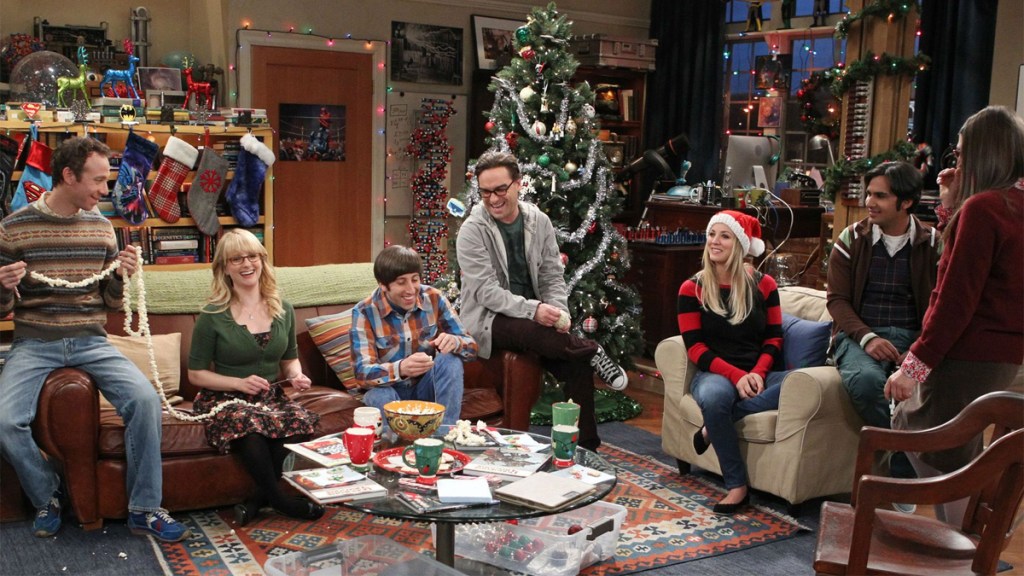 The Bath Item Gift Hypothesis (2008) Season 2, Episode 11
The Maternal Congruence (2009) Season 3, Episode 11
The Santa Simulation (2012) Season 6, Episode 11
The Cooper Extraction (2013) Season 7, Episode 11
The Holiday Summation (2017) Season 10, Episode 12
The Celebration Reverberation (2017) Season 11, Episode 11
THE FRESH PRINCE OF BEL-AIR
Stream on: Netflix (UK), HBO Max (US)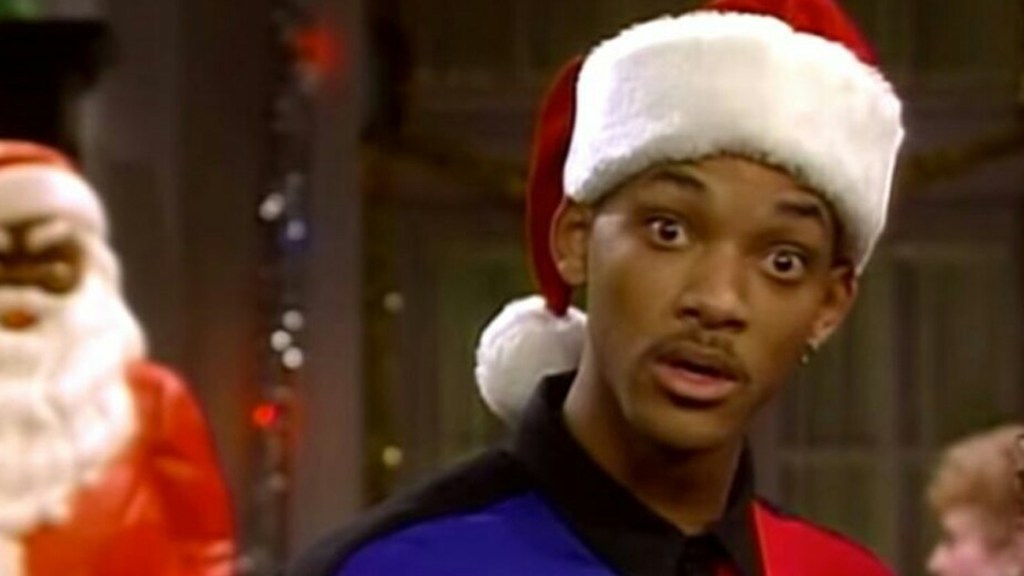 Deck the Halls (1990) Season 1, Episode 15
Will's Christmas Show (1991) Season 2, Episode 13
'Twas the Night Before Christening (1993) Season 4, Episode 13
I, Ooh, Baby Baby (1995) Season 6, Episode 11
THE OFFICE
Stream on: Netflix (UK) , Hulu (US), Amazon Prime (US)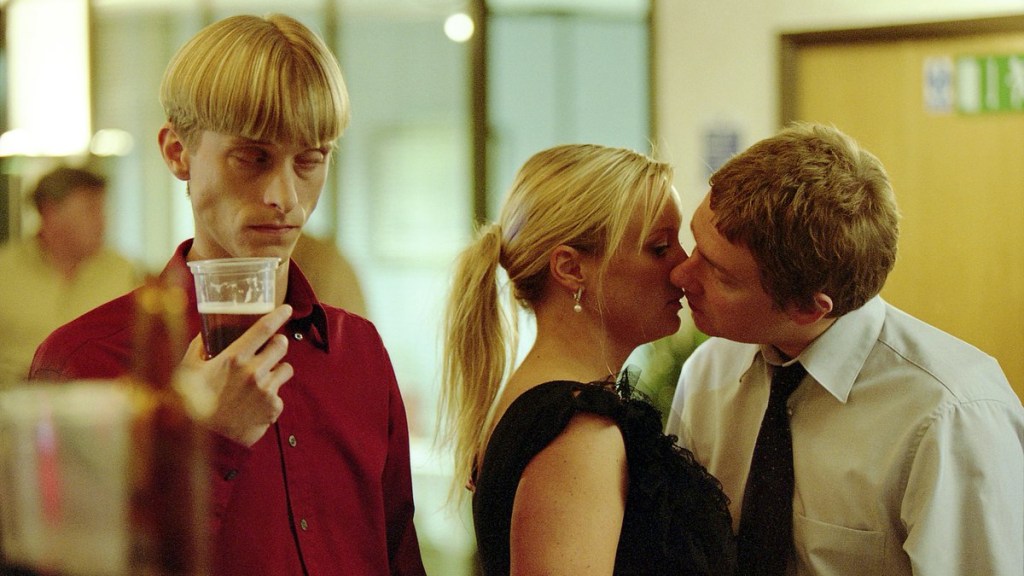 Christmas Special Parts 1 & 2 (2003)
THE OFFICE: AN AMERICAN WORKPLACE
Stream on: Amazon Prime Video (UK), Netflix (US)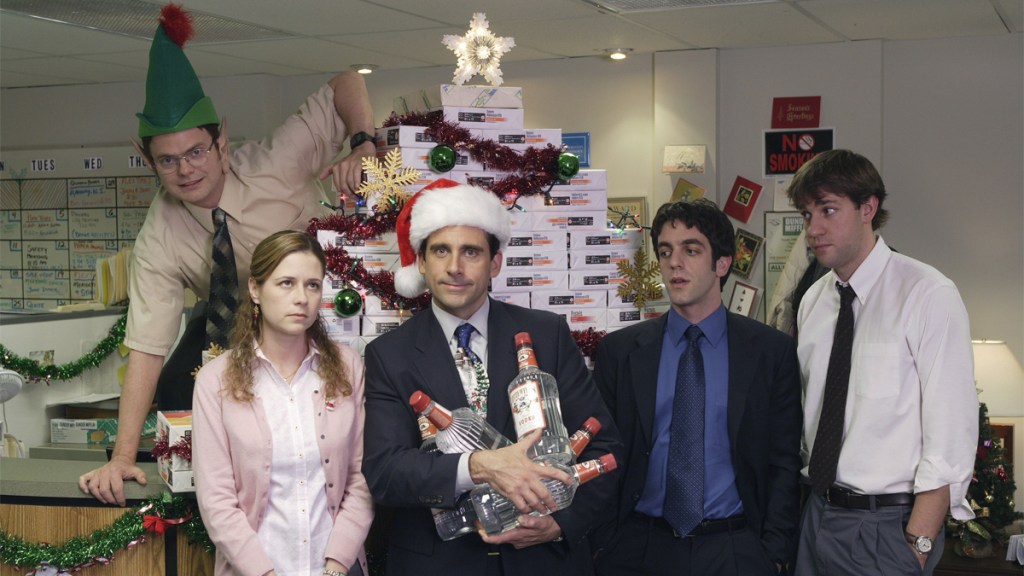 Christmas Party (2005) Season 2, Episode 10
A Benihana Christmas (2006) Season 3, Episodes 10 & 11
Moroccan Christmas (2008) Season 5, Episode 11
Secret Santa (2009) Season 6 Episode 13
Classy Christmas (2010) Season 7, Episodes 11 & 12
Christmas Wishes (2011) Season 8, Episode 10
Dwight Christmas (2012) Season 9, Episode 9
ONLY FOOLS AND HORSES
Stream on: Britbox, Netflix (UK)
Christmas Crackers (1981)
Diamonds are for Heather (1982)
Thicker than Water (1983)
To Hull and Back (1984)
OUTNUMBERED
Stream on: Netflix (UK), Amazon Prime (US)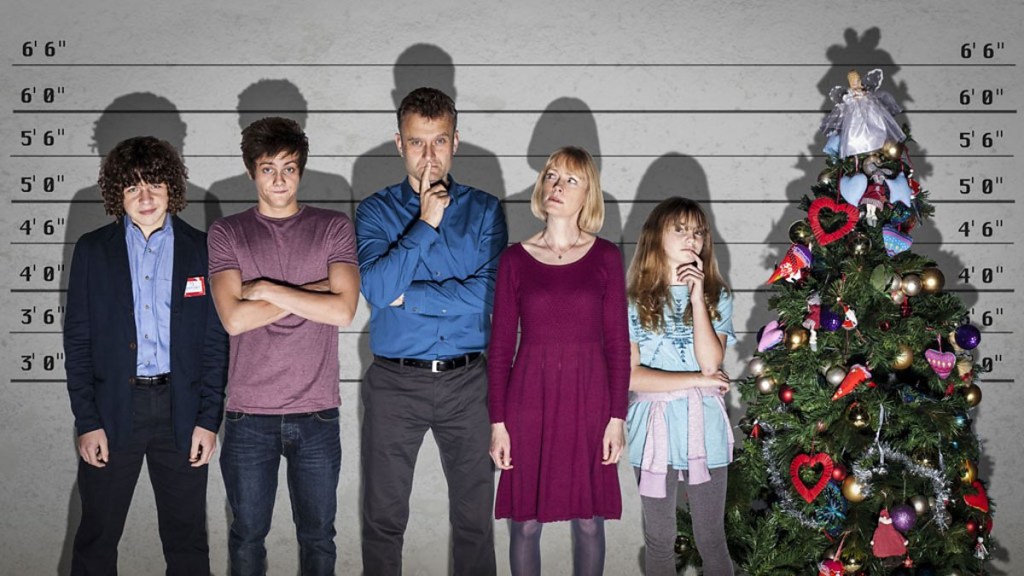 The Robbers (2009)
The Broken Santa (2011)
The Sick Party (2012)
Christmas Special (2016)
PARKS AND RECREATION
Stream on: Amazon Prime Video (UK), Peacock (US)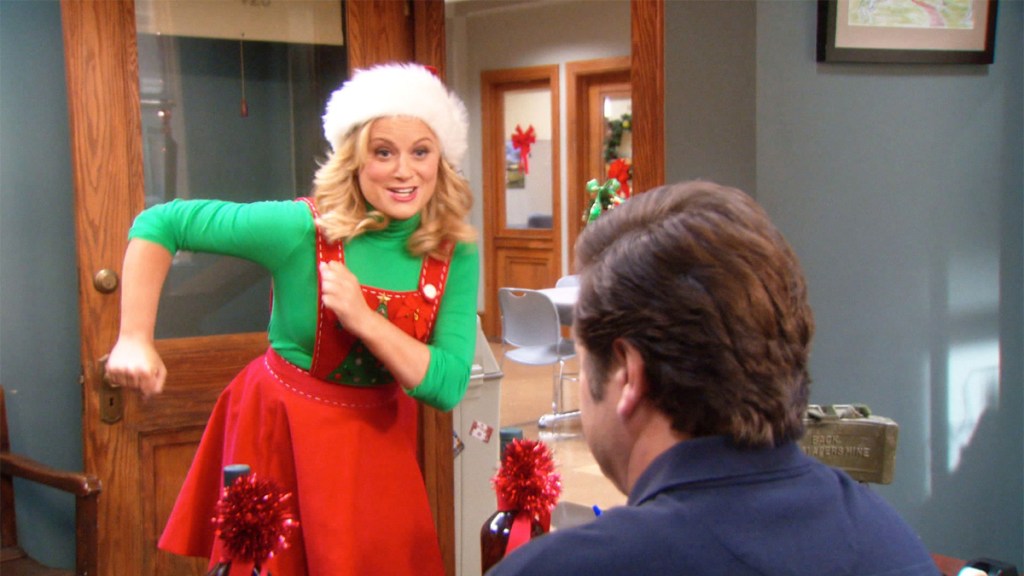 Christmas Scandal (2009) Season 2, Episode 12
Citizen Knope (2011) Season 4, Episode 10
Ron and Diane (2012) Season 5, Episode 9
RICK AND MORTY
Stream on: Netflix (UK), All4 (UK), Hulu (US), HBO Max (US)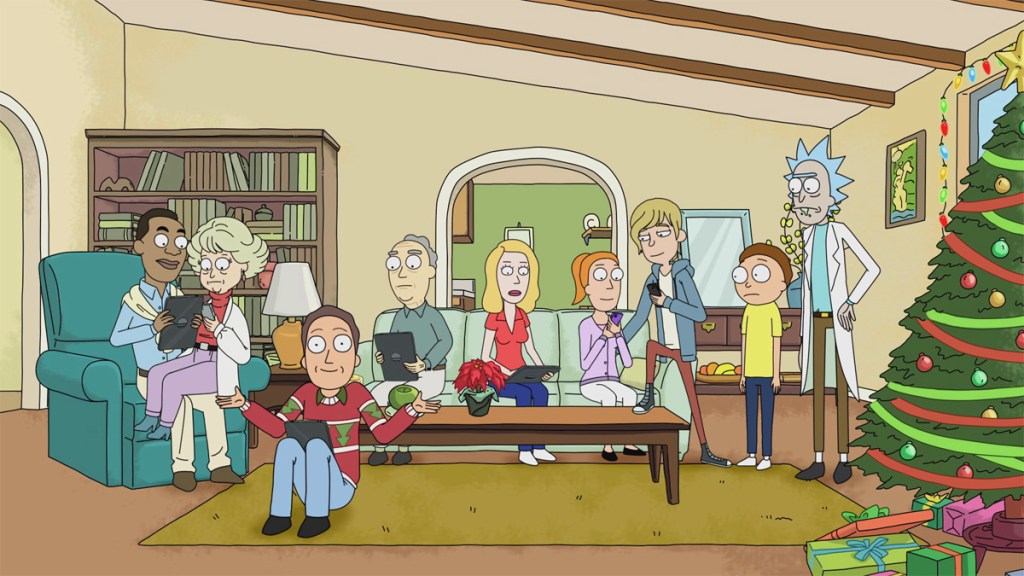 Anatomy Park (2013) Season 1, Episode 3
Rattlestar Ricklactica (2019) Season 4, Episode 5
SCHITT'S CREEK
Stream on: Netflix (UK), FuboTV (US)
Merry Christmas, Johnny Rose (2018) Season 4, Episode 13
ROSEANNE
Stream on: Peacock (US)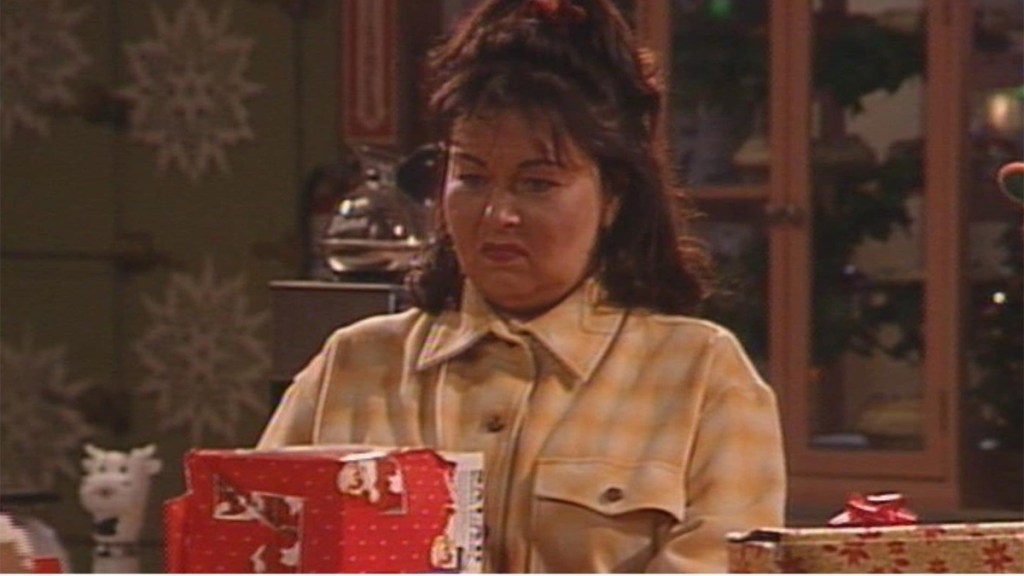 The Courtship of Eddie, Dan's Father (1991) Season 3, Episode 13
Santa Claus (1991) Season 4, Episode 12
It's No Place Like Home for the Holidays (1992) Season 5, Episode 12
White Trash Christmas (1993) Season 6, Episode 12
SCRUBS
Stream on: All4 (UK), Amazon Prime (US), Hulu (US)
My Own Personal Jesus (2001) Season 1, Episode 11
My Monster (2002) Season 2, Episode 10
My Best Moment (2004) Season 4, Episode 12
SEINFELD
Stream on: Amazon Prime Video (UK), Hulu (US)
The Red Dot (1991) Season 3, Episode 12
The Pick (1992) Season 4, Episode 13
The Race (1994) Season 6, Episode 10
The Andrea Doria (1996) Season 8, Episode 10
The Strike (1997) Season 9, Episode 10
SOUTH PARK
Stream on: Amazon Prime Video (UK), HBO Max (US)
Mr. Hankey, the Christmas Poo (1997) Season 1, Episode 9
Mr. Hankey's Christmas Classics (1999) Season 3, Episode 15
Merry Christmas Charlie Manson! (1999) Season 2, Episode 16
A Very Crappy Christmas (2000) Season 4, Episode 17
Red Sleigh Down (2002) Season 6, Episode 17
It's Christmas in Canada (2003) Season 7, Episode 15
Woodland Critter Christmas (2004) Season 8, Episode 14
#HappyHolograms (2014) Season 18, Episode 10
Bike Parade (2018) Season 22, Episode 10
Christmas Snow (2019) Season 23, Episode 10
THE LEAGUE OF GENTLEMEN
Stream on: BBC iPlayer (UK)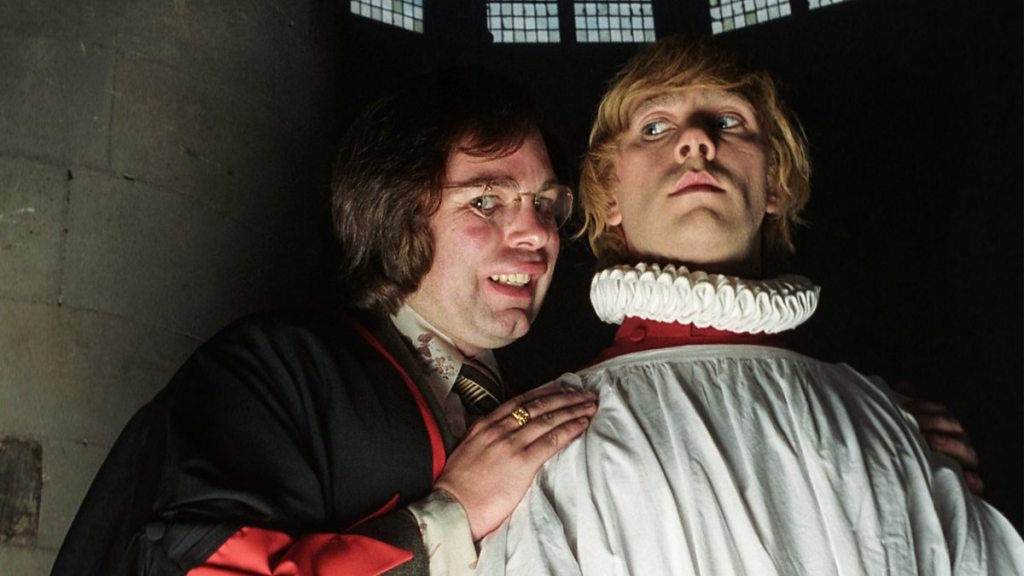 Christmas Special (2000)
THE ROYLE FAMILY
Stream on: BBC iPlayer (UK)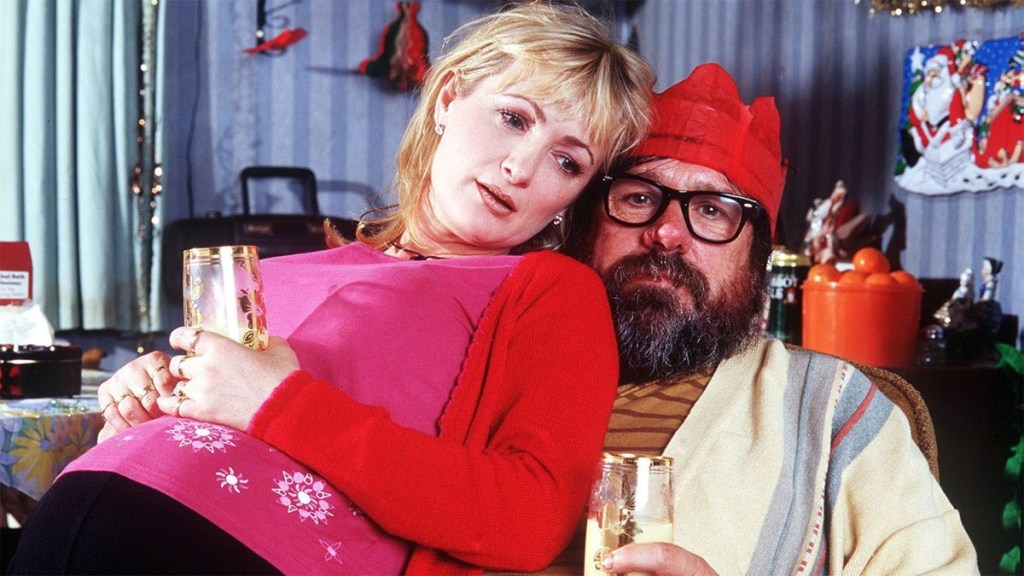 Christmas with the Royle Family (1999) Series 2, Episode 7
The Royle Family at Christmas (2000) Series 3, Episode 7
The New Sofa (2008)
Joe's Crackers (2010)
Barbara's Old Ring (2012)
THE SIMPSONS
Stream on: Disney+ (UK & US), Hulu (US)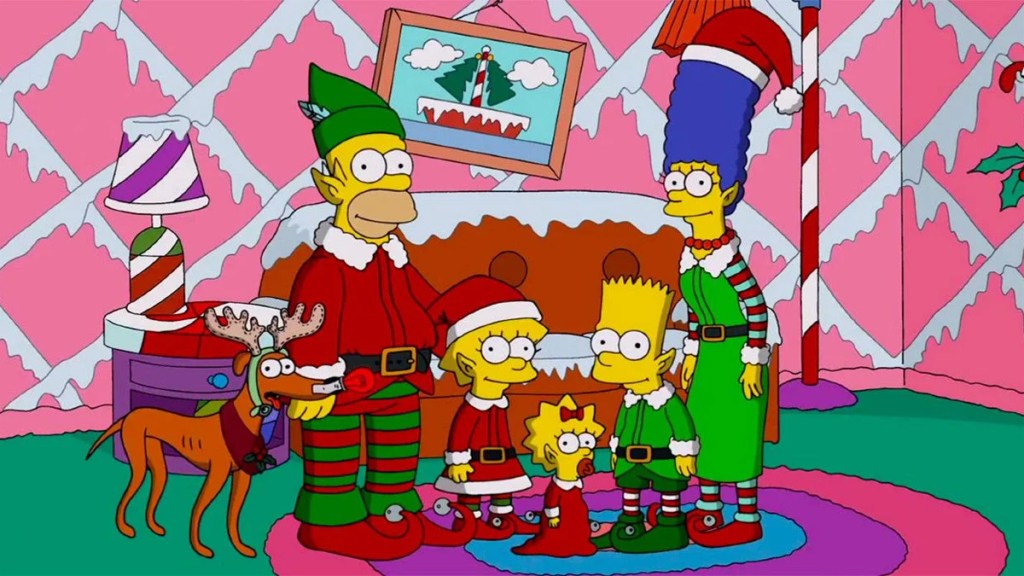 Simpsons Roasting on an Open Fire (1989) Season 1, Episode 1
Marge Be Not Proud (1995) Season 7, Episode 11
Miracle on Evergreen Terrace (1997) Season 9, Episode 10
Grift of the Magi (1999) Season 11, Episode 9
Skinner's Sense of Snow (2000) Season 12, Episode 8
She of Little Faith (2001) Season 13, Episode 6
Tis the Fifteenth Season (2003) Season 15, Episode 7
Simpson Christmas Stories (2005) Season 17, Episode 9
Kill Gil, Volumes I & II (2006) Season 18, Episode 9
The Burns and the Bees (2008) Season 10, Episode 8
The Fight Before Christmas (2010) Season 22, Episode 8
Holidays of Future Passed (2011) Season 23, Episode 9
White Christmas Blues (2013) Season 25, Episode 8
I Won't Be Home For Christmas (2014) Season 26, Episode 9
The Nightmare after Krustmas (2016) Season 28, Episode 10
Tis the 30th Season (2018) Season 30, Episode 10
A Springfield Summer Christmas for Christmas (2020) Season 32, Episode 10
THE VICAR OF DIBLEY
Stream on: BBC iPlayer (UK)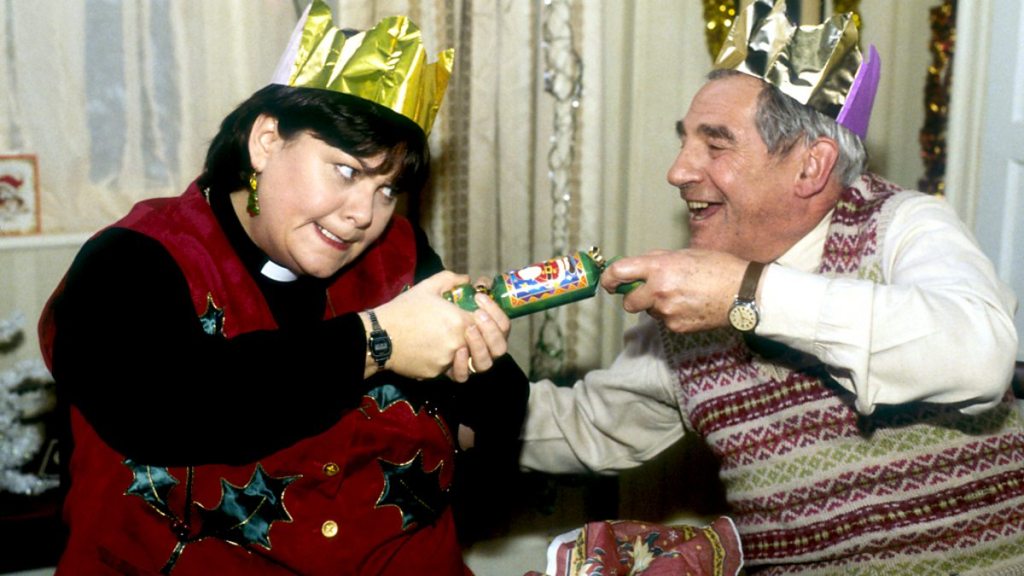 The Christmas Lunch Incident (1996)
Merry Christmas/Happy New Year (2004)
The Handsome Stranger/The Vicar in White (2006)
VEEP
Stream on: HBO Max (US)
Camp David (2016) Season 5, Episode 8
WILL & GRACE
Stream on: Peacock (US)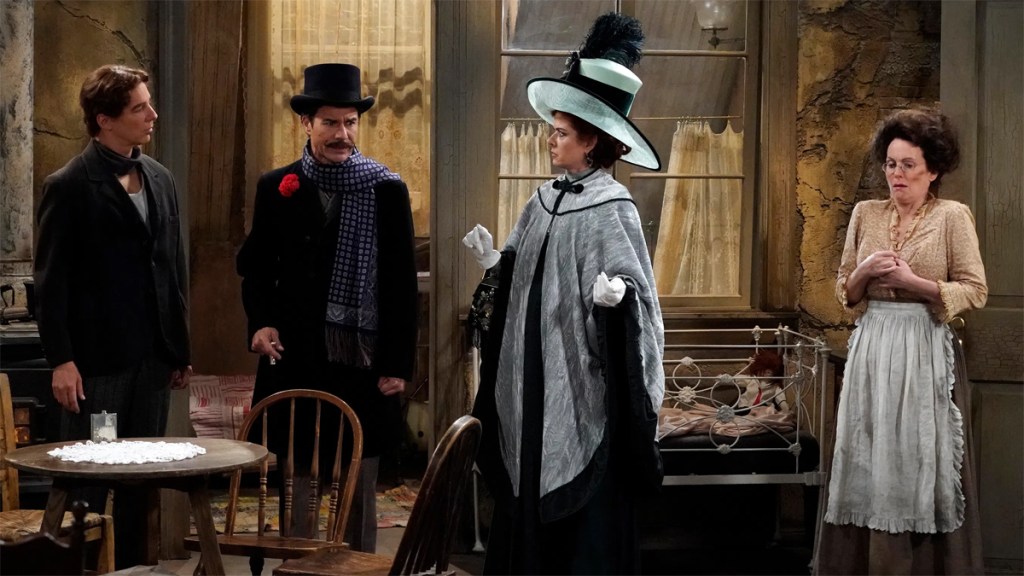 Homo for the Holidays (1999) Season 2, Episode 7
Lows in the Mid-Eighties (2000) Season 3, Episodes 8 & 9
Jingle Balls (2001) Season 4, Episode 12
All About Christmas Eve (2002) Season 5, Episode 11
Fanilow (2003) Season 6, Episode 10
Queens for a Day (2004) Season 7, Episodes 10 & 11
Christmas Break (2004) Season 7, Episode 12
A Little Christmas Queer (2005) Season 8, Episode 9
A Gay Olde Christmas (2017) Season 9, Episode 7