Features
Channel 5's The Deceived Ending & Plot: What Happened to Ophelia, Roisin and Michael?
With major spoilers, we delve into the final episode of Channel 5's psychological thriller The Deceived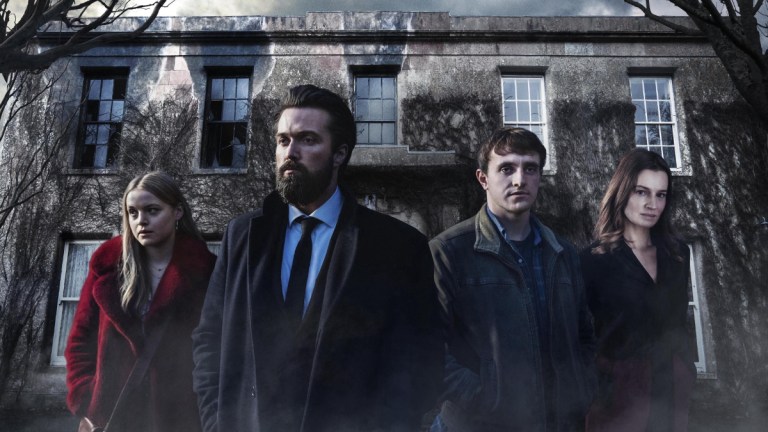 Warning: contains finale spoilers for The Deceived
'This has all been about your fragile little ego, hasn't it?' Ophelia told Michael in The Deceived's final episode, and she was dead-on. Dr Michael Callaghan, played by Emmett J Scanlan (Peaky Blinders, The Fall, In the Flesh), was poison to the women around him. He lied, cheated and manipulated to conceal his inadequacies, and in the end, paid the price. With spoilers, here's how the psychological thriller's finale played out.
What happened to Annabelle?
Before Michael's affair with Ophelia (played by Emily Reid), he was cheating on his wife with another student – Annabelle Lorimer (played by Saffron Coomber). She had written the manuscript of her first novel – The Ruin – and asked him to read it. Realising it was good, and having failed to get his own first novel published, Michael stole her work, changed the title, and had it published as his own debut.
He had ended the relationship with Annabelle, telling her that his wife was too mentally unstable for him to leave and that he had to do the right thing and stay with her. When Annabelle realised the theft, she argued with Michael outside the college – a fight witnessed by Ophelia and Ruth – and eventually talked her way inside Michael and Roisin's Cambridge home. Annabelle was looking for the copy of her manuscript she had given to Michael, which he had signed with a compliment to her, to use as proof of his theft. She told Roisin (played by Catherine Walker) about the affair and during the argument, Annabelle (presumably – it was off-screen) fell, hit her head and died. 
Knowing that reporting Annabelle's death to the police would lead to the discovery of his manuscript theft, Michael convinced Roisin that she had no choice but to cover it up. He told her that with her history of jealousy and mental health problems, as well as a past threat she had made to one of his students, she wouldn't be believed, so concocted a plan to get rid of the body.
Why was Ruth so convinced that Roisin was in trouble?
Because in between killing Annabelle and Michael coming home, Roisin had phoned Ruth in a panic to tell her that she'd been right about Michael's affair and that 'the most awful thing' had happened. Previously, Ruth had confronted Roisin about Michael's affairs with students but Roisin had rejected her claims and called her jealous. That's why Ruth sent so many panicked emails when Roisin seemed to disappear off the face of the earth.
What was Michael's plan?
Fairly baroque! It was to dispose of Annabelle's body by faking Roisin's death and burying Annabelle in Roisin's coffin, then collecting Roisin's life insurance payout and hide Roisin at her mother's house until it was safe for the pair to leave Ireland, with Roisin travelling under a fake passport. Or at least, that's the plan he told Roisin. Whether fleeing the country with his (un)dead wife is really the next step he foresaw in his newly flourishing literary career, who can say. 
Michael and Roisin drove Annabelle's corpse to Ireland, where he let Roisin's mother Mary in on the scheme, and set about faking Roisin's death. They dressed Annabelle in Roisin's clothes and staged a drunk smoking accident, with Mary setting fire to the body while Michael was building his alibi at the local pub. Then they buried Annabelle's burned body under Roisin's name, and hid Roisin in her childhood bedroom at her mother's house. Michael had planned to sell the house and go away with Roisin travelling under a false passport. And he would have gotten away with it had it not been for that pesky kid/Cambridge student he'd impregnated.
Why did Mary go along with the plan?
To protect her daughter from being prosecuted for killing Annabelle. Mary (played by Eleanor Methven) believed Michael's story about needing to cover up the killing because Roisin was in danger. He insinuated that Roisin had killed Annabelle in a blind rage, alluding to her past mental health episodes. Also, I don't know if you've noticed, but Mary's more than a bit scary.
Why did Roisin go back to the house after her 'death'?
Because her mother had told her about Ophelia's arrival and she wanted to see for herself the girl that her husband had been having an affair with. She recognised her from the night they met in the bathroom at a college event.
So there were no ghosts then?
That's all a matter of perspective, but no. It all works without anything supernatural going on.
Did Michael kill his father?
We don't know. Hugh died suddenly after accusing Michael of being responsible for what he saw as Roisin's suicide, and objecting to Michael's plans to sell the family home to be renovated into a country hotel. It could have been murder or simply a coincidence.
How did Michael die?
He was strangling (pregnant-with-his-child) Ophelia – who'd uncovered his lies and was trying to convince Roisin to leave him and put things right – when Roisin saved her life by hitting Michael over the head with a brick. That made him fall through the burned-out floorboards onto the floor below, where he hit his head and died. 
What was Mary's plan?
To frame Michael for Annabelle's murder (because he was the only one with a motive due to the manuscript theft) and – get this – to fake Roisin's death for a second time. This time, they pretended that Michael had dragged Roisin into the boot of his car (planting her blood there from a self-inflicted wound) and that she had never been seen again, presumed murdered. In reality, Roisin left the country travelling on her new fake passport and somehow slipped away unnoticed despite having been described several times as a famous celebrity around those parts. Michael was posthumously charged with Annabelle's murder.
What happened to Ophelia and the baby?
They were last seen back at Cambridge one year later, when Roisin's missing person's case had been closed, Ophelia presumably with enough material of her own now to write a whole series of hit crime thrillers. Whether Paul Mescal's Sean kept in touch, we don't know but let's imagine he did.
Where is Roisin now?
Drinking Moroccan tea and writing her next book somewhere hot and remote, possibly in North Africa by the looks of it. That's where Annabelle's brother tracked her down.
Why did Annabelle's brother leave flowers on Michael's grave?
Presumably because he'd worked out that Michael hadn't killed his sister (even though he had stolen her book and passed it off as his own, as we saw on a poster advertising an event celebrating Annabelle's book, the news had been made public).
Why did Annabelle's brother track down Roisin?
Again, presumably because he'd worked out that Roisin had killed Annabelle and he wanted to confront her about it. That, or he was just a really big fan of her books and wanted to get some signed.
Will there be a second series?
While the events of this series have mostly wrapped up, creators Lisa McGee and Tobias Beer have indicated that an anthology-style second series could follow, involving some of the same characters or revolving around the same location. No second series has yet been officially announced though.
The Deceived is available to watch on Channel 5 catch-up service My 5 until September.