Reviews
Castlevania Season 3 Review (Spoiler Free)
Netflix's Castlevania animated series delivers its most action-packed, bloody, and mature season yet.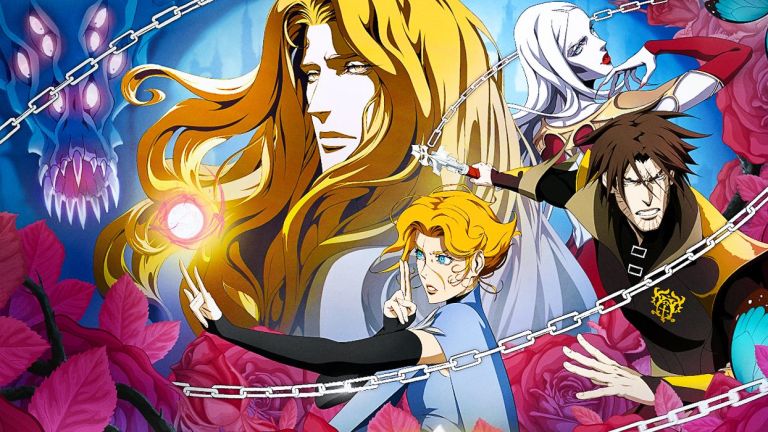 Netflix's Castlevania took a major gamble in its second season by killing off its main villain. But as the third season of the video game-based animated series proves, the death of Dracula is only the beginning of the vampire story expertly crafted by writer Warren Ellis, director Sam Deats, and showrunner Kevin Kolde. In fact, now unshackled from the Lord of Darkness and his monster-filled castle, Castlevania season 3 is able to explore quite a few new and interesting directions that flesh out this world like never before.
From the first episode, Castlevania season 3 feels like a completely new show, one less resembling the horror adventure of the first two seasons and more the political intrigue and war games of a prestige series like Game of Thrones. In essence, the fallen Dark Lord has left behind a power vacuum in Wallachia and the struggle that ensues takes up much of season 3's 10-episode run. But those expecting the conniving Carmilla to simply rise up to the role of big bad after the trailers teased as much may be surprised by how this all plays out.
It's actually difficult to say much about Carmilla without spoiling anything about where the show might be headed in future seasons, but one thing I can say is that her court of lovers and allies is an excellent addition to the cast. Lenore (Jessica Brown Findlay), Morana (Yasmine Al Massri), and Striga (Ivana Millicevic) bring so much welcome energy and humor to the show that I found myself waiting anxiously for their next scene together. Even now, I can't wait to see what these four will be up to in season 4.
The series also introduces a few characters you might recognize from the video games. Most notable is Count Saint Germain, a mysterious, smooth-talking nobleman who arrives in the village of Lindenfeld to investigate a priory where monks are conducting some seriously creepy business. Saint Germain is voiced brilliantly by veteran actor Bill Nighy, who brings real quirkiness and an air of unreliability to the character that plays well next to the more forthright Trevor Belmont and Sypha Belnades.
As for our beloved adventurers, the third season finds them in an uncharacteristically happy place. Trevor and Sypha have solidified their bond after defeating Dracula and it seems like they've gone on many more adventures by the time we're reunited with them in a fun fight scene in the first episode. The duo brings a surprising amount of humor, and the back and forth between actors Richard Armitage and Alejandra Reynoso never gets old. Trevor and Sypha's friendship really becomes the heart of this story as the season progresses, leading to a climactic battle they can only survive by trusting in each other, something the last Belmont would have been unable to do in earlier seasons.
Left out of the action is Alucard, who unfortunately doesn't get much to do this season. Now in a self-imposed exile after killing his father, the dhampir spends most of his time haunting the halls of what remains of Dracula's castle, drinking wine and having conversations with himself. In one funny dinner scene beautifully performed by actor James Callis, Alucard mimics Trevor and Sypha, but the moment also feels like a ghost of seasons' past. It's hard not to miss the dynamic between this trio of characters, and it's a real shame that Alucard doesn't get to follow his friends on their further adventures. That said, Alucard's exile does eventually lead to some interesting narrative territory that I won't spoil here.
We also follow Isaac and Hector, Dracula's former Devil Forgemasters who were once friends but are now enemies after Hector betrayed their master in season 2. While Hector and Isaac's rivalry is a direct nod to the video game Curse of Darkness, their story doesn't really play out like in the Konami classic. Theo James and Adetokumboh M'Cormack are given the meatiest material of the season and they make the absolute most of it. I especially enjoyed M'Cormack as the hate-filled Isaac, whose journey — a long, violent march from the desert to Europe — turns out to be one of self-discovery and healing. Isaac is also in the very best fight scene of the season.
A lot of credit has to be given to Deats and his team at Powerhouse Animation for the direction of the fight sequences, which are among some of the most ambitious ever produced for the show. This year's fights are slightly (and surprisingly) less gory but decidedly more epic. The aforementioned Isaac fight is not only massive but also features a level of verticality previously unseen in the series. I absolutely loved it.
Despite all of the action, humor, and intrigue, Castlevania season 3 suffers from a little too much fat, especially in the middle. Plodding episodes and storylines drag down a great season overall. At times it seemed like the team didn't have enough story to cover 10 episodes so some scenes feel stretched out to their absolute limit. Conversations meant to be thought-provoking and philosophical sometimes come off a bit dry and heavy-handed. Fortunately, the season rights itself by the final two episodes, which are action-packed and cathartic as hell.
So does Dracula rise from the dead? You're all expecting it, right? After all, the Dark Lord's resurrection is the oldest trick in Castlevania's book. I'll leave you with this thought: the main plot of season 3 and the new characters it brings with it are so captivating that they make Dracula's reign of terror feel like a thing of the distant past, like the classic villain was just the setup for a much more interesting story yet to tell. Season 3 is just the beginning of that tale, with the promise of many more twists and turns to come. I'm all in.
Castlevania season 3 premieres on Netflix on March 5.