Sponsored
Building the World of Vikings: Valhalla
Vikings: Valhalla Production designer Tom Conroy takes us on a journey through the incredible sets created for the show.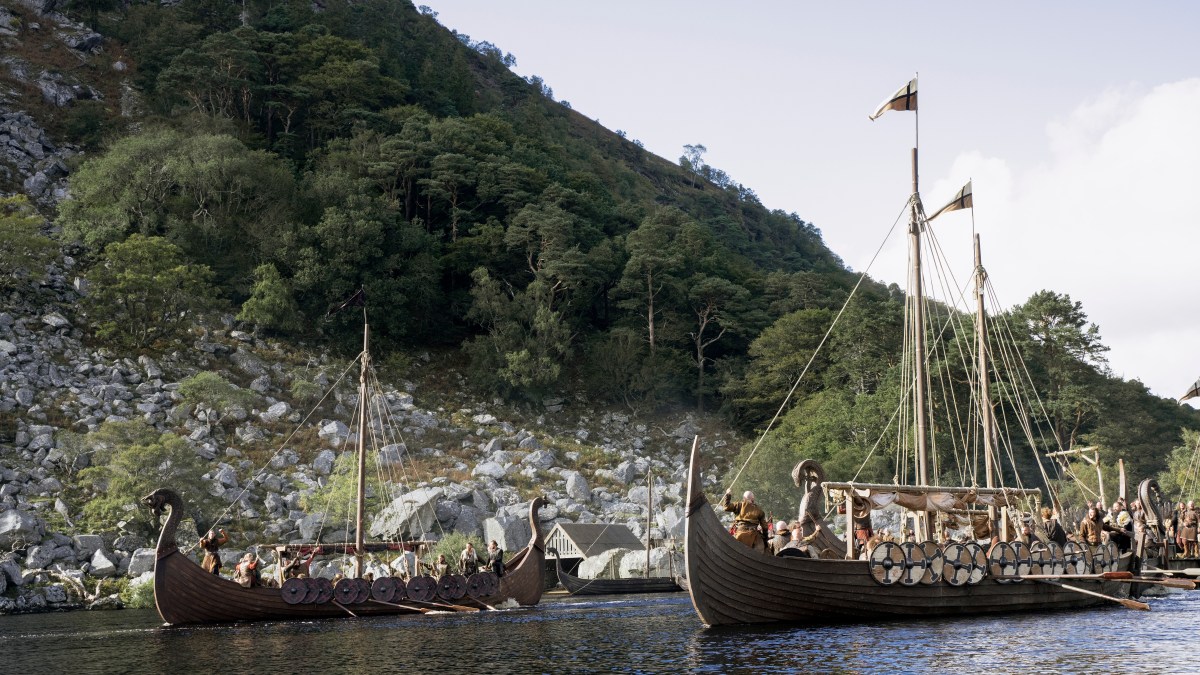 This article is presented by Netflix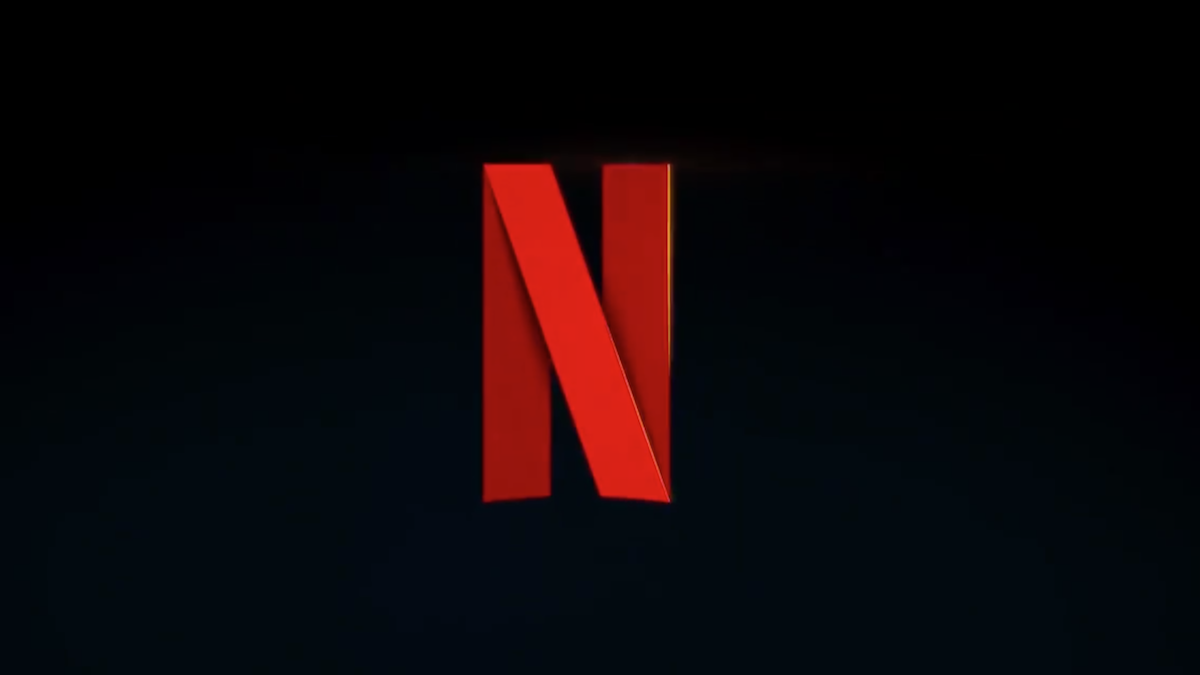 "It's very earthy; the texture of that world," says Tom Conroy of Vikings: Valhalla. "Sometimes we work in these miserable weather conditions, and we're all thinking, 'Oh God, this looks terrible.' And yet… it all makes it look more visceral; more real." Bringing this new world to life is a grueling collaborative effort, but if—as they say—the first bite is with the eye, then Conroy is the man responsible for making your mouth water; the man whose work cements the bond of verisimilitude with the audience.
We asked him to whisk us on a pictorial tour of the world he helped create, unlocking some of the mysteries, struggles, and secrets behind the mammoth production along the way. "This is a sweeping story," he tells us excitedly. "The scale of it is huge, with so many sets. I don't think fans of /Vikings/ are going to be disappointed."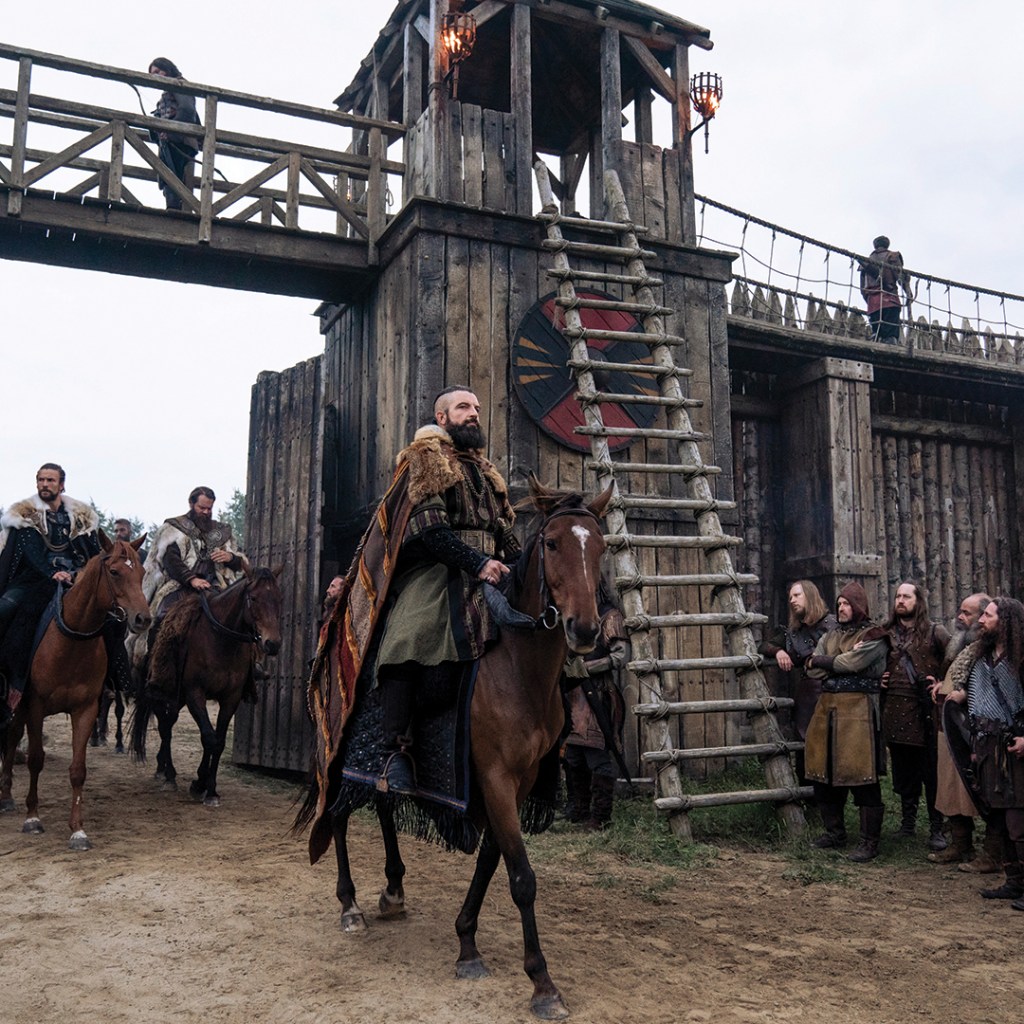 "King Canute rides through the land gates of Kattegat. We had so many other big things to do on the show, at least Kattegat was—the bones of it—still there. We made quite a lot of changes because our story is set 200 years after the beginning of /Vikings/, so  Kattegat is a bit more established, there are quite a lot of extra buildings; brighter buildings; buildings on stilts—nicer fabrics around the place because the material culture is stronger."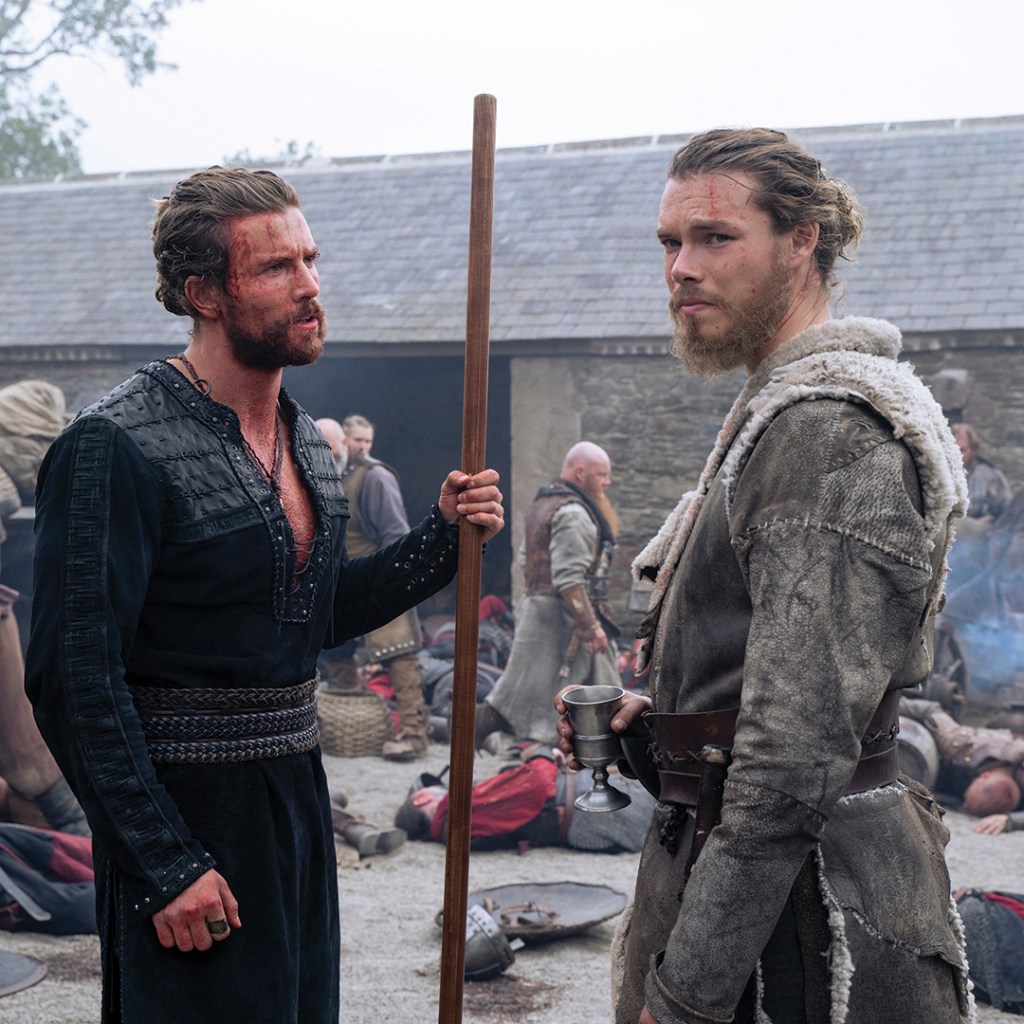 "The Great Viking Army is going to avenge the St. Brice's Day massacre, and they've arrived in Kent, and they're working their way up the coast when they discover a kind of enclave. This, judging from the dead bodies, is the aftermath of the battle there, and that's Leif and Harald, two of our main characters. We filmed this in a location in which we'd done a lot of set building, close to the studio in Co. Wicklow. In other angles of this scene you'd see a lot of things burning."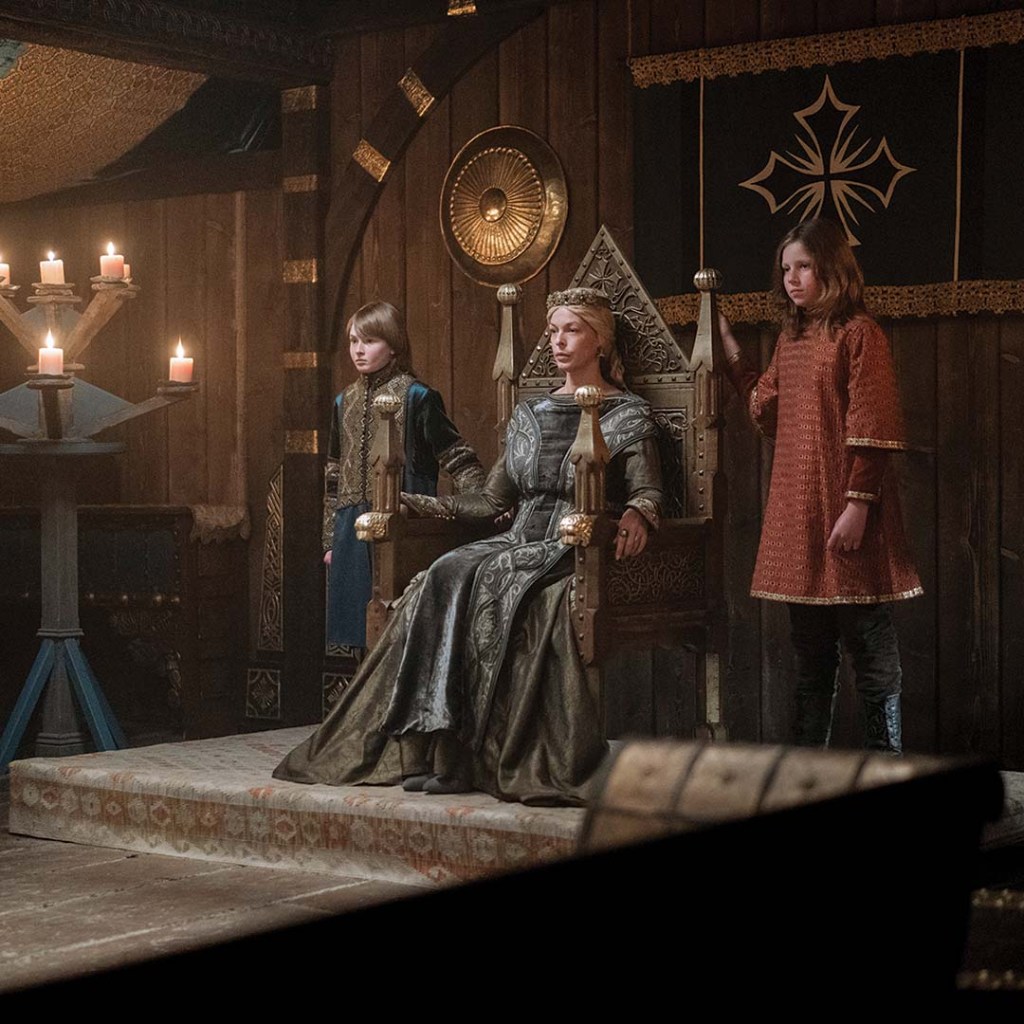 "This is Ælfgifu, in her summer palace in Denmark. We tried to put a lot of gold into this set. You can see a lot of material with gold thread going through it, and gold banding on the structural supports there, the columns. And again, we can see the cross, that's Canute's cross, his symbol behind her. That Christian symbol is obviously a very important part of the story's iconography. The way I tend to work is to try to really understand the period in which I'm immersed. It's all about thinking in terms of the material culture because the material culture is both a reflection of and an expression of the rest of the political, religious, and social culture of whatever world you're creating."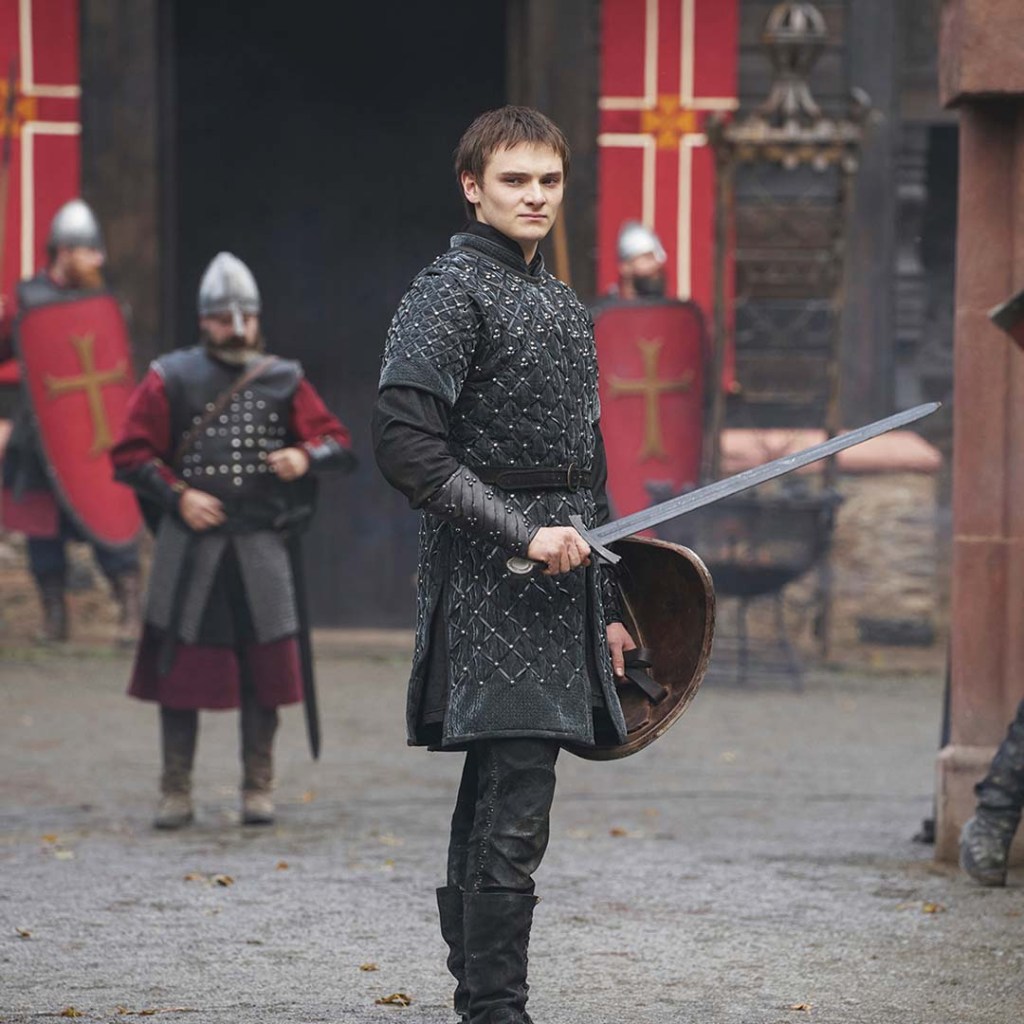 "Edmund, the boy King, in the castle courtyard by London Bridge. The bridge set was one of the most expensive sets we did for the season. If you can imagine London Bridge now—and the Thames was about 150 feet wider back then—you couldn't build the entire scale of that. So we had to build several separate sections. The director, Stephen Saint Leger, had to really think and trust us that this bit would add up with that bit, and it would all go together."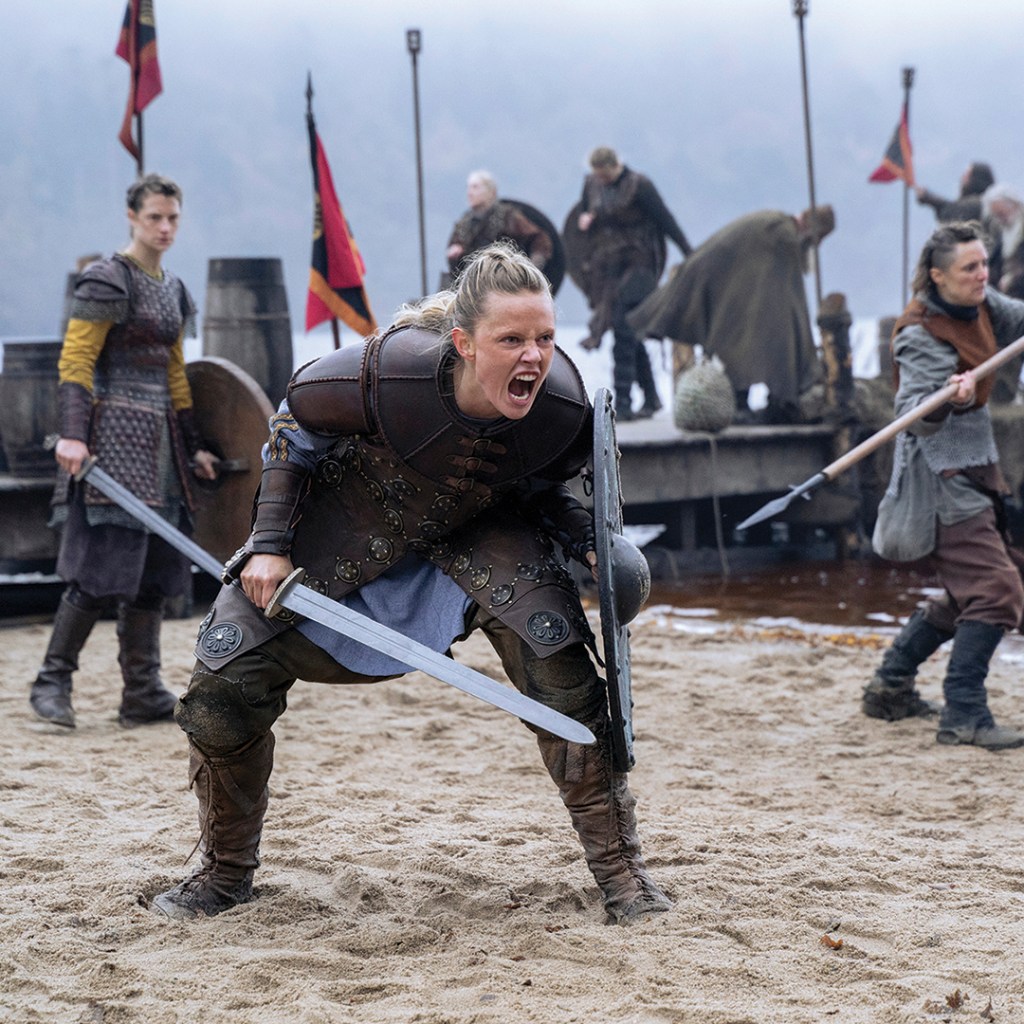 "Kattegat's outer harbor, close to the 'fjord.' We built a huge set, a great big defensive wall, various trading houses, and storage places for all the ships. And then two big piers, which you can see, and a tower in the background; one of the harbor's many defensive towers, most of which live in the CG world. They have a chain that goes between them to stop any ships getting in. It's 200 years later, so of course the defenses have become much more sophisticated."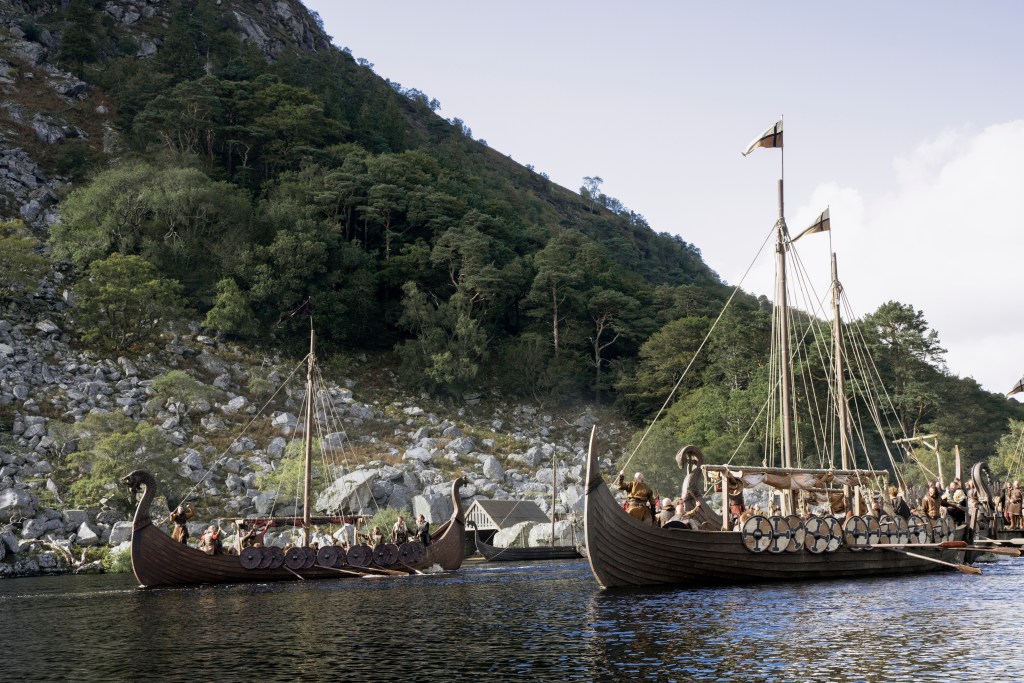 "This is the Great Viking Army preparing to leave Kattegat for England. It's in Co. Wicklow, on a lake that becomes a fjord thanks to visual effects. We've got 12 large longboats: six of them are really quite big—between 48 and 50 feet long—and six of them are sort of medium—about 38 feet long. On an occasion like this, every single one of them would be out, then they'd be augmented by VFX. We do go to sea with them, but only in a certain level of weather, during the summer months, and never far from the shore, with support boats all around. They're pretty sturdy, but they wouldn't get you to Greenland!"

"This is the council chamber of the Royal Castle in London, a studio set. It's a series of large rooms that are interconnected with each other, and there's a throne room to the right. Our fantastic set decorator, Anca Rafan, had the idea to use this round table for various scenes, and it was very powerful. Here we have Queen Ælfgifu. She's arrived in England to discover not only that King Canute has been two-timing her with this woman, Emma, but has also actually married her. This is the first time the two of them are meeting each other, so it's quite a scene. What really makes an era like this is the fantastic costumes. You can see the contrast between the iridescent green and the wine red, and then with the tablecloth in the middle, which would be Anca, the set decorator's idea, and it really links the two." 
"We'd visited the temple of Uppsala in the first season of Vikings, where Athelstan goes with Ragnar to be prepared for sacrifice. We felt the temple would be a bit like the Christian churches, in that it would change very slowly over the centuries—maybe on the surface but not underneath. We recreated some of the statues we'd had in the beginning—which had been lost—because we felt they would have remained in place but brought in other kinds of statues and votive deities, changed a lot of the smaller things, and you could feel, okay, time was moving on. But we kept the spirit of the place."  
Vikings: Valhalla premieres on Netflix on Feb. 25.