News
Brooklyn Nine-Nine Remake Series Baffles Internet
Quebec has remade Brooklyn Nine-Nine. There is now a trailer. Brace yourself for its extreme weirdness.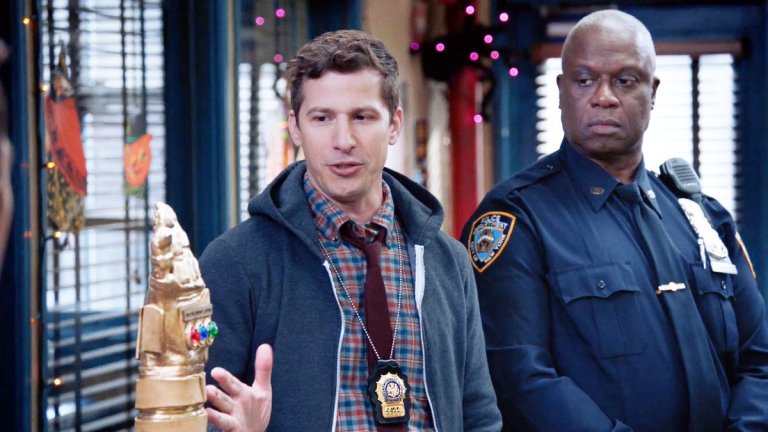 2020 continues, as a first trailer for the Quebec remake of Brooklyn Nine-Nine has now been released. Yes, you read all of those words correctly. Do not adjust your screen.
Escouade 99 (Squad 99 in English) really does appear to be a near shot-for-shot remake of Brooklyn Nine-Nine, with its original cast replaced by the likes of Mickaël Gouin, Bianca Gervais, Mylène Mackay, Widemir Normil and Guy Jodoin. The Quebec version was directed by Patrick Huard (Bon Cop Bad Cop) and it follows "a group of endearing and out of the ordinary detectives who fight crime at Escouade 99 in Quebec City."
Quebec broadcast company Quebecor Content purchased the rights to the Andy Samberg-led comedy series last year, and this is the first time that the team behind Brooklyn Nine-Nine have authorized an adaptation of outside of the U.S., according to HuffPo. So, from next month, the often shamelessly weird and predominantly French-speaking Canadian province will have its very own version of Brooklyn Nine-Nine.
Now that the first trailer for Escouade 99 is out, we can see categorically that none of this is a joke. It's Brooklyn Nine-Nine almost exactly, but with some painful whitewashing to the central cast on top. The trailer is a surreal watch, and we could attempt to pick apart why it makes us feel so dizzy and weird, but it's easier for you to just watch the thing.
Roll VT…
Our French is admittedly rusty, but this appears to announce that Escouade 99 will premiere on September 17.
The internet, having now seen this strange, alternate universe version of NBC's enduring police sitcom, reacted as though it had suddenly been handed a wet pillow, crying out in unison "just what in the 'une adaptation québécoise' hell is going on?"
Melissa Fumero, who plays Amy Santiago in Brooklyn Nine-Nine, seemed as flummoxed by Escouade 99 as the rest of us.
As for the real Brooklyn Nine-Nine, the future is foggy. Heading into Season 8 of the revived sitcom, the cast and crew have been deliberating how to proceed with the show in the wake of massive global Black Lives Matter protests and anger at continuing police brutality.
Andy Samberg, who has played Detective Jake Peralta on the popular cop series since 2013, admits that moving its story forward following the events of 2020 will be "a challenge".
"We're taking a step back, and the writers are all rethinking how we're going to move forward, as well as the cast," he told People back in July. "We're all in touch and kind of discussing how you make a comedy show about police right now, and if we can find a way of doing that that we all feel morally okay about."